One of the biggest challenges to tea blogger productivity . . . is the Internet.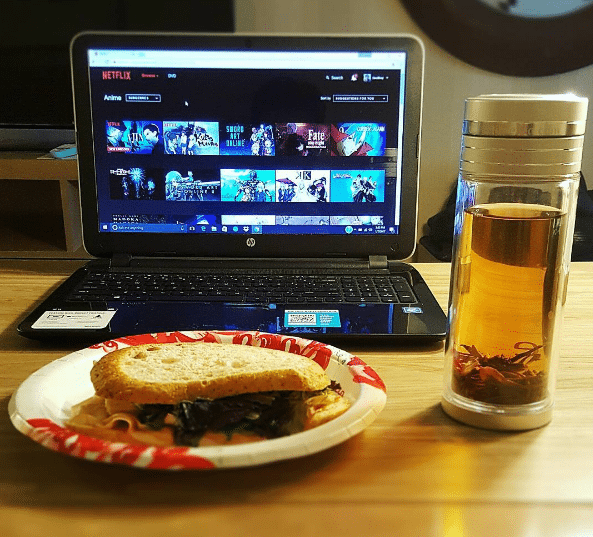 Yes, all of it.
While social media is the biggest time-suck—keeping me away from what little writery discipline I possess—YouTube is a close second. My addiction to that streaming site is as old as my tea habit. However, there weren't many teacentric vloggers (video bloggers) on it.
Sure, some companies posted tutorials, but there were few (if any) tea nuts who posted their own appreciative content. For the longest time, that role was filled by Natasha "The [Martial] Artist Formerly Known as Snooty Tea Person" Nesic. (I've . . . written of my respect for her output at length.) Alas, she moved on to bigger and better things, and there was nothing to fill the Snooty-sized hole in the heart of YouTube.
Well, apparently, I hadn't looked hard enough. Thanks to tea friend, Nicole "Tea For Me Please" Martin, my eyes were recently opened to a tea vlogger world I never knew existed. And the most surprising thing? They're all . . . freakin' adorable!
And I thought I'd take some of your time listing off some of them. If you, fair reader, consider yourself a tea nerd at all, I'd highly recommend slamming the subscribe button for all of these lovely people.
A couple of caveats, though: Firstly, I'll be focusing on tea people producing video content. This may include folks who are primarily tea bloggers, but have a video component as an auxiliary. Secondly, I will not be listing vlogs put out by (or affiliated with) tea companies. Granted, some of them—like team ZhenTea—do qualify as adorable, but I want to highlight the independents vloggers. Thirdly, I'll only be focusing on people who are still actively producing content, so folks like Nerditea are out.
And finally, this is not a comprehensive list. I'm sure there are plenty I haven't discovered, yet. Feel free to use the comment section to express your ire. I may even pay attention.
Here we go . . .
If there was ever a woman who exudes class, it's Gabie from Tea End Blog. Aside from having a regular tea blogging site (like the rest of us), she takes it one step further by posting regular tea and book reviews.
While her tea exploration is still in its self-admitted infancy, she exudes enthusiasm with a dash of sophistication. Even her more spontaneous posts reflect a natural preparedness. Plus, the camera loves her.
Rebekah of Teacups and Blossoms reminds me of my niece.
The teenage niece . . . not the infant one.
Nicole mentioned in our "sooper-secret tea blogger club house" that she met the tea vlogger ingenue for tea one afternoon. Of course, she posted a link to one of her videos, and . . . yeah, her energy is infectious. Everything she tries just sounds SO the greatest thing ever.
I wish I was that energetic. About anything.
What is it about British women that makes me want to hang on their every word?
If ever there was a witty successor to the Snooty Tea Person, it would be Hannah Ruth. She could read the ingredients menu of an herbal blend, and I'd listen to all of it—enraptured. I even told her that she could narrate tea audio books as a future career. While her primary focus is regular tea blogging, every once in awhile she posts an off-the-cuff video that has me in stitches.
Mary Lu isn't just a tea geek. She's an actual geek, too.
Yes, that's a compliment.
When I put out the verbal call for more tea vlogger suggestions, Nicole—once again—came through with this young lady. Of all the women listed thus far, Mary appears to be the most experienced in front of the camera. A given, considering she has an an acting rap sheet that's a mile long.
I'm not sure what motivated her to do a regular tea web series, but "the Facetubes" are better for it.
As if I could leave Nicole off of this list. Yes, I'm a bit biased, considering she's a friend of mine. That and she's mostly known for her educational, insightful, and industry-defining blog—Tea For Me Please. Not to mention her various other tea writing works, which are more numerous than mine. But she also does the occasional podcast, but really . . . they're tea vlogs. Adorable tea vlogs.
Recently, she posted an interview with my matcha dealer, the equally adorable (and obviously caffeinated) Lauren "Mizuba Tea" Purvis.
It's cuteness overload.
This one is for the ladies. James and Denny are two tea bloggers/vloggers based out of Seattle, and . . .
I'm (mostly) secure enough in my masculinity to admit that they're adorable together. They're the epitome of the ideal gongfu bromance in action. Not to mention, they're knowledge about puerh and oolongs is quite extensive. Plus, the tea ladies love 'em. Seriously, they have fangirls.
I, also, have a couple of stories about them. Heh. Heh.
One of my coworkers mentioned how a friend of hers had difficulties finding tea dates on Tinder. Apparently, most men on that site thought "let's get tea" stood for something else. I know, the nerve!
I told said coworker to inform her friend that tea dates don't work, and that was coming from a tea blogger. (I've since amended that judgment call.) Her friend responded with, "Oh, I've dated a tea blogger before."
The friend was located in Seattle. I knew all the tea bloggers up there. So, I started rattling off names. All two of them. Yep, it was Denny.
As for James? Well . . . I met him in person in October! At the Northwest Tea Festival!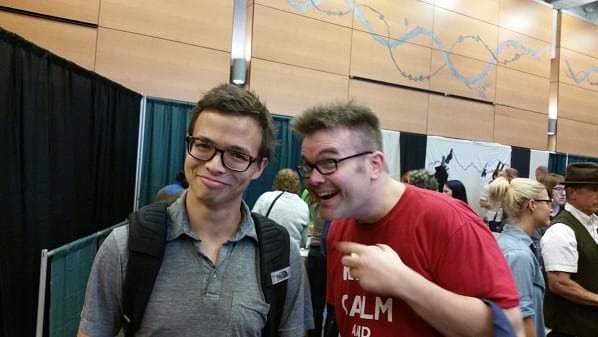 And he's just as adorable in person.
I think he got that vibe, too.
(Sorry about that, James.)
All this "research' on tea vloggers gave me the gumption to also give it a go. This was the result:
Um . . . well, my Mum thinks I'm adorable.