I talk a lot about new and interesting teas on this blog. It's kind of my thing. But this article's going to be a little bit different. I've always tried to talk about the origins to unique teas, or the regions they stem from. This is the first time where I was actually there when the tea was conceived. And it all started…in a bar.
On October 23rd, I made the two-hour trek to Eugene, OR .for an event called Tea Beer Fest. Of course I was going to go; how could I not? That's – like – the combination of my two favorite things on the whole planet. I'd heard about the event through Josh "J-TEA" Chamberlain, and the fine tea lad even acted as a gracious host for my soon-to-be-tea-drunk arse.
When I first met up with Josh, it was – fittingly enough – at his teashop. J-TEA HQ. As I sipped copious amounts of sheng pu-erh and aged Baozhong, I even got a brief tour of the operation. Eventually, I had to address the elephant in the room. And by elephant, I mean…bourbon barrel.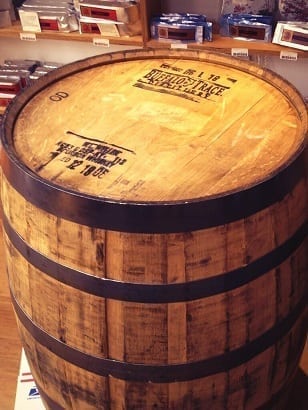 He told me several months prior that he'd acquired such a barrel from the Buffalo Trace Distillery in Kentucky. I was just surprised it hadn't been used yet. Originally, he told me that he was going to load it up with Eugene Breakfast – a Yunnan Dian Hong – but was a little tight-lipped about his hesitance to barrel said tea.
Teabeer drinking commenced later that evening. As I was I-fergit-how-many-pints in, I brought up the bourbon barrel again. Because nothing says social tact like beer. I barreled into the subject with all the finesse of a village idiot. Keep in mind, this is how I recall the conversation…and granted, it's a little fuzzy.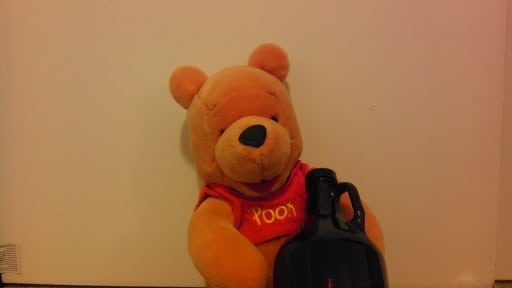 "So…how come you haven't loaded that barrel with tea, yet?" There might have been a slight slur to my speech at this point.
"Truthfully," he began (and I'm paraphrasing). "I sell a lot of Eugene Breakfast. I don't know if I have any to spare for that."
I mused. "What tea do you have that you'd want to sacrifice to the altar of awesomeness?"
(Okay, I didn't quite put it like that, but – in hindsight – I wish I had.)
Josh thought it over for a moment, "I've got this loose cooked pu-erh I could use."
I snapped my fingers. "Yes! There you go. Pour some in, age it for a month or two, and done!"
"If it doesn't work, I'm naming it after you."
"Challenge accepted."
The next day – after returning to Portland – I ran across this video on J-TEA's Google+ page.
Oh lord, what had I done?
It wasn't the first time, I'd operated in a "soft" consulting capacity before. For some reason, people in the tea industry/community value my opinion. Not sure why, sometimes. But this was the first case where someone had remembered one of my suggestions…over beer. I prayed to whatever Tea Gods that existed on high – heck, even Lu Yu himself – to make the tea turn out well.
The day after Christmas, my can arrived. Yes, I said can. Because everything that's wonderful in 'Merica comes in a f**king can!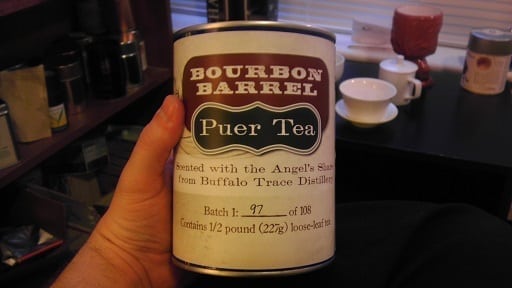 The moment I got the can, I pried it open with my house-key and just…inhaled. It smelled like the inside of a bourbon barrel, as it bloody well should have. Strong peat and gasoline aromas invaded my nostrils like a sophisticated frat party. Whiskey notes took point, followed closely behind a hint of pu-erh earthiness. Not pu-erh fishiness – earthiness. This was a quality five-year-aged Yunnan cooked pu-erh; from that I could tell. The two different aromas complimented one another, translating from oak to earth with nary a jarring sensation.
(Sidenote: A day didn't go by when I wasn't caught just sniffing the can for minutes on end. One time, my sister/roommate came in as I was in mid-whiff. I had to say something akin to, "It's not what it looks like.")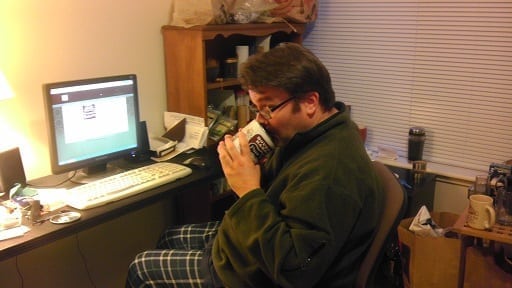 I dug into this the very night I got it. I chose to brew it two different ways – one gongfoolishly, the other Western-ishly. The first: Boiling water, thirty-second steeps. The second: Boiling water, three-minute steep. The vessel I used was a gaiwan, and I infused 1 tablespoon of leaves.
For the gongfoolish prep, the liquor brewed up…well…dark as night. Even after only thirty seconds, the brew was as dark as any – uh – dark tea I'd ever tried. The aroma from the cup was almost strictly pu-erh-ish – alternating between earth and wood. Not so with the taste. On first sip, I was met with bourbon-drenched oak. A feeling I'd only encountered with bourbon barrel-aged beers. It was sweet, smoky, vaguely alcoholic, and flowed right into a cooked pu-erh woodsiness.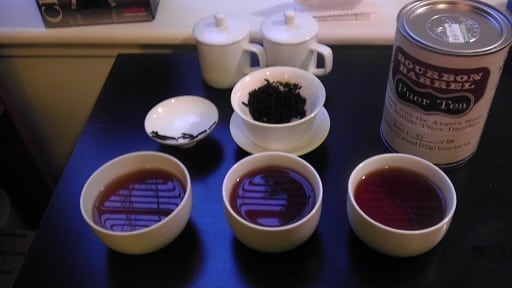 Most alcoholic barrel or drench-scented teas I've come across usually have the savory notes on the finish as a compliment. A subtle nuance in its character. This was the first time where I ran into such a flavor on introduction. Not even the one whiskey barrel-aged Lapsang Souchong had so strong an intro.
When gongfu-ed, the leaves lasted a good eight infusions before diluting. The pu-erh notes took over after about Steep #6, but still…that's a long way to go for a scented tea. Brewed Western-style, I have to say the results weren't that different. It lasted three good, strong infusions, but the notes were exactly the same. No real change.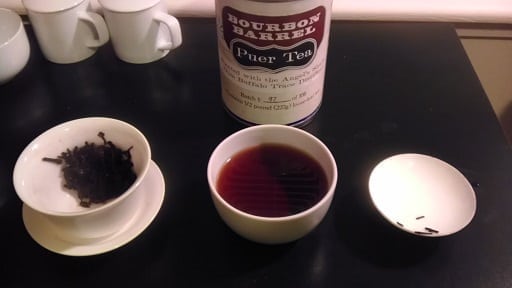 My only real regret is that I didn't have any original, unscented cooked pu-erh on hand to compare and contrast. No matter. I suppose I'll make do with what I have in front of me – a can I can repeatedly sniff like glue.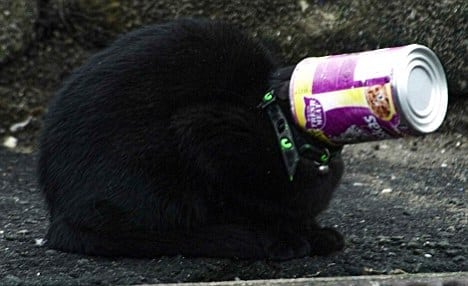 For more info on this tea, go HERE.