NaNoTeaMo, Day 1: "A Devotea Taiwanese Tea Tasting"
If any of you fine folks were paying attention to my social media yammerings, you may have noticed a peculiar update. I said that I wouldn't be participating in NaNoWriMo (National Novel Writing Month). I tried two years straight . . . and gave up halfway through both times. Instead, I mentioned I was going to participate in something of my own devising – NaNoTEAMo. The idea? To blog every day in November.
There are two reasons I'm doing this: (1) I want to challenge myself a little. And (2) This . . .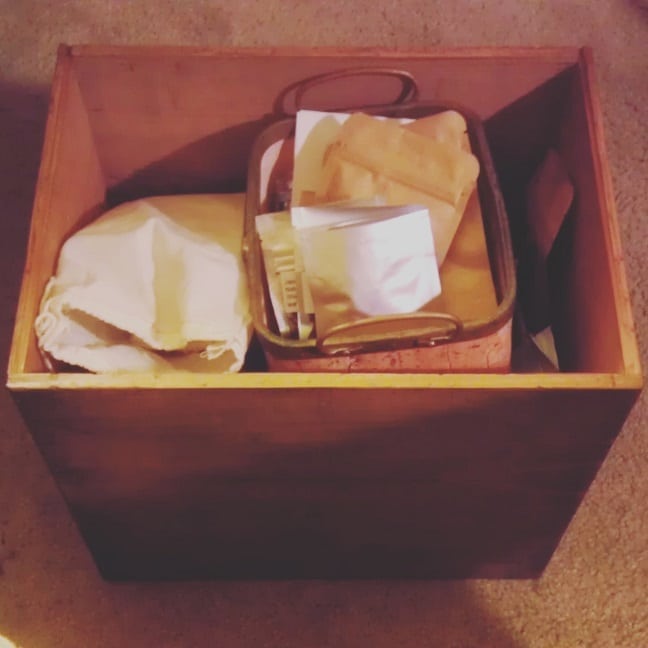 I have an extreme backlog of tea samples that requires immediate sipping. So, two birds; one stone – a blog every day, and maybe I'll see the bottom of this box. It's a win-win.
And tonight we're kicking things off – fittingly enough – with a tandem tea tasting that was hosted/sponsored by Ms. Devotea USA herself – Nicole "AmazonV" Schwartz. Also in attendance, besides my keen self, were Jo "A Gift of Tea/Scandalous Tea" Johson, and the ever-eager Rachel "I Heart Teas" Carter. It was a smaller group this time, but no less fun. The lovely Ms. 'Merican Devotea gifted us with three samples from Taiwan – two oolongs and a green tea – that she wanted feedback on.
I was rather excited about the green tea. Sure, I'd sipped green teas from Taiwan, but never one that was rolled like an oolong. That intrigued me. Without much ado, we got to sipping.
For brewing, I treated each one the same – water at about 200F degrees, and I steeped each for a minute. That way I could get through each of them rather quickly.
This was an oolong I don't think (???) I'd ever heard of – dubbed Yu Shan Dadajia. No idea what that means; probably "Really Awesome High Mountain Oolong of Victory" . . . or something. It hailed from the mother of all Taiwanese tea regions, good ol' Nantou.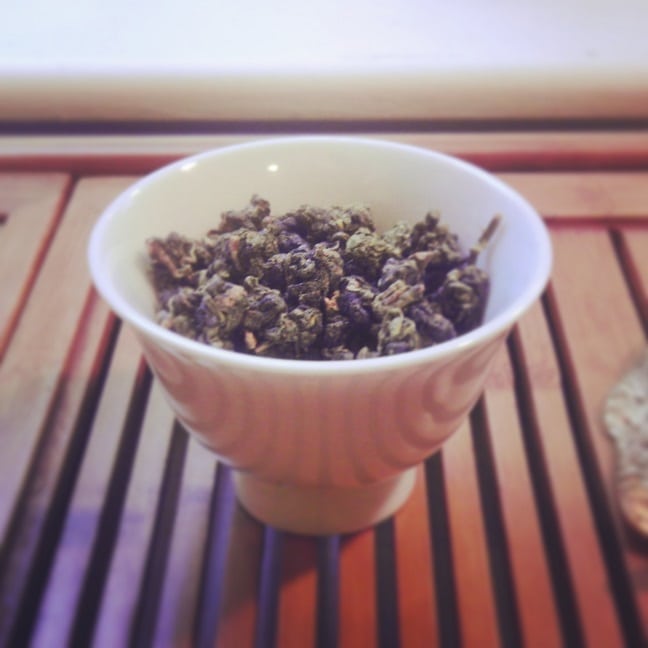 The ball-fisted leaves had an unusual aroma – floral and slightly spicy. And, I'll be honest, it reminded me of a Nepalese oolong. The scent seemed very Himalayan to me.
On taste? Well . . . same thing.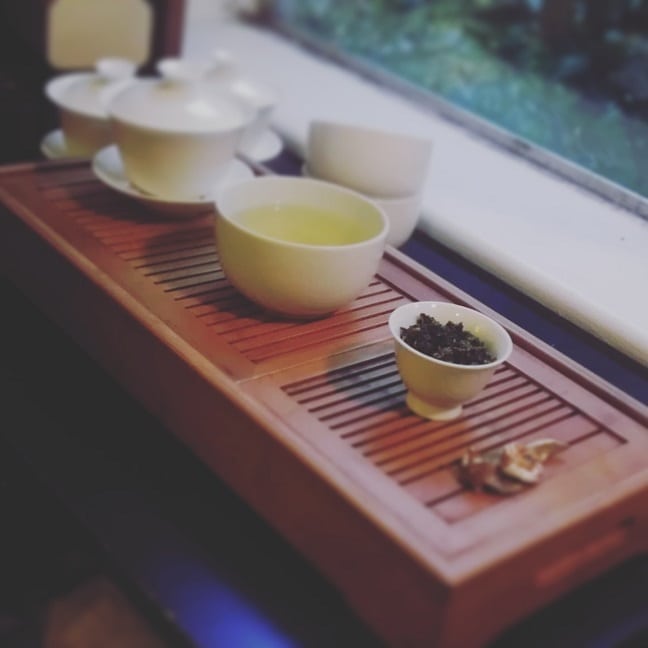 Nothing about this screamed "Taiwan" to me. The spiciness also showed up in the taste, along with a heather-like underpinning throughout. Plus, I had expected a lot more body, given the "Jade" in the title. It wasn't until later that I realized that this didn't count as a jade oolong, just an oolong from Jade Mountain.
I liked it, but I felt jipped. Like watching a movie trailer that was nothing like the movie.
I brewed the same leaves the next day. On a second, longer steep, the leaves opened up more and revealed more of a buttery profile. Worth gongfu-ing.
I won't beat around the bush with this one – I looooooved it. Ali Shan is my favorite mountain in Taiwan, and this didn't disappoint. The scent was sweet, the flavor was sweet, the whole experience was just . . . friggin' sweet! I have nothing else to add. No metaphors or superlatives needed.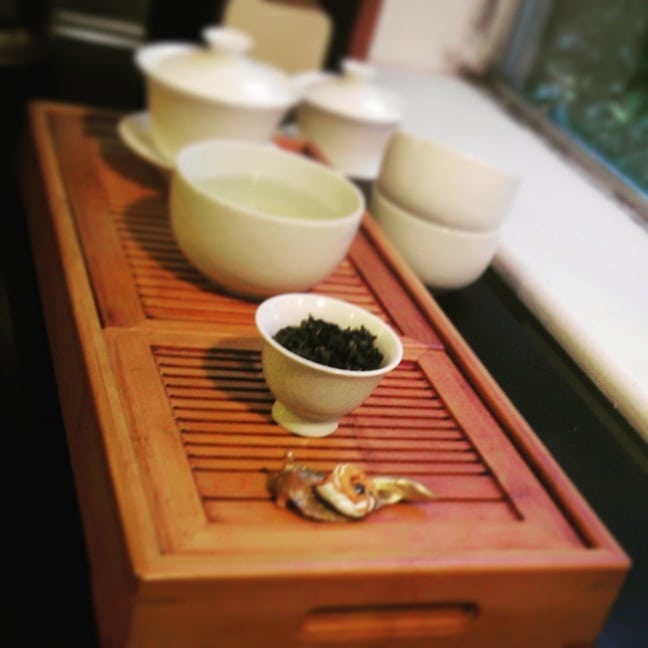 I was a little worried about this one when I first smelled it. The aroma was definitely green tea grassy, no matter how much of an oolong it resembled. Worse than that? The scent was sencha grassy. The worst kind in some cases.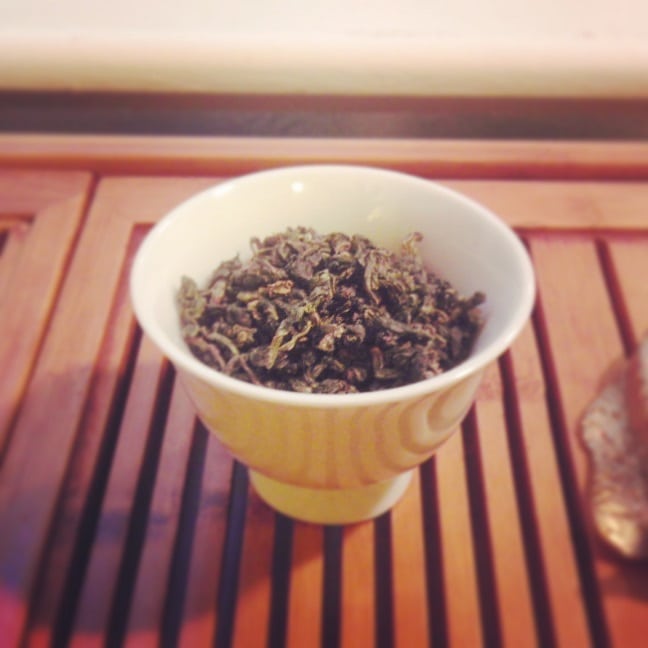 I brewed this up, wincing and praying.
And . . .
Sipped away happily, pleasantly surprised. The sencha aspects on the flavor introduction were definitely there, but then it put one bold foot into Baozhong oolong tasting territory with much bravado. It started off pleasantly grassy, and then leaned in on a subtly creamy note that held out until the finish. If I tasted this blind, I would've thought it was a really lightly-oxidized oolong. Very unique.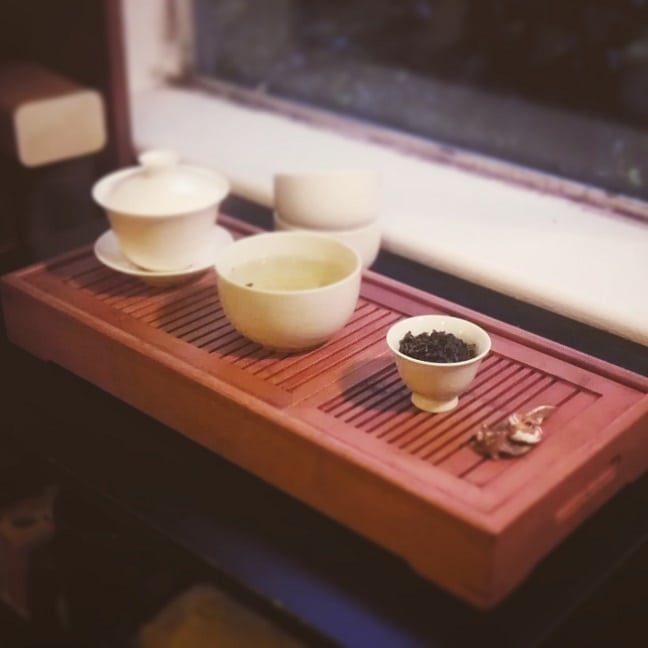 In conclusion, I enjoyed all of them. But the no-doubt-to-anyone champion was the Ali Shan. The rest in the group also seemed to come to that conclusion. What was even stranger? None of us were wired after having three teas. Just . . . chill.
Like we were all in a boxing match and decided to just . . . hug it out over a cup of tea.
Wow, that sounded hippie.