A couple of days ago, a fellow tea acquaintance asked me for some advice on puerh. Naturally, I provided it, based upon my own subjective experience. But I also had to preface something. I was not the most . . . uh . . . mature, sophisticated, or "learned" person on the subject of puerh.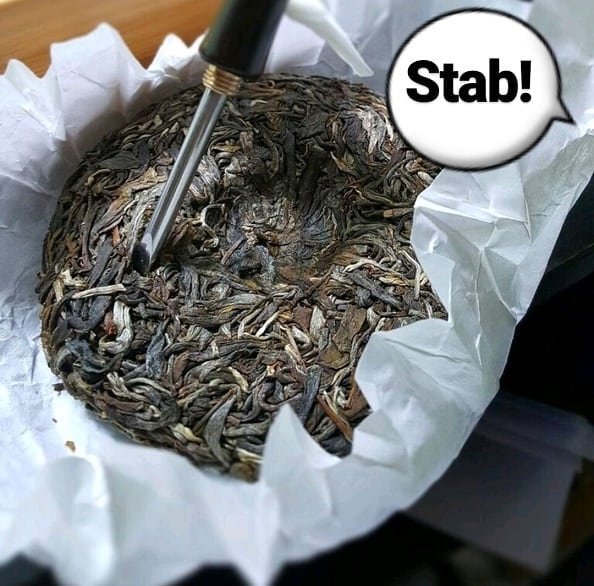 Granted, I had extensive exposure to knowledge of growing regions in Yunnan, certain factories, mountains, and even the various cultivars of assamica utilized for the production of puerh. I even had a favorite puerh mountain. (It's Nan Nuo Shan.) That said, I was reluctant to call myself the most well-informed person on the subject. One needn't look any further than my chosen "technique" for storing puerh.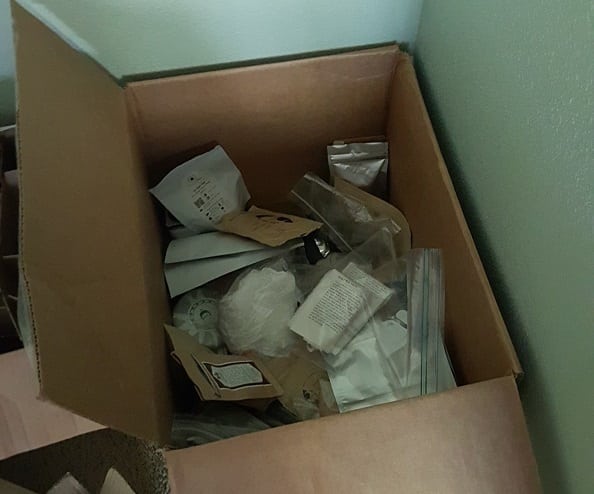 A humidor, it ain't.
This lack of sophistication was further exemplified by a particular incident involving a certain sheng puerh tea cake I bought from Denong Tea. In the summer of 2016, Denong had a wholesale booth at World Tea Expo. Along with a few other tea blogger compatriots, I tried a few of their wares. My taste buds took a liking to their 2015 "Enchanting Beauty" beeng (cake).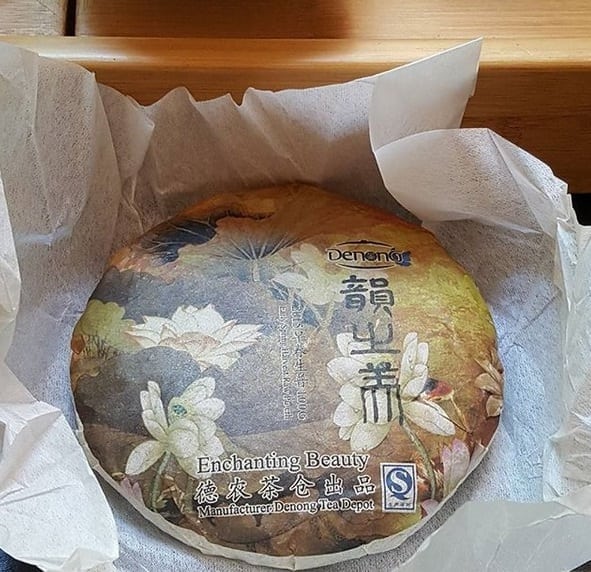 It also happened to be one of the cheaper ones at the time.
For safekeeping, I kept it in my festival bag . . . and quickly forgot about it. After that day of "fest"-ing, our group went to In-'N-Out for lunch. While in line for a greasy vat of yumminess, a realization hit me. There was something else in that festival bag I'd forgotten about. A masala chai doughnut. I squealed in the middle of the restaurant line, quickly got out of it, and dug through the bag like a rabid squirrel. Sure enough, that precious Denong puerh cake was nestled (almost inappropriately) against the doughnut.
A part of me thought it was ruined, but the other part of me was all, Mmmmmm, chai doughnut puerh. Cue Homer-esque drooling.
I didn't revisit that cake until over a year later. One day in mid-July, I finally decided to brew the "Tainted Beauty" up. Mostly out of curiosity. What exactly would a spiced tea doughnut-laden puerh cake taste like? Did the "scenting" even carry through? And, most importantly, would there be any residual note after so long a time.
I brewed it up and . . .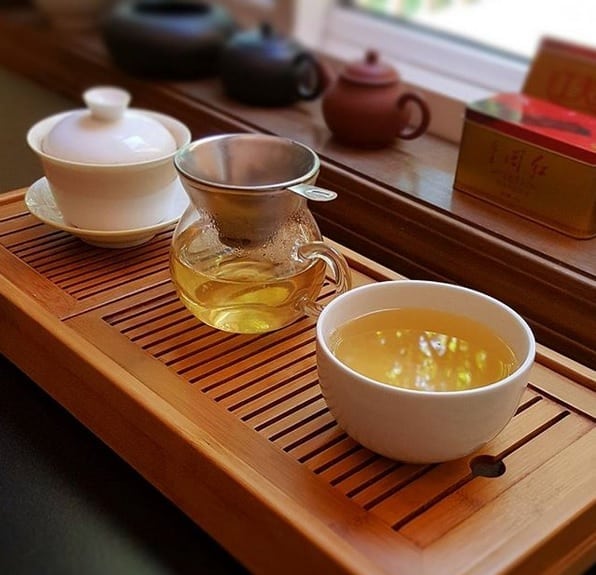 It had notes of sweetness, a tiny bit of earth and spice, and a faint feeling of maple leaves. I have no clue if this was from the puerh or from the doughnut. The most important thing, though, was that I liked it regardless.
Another valuable tea cake also had a similar accidental run-in . . . with a potpourri scenting stick. (I chronicled that misadventure on my Tumblr.) Again, I thought the results were favorable. Not sure exactly what that meant about my approach to puerh.
Which brings me to this year, September 28th, my birthday. I arrived in Seattle with my mother. She was dropping me off in that fair city for the Northwest Tea Festival. Earlier in the week, I received a message from this guy.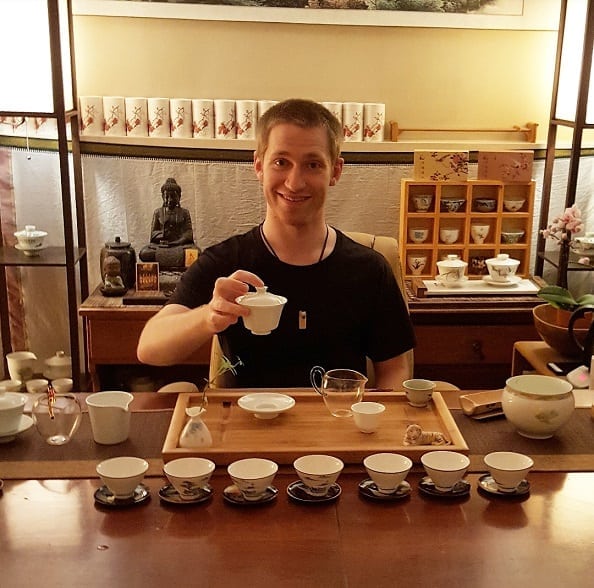 Yep, good ol' Jeffrey McIntosh, founder of Teabook. He asked if I would attend his Denong puerh session on September 29th. Originally, I had declined. I wasn't sure how I would be feeling, following the long drive from Wyoming to Washington. The day before, however, I fickly changed my mind.
The next day, Jeffrey was kind enough to fetch me at my hotel, seeing as it was on his way home from "work". I say that in quotes because he owns a tea company, and he's studying to be a puerh master. And he looks like he's having fun doing it. Every. Single. Day.
Upon arriving at Teabook HQ, we sat down and talked shop for a good hour or so. All the while, Jeffrey went about setting up for the evening session. Five other people were confirmed for the tasting. None of whom I was familiar with, save one. As time passed, said patrons began to trickle in.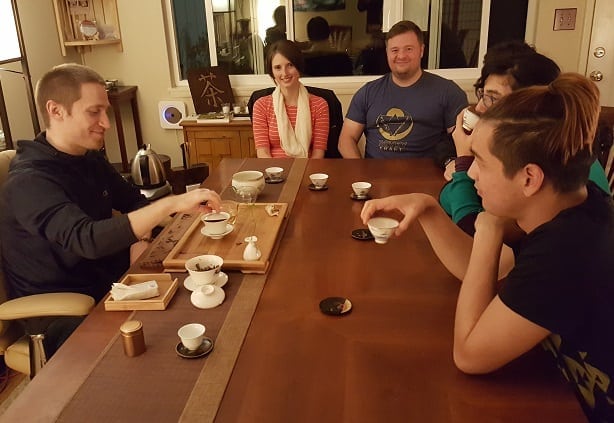 The first tea we started off with was Mountain Oasis. Jeffrey had mentioned it in many of his Instagram Live videos, and it had me curious. The factor that set it apart from other new sheng puerhs was the tea trees harvested to produce it. On average, they were over 300 years old. Some probably even gushu age. Not only that, but he assured that Denong's "old growth tree" puerh teas could be verified more easily.
A big headache about the puerh tea trade was the lack of transparency in some circles. Verifying the efficacy of a gardener, a seller, a merchant, or even the word of a drinker was next to impossible. A lot of the claims about certain valuable puerhs were just as elusive as mythical tales of dragons and goddesses. That was one reason why Jeffrey chose a new path in his career as a puerh vendor. He wanted to cut out some of the bullshit. And there was a lot of bovine poo in the puerh trade.
Next we moved on to . . . uh . . .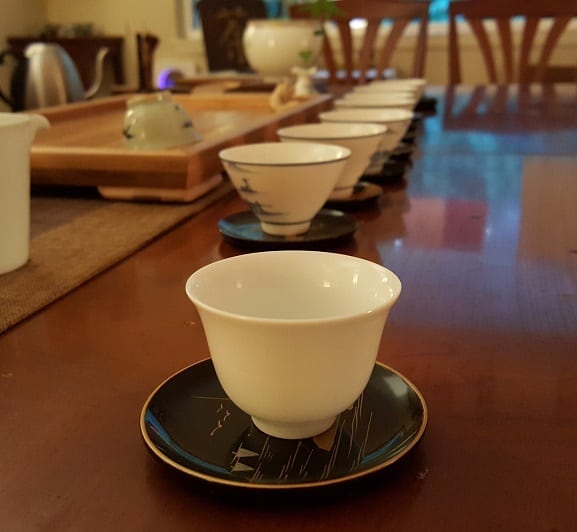 Honestly, I don't remember. I'm drawing a blank. After several infusions of the Mountain Oasis, I was downright giggly. And I had the inappropriate jokes to prove it. Somewhere in the middle of one of the many sips, I declared that "nipple-chakras" should be a unit of measurement for tea drunkenness. But moving on . . .
The third tea we moved onto came in the form of a zhuan (brick).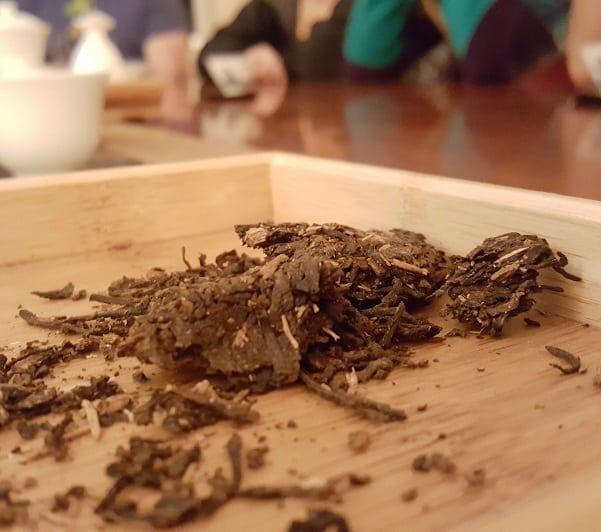 It dated back to 2012—old but not "aged", yet—and he dubbed it Xiao Yu. I have no idea what it means. I didn't ask him. Too busy giggling. What set it apart from most other sheng offerings, besides old growth trees, was the plucking season. The leaves to produce this brick were plucked right as the spring buds began to unfurl. This resulted in a delicate, yet complex, brew that (if stored properly) would age much in the same way a scholar became learned.
Okay, I may have exaggerated that last part. Consider it a metaphor. Or something. Point being, I fell head over heels for this tea. I don't quite recall the taster notes I experienced, but I have a fuzzy recollection of—well—feeling delightfully fuzzy.
I think I reached Nipple-Chakra Level 5.
We closed the evening off with a Teabook favorite—a chisel of some agarwood shou puerh. To further enhance the mood, Jeffrey also lit some agarwood incense. As if we already weren't tea-stoned enough.
After that session, I realized something. I will never be one of those sages of the puerh tea world. And it definitely is its own little world within the tea sphere. Maybe even a black hole. However, I surrounded myself with people who were more learned. Perhaps in time, and with their influence, I might become one of those mature, sophisticated, and learned people on the subject of puerh.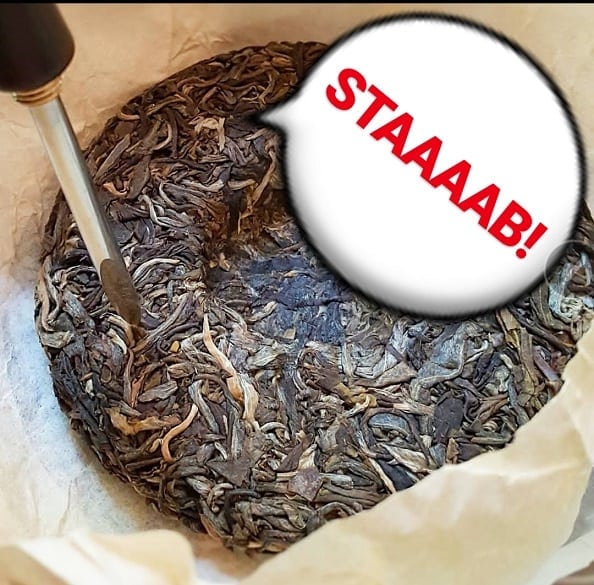 Hey, no one said it'll be easy.
To purchase items from Teabook's collection of Denong teas, go HERE.
To follow or donate to Jeffrey McIntosh's puerh mastery Patreon, go HERE.