At the beginning of November, I received a curious invite.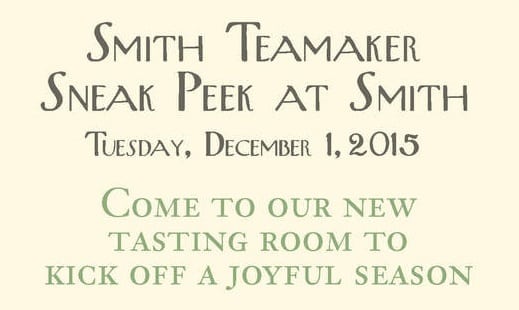 Well, that was new. I don't get press releases very often, and I certainly wasn't expecting one from Smith Teamaker. I knew they were opening up their new location, soon. But I had no idea that I was on the short list of press folks to cover said opening.
I, unfortunately, sat on the invite for a week because my mind was elsewhere. Thirty blogs of elsewhere. Smith's press liaison, however, followed up to make sure I had RSVP'd . . . and I did. Right then.
The only obstacle in my way was begging/pleading with my superior to let me off work early. She gave me that look of, "This is tea-related, isn't it?" To which I nodded gleefully. Early release: Granted.
As with another Smith event, I enlisted the help of a photographer friend – the lovely Ms. Tepper. This way, I could be free to gallivant through the tasting room like a tea drunk gnome. In an unlike me fashion, though, I arrived early.
There was no missing this location, even for the directionally challenged – such as myself. The new Smith headquarters was huge. The entire left half of the structure was their new shipping and receiving port, whereas their right half was sectioned off for manufacturing/blending/bagging/what-have-you. The tasting room proper made up the entire right front of the property. It looked like a tasting room alright . . . for a massive brewery.
Portland would drink this place up.
The doors were opened early to allow for press people to get situated. Staff members greeted us at the door. Upon entering, I was somewhat worried that I wouldn't know anybody – save for some of the Smith staff and my drafted photographer. No the case, though, since I encountered a couple of people I knew through my online PDX Bloggers dealings.
To whet our palates, they served up some Bai Hao oolong, which I didn't mind. I love me a good Bai Hao. As I was sipping that down, owner Kim DeMent greeted me. She asked what I thought of the new digs.
"It's so shiny!" I replied. No professionalism in my voice, whatsoever.
Our handlers let us mill about for a moment or ten before someone clanked a glass to get our attention. Kim DeMent addressed the crowd first, to introduce us to the new place. And to elaborate on why they expanded.
She, then, introduced their new CEO – Tom Clemente. I remember reading that they brought on a new president, but I didn't know when/how they were going to introduce him. I wasn't used to seeing that happen with tea companies. Wow, they really had grown.
The floor was then relinquished to Tony Tellin – Smith's lead blender – who acted as a bit of an M.C. for the tasting sessions that followed. He, first, focused on explaining what they'd been up to with the Makers Series. These teas were limited edition offerings that Smith did with local food industry professionals.
Tyler Malek (Salt & Straw) told the story behind the creation of Oolong Ice Cream, which tasted exactly as the title suggested. Vitaly Paley (chef for the restaurant, Imperial) waxed nostalgic about his Russian roots, and his contribution to the blend, Georgian Caravan – a smoked tea fusion served with huckleberry jelly. And, lastly, there was Gregory Gourdet (chef for Departure Restaurant), who was on hand to help introduce his collab blend – Phuket Fire.
And, yes, I pronounced it the inappropriate way, too. Because . . . fuck it. Why not?
Tony Tellin also mentioned that they would be serving up a preview of their new Black Box Series. I.e. THEIR BARREL-AGED TEAS!!! Ahem . . . sorry . . . got carried away there. I was just a teensy-weensy bit excited for this release. The Smith staff, then, served all us press minions champagne shoots of on-tapped, carbonated Strawberry Honeybush to toast the opening of the new Smith HQ.
Once the formalities were finished, I dragged Ms. Tepper with me to the back tasting room for the barrel-aged series. They weren't officially ready, yet, but the barrels had been tapped. There were three on display this year – White Chrysmas, Mulled Black and Irish Moringa.
For these three, they went all out in the blending department. White Chrysmas was a complex fusion of Yunnan Silver Needle, pear brandy, vanilla beans, which were all aged in a rum barrel. Once tapped, they were – then – blended with chrysanthemum flowers. The result was a liquor that was light in color and subtle on taste.
Perhaps too subtle.
I even overstepped my bounds and told the staff that they should serve it at water given a full boil. Not the 185F water they went with. Yunnan white teas were not delicate maidens-in-waiting, they were freakin' Amazons.
The Mulled Black was really unique. The base was a Yunnan Dian Hong, while the rounded-out blend elements were cassia, hazelnuts, cranberries and cloves. They were then aged in an aquavit barrel. I actually had to ask what the heck aquavit even was. My alcohol knowledge was a little rusty.
Another press person chimed in by saying it was a flavored spirit from Scandinavia. After distillation, it was typically infused with herbs and spices to give it an extra punch. As if the grainy, gasoline taste weren't punchy enough. Never had it, don't plan too, but it added an awesome something to the oak barrel they used. And that was front and center in the blend as well. In short, it was my favorite.
Last (and, in my opinion, least) was Irish Moringa. This was a weird blend, even in a veritable sea of unique blends. The base was an Indian herb I'd never heard of called Moringa, which was rounded out with orange peel, sarsaparilla root, vanilla bean, and star anise. Then all those elements were put in an Irish whiskey barrel for an indeterminate period of time.
Everyone I asked declared this as their clear favorite. I think they went a little too misty-eyed over the words "Irish whiskey barrel". Maybe it was just me, but I didn't taste the scented hints from the barrel at all. All I got was anise and . . . licorice. There was no licorice present in the blend, but that's what my mouth was feelin' like after tasting it. I even gave it a second try. Same effect.
This was the genmaicha of their barrel series. Everybody loved it but me. Proof that my palate is a weird, strange beast.
After our palates were soundly barrel-blasted, we headed over to the main bar where the Maker contributors were serving up their wares. Ms. Tepper had never tried the Oolong Ice Cream, and immediately fell in "like" with the stuff. For me, it was nice to revisit it again, and I do hope they can be convinced to do a second go of it. It was still the gem of the Makers Series.
Of course, I also had to re-dip into some good ol' Georgian Caravan because . . . smoked tea! A practice that I think should be more encouraged than it is. Yes, I even did the jelly thing. Not my favorite way to do it, though – proof that there isn't any Russian in me. At all. Anywhere.
But I've gotta give credit where it is due. The new Phuket Fire blend was also rather tasty. It reminded me of a Thai soup of some sort. Which one? I dunno . . . all of them. It was a very hibiscus-heavy fusion, but that worked in this regard. It would be interesting to try it iced, or as the broth base for an actual soup. Someone who can cook should get on that.
And speaking of food . . . this . . .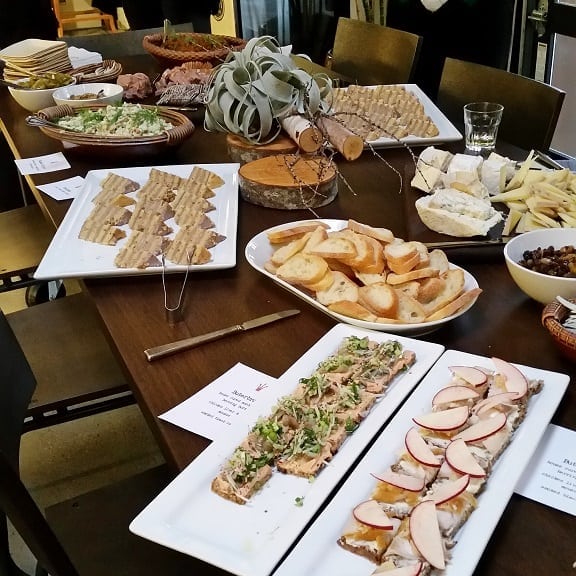 Good ol' Vitaly Paley donated several platters of stuff to the event. I couldn't identify – or pronounce – most of it. All I knew, it was damn delicious. What? You want more details? What do I look like, a food blogger? It was good. Let it go.
The capper was a real doozy of a treat. Salt & Straw ice cream served . . . in masala chai on nitro.
I . . . I can't even. So good. So much good. Correct grammar failing me.
After two hours of pure tea-'n-food coma bliss, we called it a night. There's no doubt in my mind that the new (and shiny!) Smith HQ will be a big hit for Portlanders and visitors alike. It's the next step in their evolution and expansion. The company has had a rough year, what with the passing of their founder and namesake, but if this new property is anything . . . it's a monument.
I still have a soft-spot for their humble, ivy-covered, brick-'n-mortar shop, though. Kim DeMent even hoped I wouldn't forego the old location for the new. I assured her that wouldn't be possible. I have too many memories there of teas long passed. Even as they set their sights on a bright – and shiny! – future.