World Tea Expo, 2016, Day 2 . . . started early.
Really early. Okay, maybe not that early, but it felt early. Sleep was a rare commodity that week, thus far. I immediately hit the Teas Etc. booth and grabbed an oolong to refuel.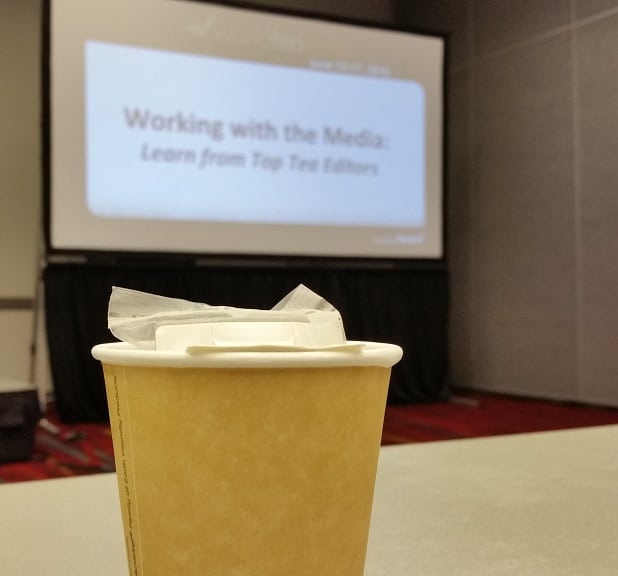 If I was going to spend the morning attending core panels, I was gonna need it. My attention span was rocky at best, already. Add lack of sleep to that, and I was useless to the world.
The first core panel I attended was the Aaron Kiel/Gail Gastelu moderated Working with the Media: Learn from Top Tea Editors. As the above image of my tired oolonginess implied. The panelists were: Jan Weigel of Fresh Cup Magazine, Lorna Reeves of TeaTime Magazine, Vanessa Facenda of Tea & Coffee Trade Journal, Dan Bolton from . . . just about everywhere, Linda Gaylard of The Tea Stylist (Yay!), Scott Reitz (also from everywhere), and Kathy YL Chan of Condé Nast Traveler/Ritz-Carlton Magazine.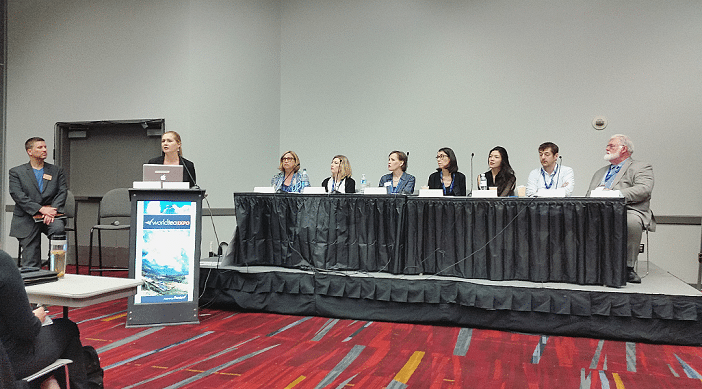 I only knew (and knew of) three of the people.
However, it was a highly informative panel. Having dipped my toes in tea journalism before—often finding the water too cold—it was good to receive some firsthand knowledge of what the tea writing trade was like. One of my biggest takeaways from it was the "power of the pitch". Pitching articles was the life's blood of any journalistic endeavor, but it was especially true for tea. I sucked at pitching . . . and catching . . . and seeing the ball before it hit my face.
Other highlights included Linda repping the tea blogger community on the panel.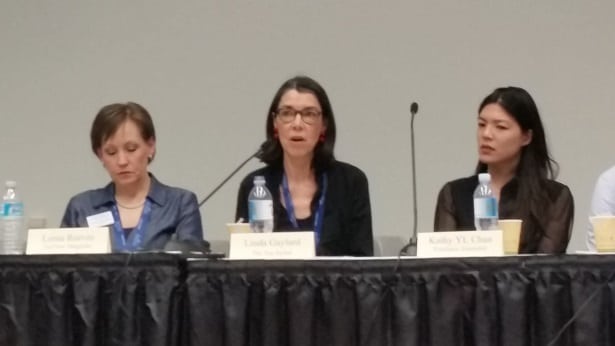 And Dan Bolton . . . being his Dan Boltoniest.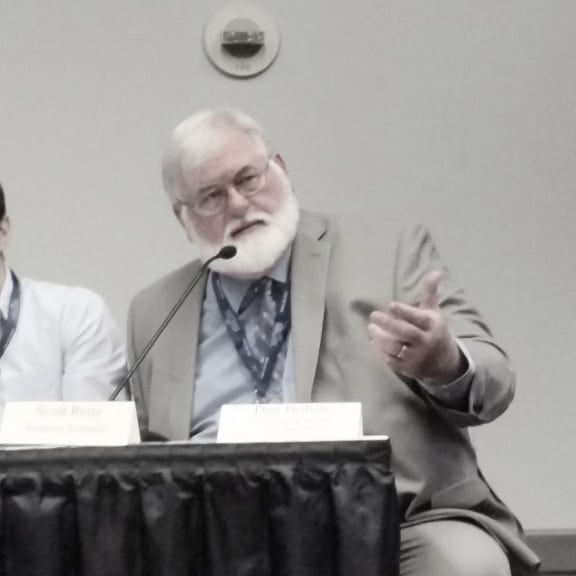 I could listen to that guy talk for hours. He could lull me to a comfortable sleep reading a tea plant cultivar list.
Next on the docket was blogger colleague Nicole Martin's wordily-titled Utilizing Social Media to Connect with Customers Authentically and Grow Your Business . . . panel.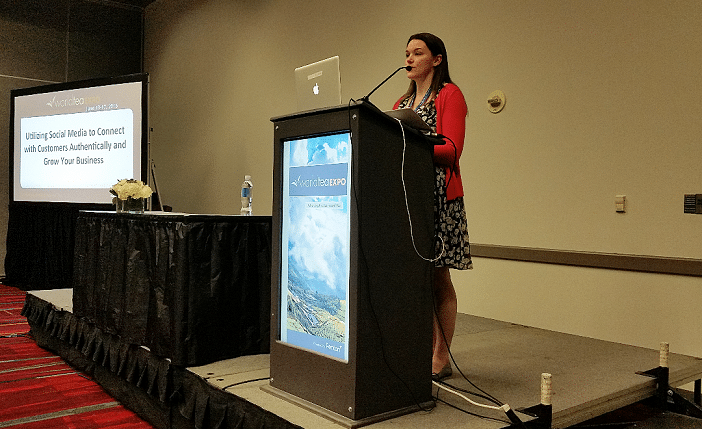 Say that five times fast.
Nicole initially thought no one would be attending her panel, given that it was at the same time as Kevin Gascoyne's tea and bourbon tasting workshop. But she was wrong. Oh boy . . . was she ever wrong . . .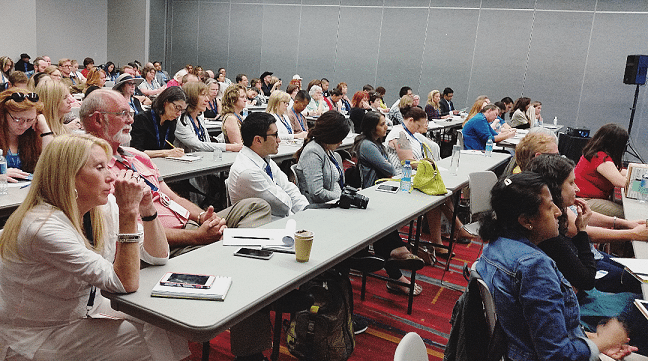 Standing. Room. Only.
Apparently, many tea professionals out there wanted to learn how "the FaceTubes" worked.
Highlight for me: Learning about Snapchat. All of it. Any of it. I still don't get it. But then again, I'm old.
Once the panels were done, it was time to hit the vendor hall again.  I thought for sure I hit up all the vendors I needed to the day prior. But I was wrong. Oh boy . . . was I ever wrong.
As I headed down one of the booth rows, I ran into a Seattle tea friend, Jeffrey McIntosh, founder of Teabook.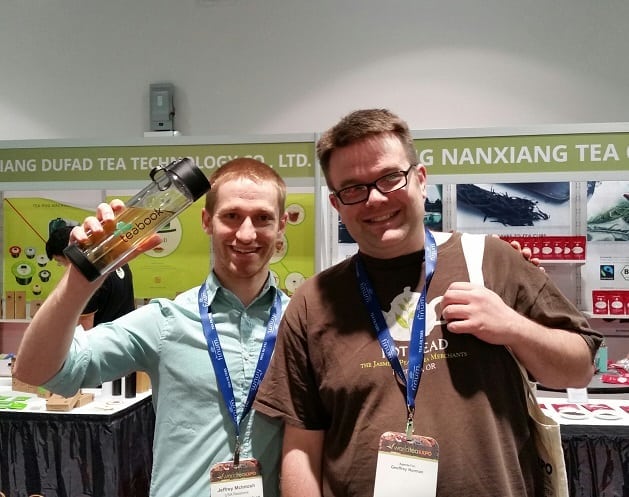 And we did a dance of joy.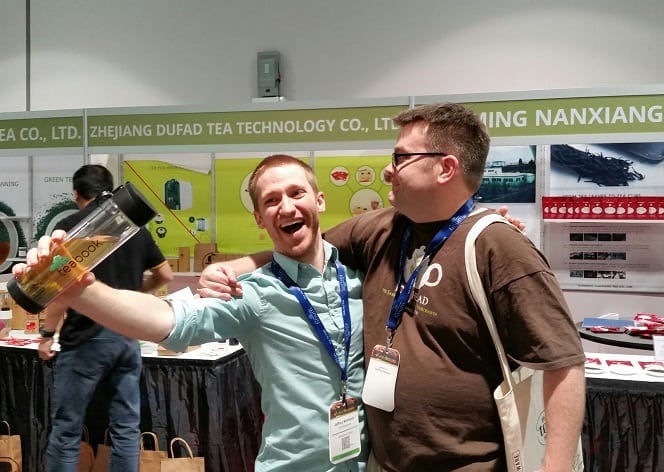 After that I . . .
I don't even know where to bloody start! There was a 30-year-old puerh, a company sampling coffee mixed with hochija, Japanese dark tea, a white sencha, and—somehow—I even found a booth offering tastings of Duck Shit oolong (not made from actual shit). It was a veritable juggling act . . . for my mouth. Out of context, that does not sound right.
After a couple of hours of meandering, I reconnected with Naomi, who informed me that the U.S. League of Tea Growers meeting was happening, soon. As we headed for the hall exit, I got distracted by something shiny. I said, "I'll catch up."
She glared at me. "You're going to be a half-hour late, aren't you?"
I shrugged a "could-be".
In mid-distraction, I received a text. It was from local Portlandian friend, Erica, owner of Tea Bar. She was wondering where I was at.
Wait . . . I thought. SHE's at Expo, too?!
After ten-or-so minutes of playing "Find the Tea Girls", I located Erica and her team. For a few seconds, we just stood there. Awkwardly. I wondered if they were expecting me to do something. What was I supposed to be doing?
"Oh right!" it dawned on me. "You wanted to meet Rajiv!"
So, I led them to Rajiv.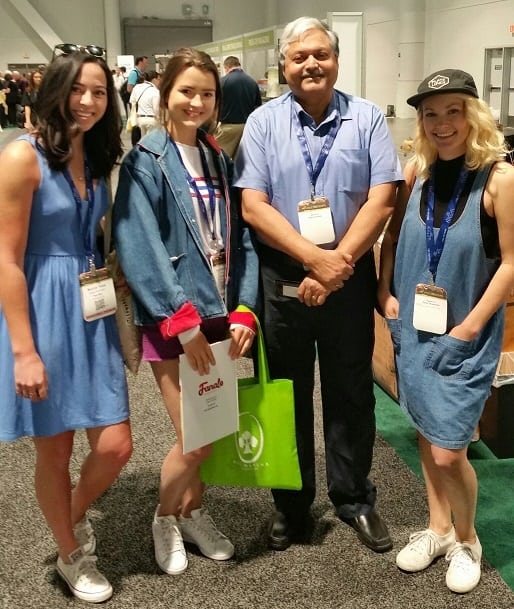 Everyone wants to meet Rajiv. Why? 'Cause . . . it's Rajiv!
As Naomi predicted, I was late to the meeting. Luckily, I got the gist of it from the whole whoppin' ten minutes I was there. Then I hit the hall to find shiny things, again.
In my wanderings, I happened by the Nepali Tea Traders booth. Owner Maggie Le Beau nudged me in the direction of a green tea they were sharing with passersby. A smoked green tea.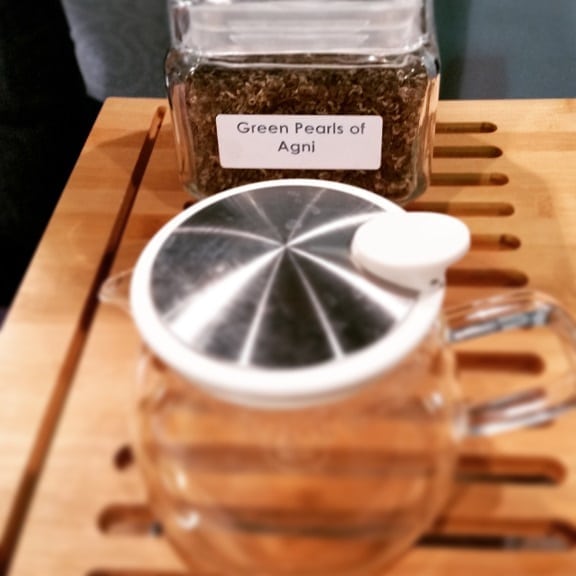 As I gargled that sucker down, I saw Charissa, the Oolong Owl, pass by.
I yelled in her direction, "OWL! TRY! SMOKED GREEN! AGNI MEANS FIRE!" (At least, that's how she claims I sounded. I believe it.)
It was my favorite tea that day.
I left shortly after that. There was more to do that evening. Much, much more. In the sky.
'Til next time.