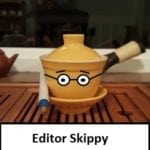 Editor's Note: This is merely a thought exercise by the author. The opinions reflected in the below narrative do not reflect the opinions of the teaware on staff . . . or this editor, for that matter.
Seriously, I just work here, guys.
A thought occurred to me over the years. No one has come to a clear consensus as to what the proper tea categories are. The general consensus is that there are six: Heicha (Dark Tea), Hong Cha (Black/Red Tea), Wulong, Green Tea, Yellow Tea, and White Tea. However, some say that yellow tea isn't its own category (even though it clearly is). Others champion the stance that dark tea shouldn't include sheng (raw) puerh. Others still believe puerh should be its own category. Hell, even some international trade laws only recognize two tea categories.
So, this got me thinking . . .
If I were the end-all/say-all authority on tea lexicography, how would I divvy up the different tea types? What would my breakdown look like? Well, in order to answer that question, I must breakdown (and in some cases, outright destroy) existing trends. This might over-complicate the issue, and over-simplify other things. But this is my write-up . . . and I'll do what I want. So, here we go:
*dons helmet*