Sometimes, I think the ancient Chinese are trolling us from beyond their ancestral graves. How else do you explain an oolong that is – essentially – a poop joke?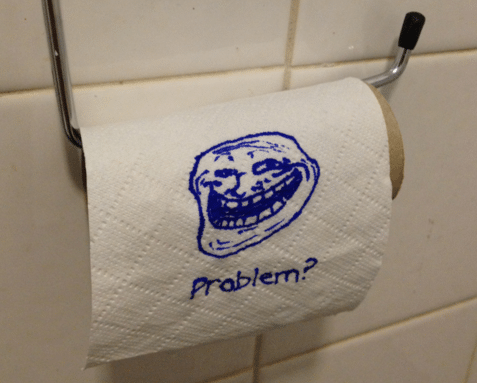 Yashi Xiang (Duck Shit Fragrance) Dan Cong is an oolong hailing from Guangdong province, China. I first learned of it from fellow weird tea friend, Greg "Norbu Tea" Glancy. (As in, he's into weird teas, like me; not that he – himself – is weird . . . like me. I don't think?) I spotted a conversation on Twitter that he was having with a client, and caught wind of the words "duck shit". That made my inner eleven-year-old perk up.
He didn't have any of the stuff, but I filed that bit of tea knowledge away for future use. Roughly two years later, I was contacted by Paul "Two Dog Tea Blog" Murray. The message read, "I should probably send you some tea, shouldn't I?" (Or something to that effect.) I had no idea I was someone folks had to send tea to . . . but okay.
He was one of my favorite types of folks, a tea blogger that decided to make the plunge into selling tea. His focus: Unique pu-erhs and – if necessity dictated – odd oolongs and black teas.
The name of his op? White 2 Tea. I had no idea what that stood for, and I forgot to ask. All I knew was that he had a wicked sense of humor, and that he was based in Beijing, China. That and his branding kicked ass. Case in point: This was the label for his Yashi Xiang Dan Cong.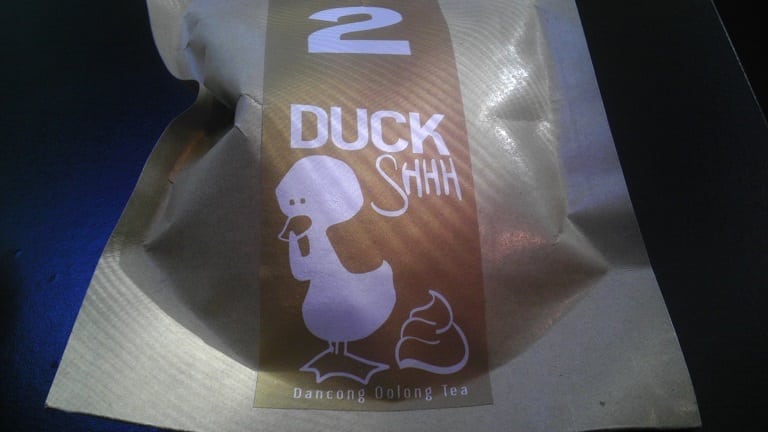 I want that duck (with turd) as a tea pet.
The funny thing about this "Duck Shit" oolong is that it didn't look like duck shit. I even did an image search for comparative reference. (I will spare you – fine readers – of that visual experience.) Nope, the leaves were definitely not reminiscent of water fowl's . . . uh . . . foul. I could've spared myself that delightful search if I'd just read the product notes.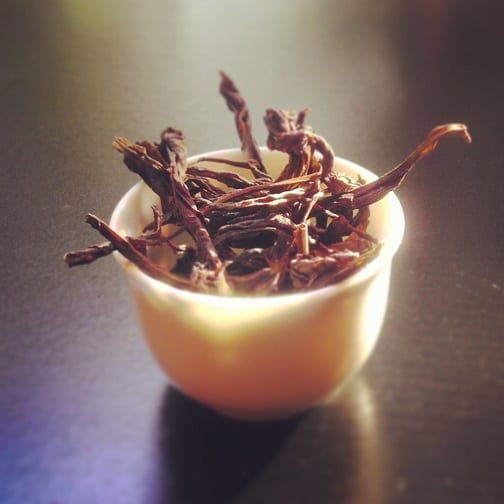 The yashi referred to the fragrance of the leaves, not the appearance of them. I also found this decidedly odd because – having been a precocious child once – I remember what duckscrement smelled like. Up close. This was not the same.
The leaves were large and spindly, resembling a large leaf Yunnan hong cha rather than an oolong. There were even gold-tipped bits to the leaves, which further confused the issue. The supposed fowl feces-inspired aroma was actually . . . floral and buttery. So, I'm chalking this naming scheme to being a rather ancient joke pulled on unsuspecting buyers. And bloggers with way too much time on their hands.
Measuring the leaves out for brewing was a chore, due to the average leaf size. Neither a teaspoon nor a tablespoon could cut it. In the end, I had to guesstimate a gaiwan's brew of about a small half-handful, and then boiled the water. I utilized as close to a gongfu-style prep as possible.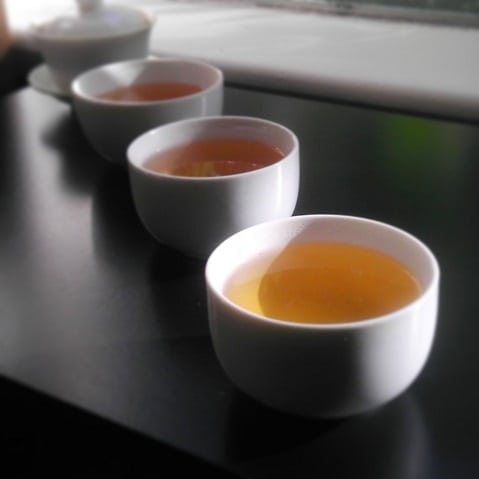 All three infusions brewed up to a warm medium-amber liquor with the same floral aroma on the dry leaves. Whereas most Dan Congs exhibited a requisite tartness on the first sip, this had a crisp introduction, followed closely by a bit of astringency, and trailed off to a creamy/minerally nuanced tug-'o-war. Further infusions deepened with notes of apricot . . . but still subtle. All steeps had a lingering sweetness on aftertaste. No notes of poo.
Not really sure how to end this, appropriately. As far as ancient poop jokes go, this was delicious. I was already a massive fan of Dan Congs, but now I was positively overflowing with good will toward them. All negative emotions flushed away.
Hehe . . . duck shit . . . okay, that's funny.