As I've said many times, it often takes a mere photograph to grab my attention, and to remind me of something I've neglected. For instace, this one.
This was posted in August by blogger compatriot (and all-around great guy) Eric of One Man's Tea Journey.  In the spring of 2019, he paid a visit to two US-based tea gardens—one in Alabama and one in Mississippi—and recorded the experience for posterity. I have no good excuse for this; somehow this article slipped my notice. His photographic reminder, however, didn't. I voiced my envy.
His unexpected response to my textual salivation was to . . . send me two teas grown in Alabama. (Pretty sure he was already aware that I had sampled the heck out of the Mississippi tea garden.) That was not a response I had expected, nor was it one I was too gracious to refuse. Although, I did offer to send something in return, and that offer still stands; just so we're clear.
The Fairhope Tea Plantation is located (obviously) in Fairhope, Alabama. Quick'n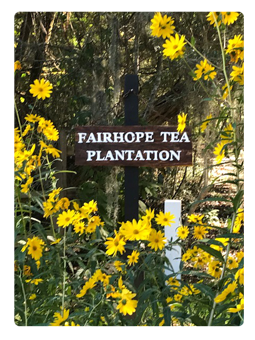 dirty version: the garden was founded in 1979 from the remnants of an old Lipton test plot. From three plants that survived a haphazard bonfire, horticulturalist Donnie Barrett started a tea garden that would later expand to 61,000 plants of various cultivars. He experimented with making his own tea in 1984 after a visit to China, and pretty much had to learn everything from scratch.
If you want to read the plantation's full story, go HERE.