While it has never been expressly stated, it's common knowledge that I don't usually write about tea blends. If and when I do, it's usually if they have a story behind them. About a year ago, Stacy Lim of Butiki Teas had urged me to try some of theirs, but I was hesitant. Then she explained the story about one such blend.
I was hooked.
Back in December of 2012, Stacy was contacted by Sally Taylor – the daughter of James Taylor and Carly Simon. She proposed that a tea blend be donated to a rather ambitious artistic project. The venture was called Consenses. Its goal was to gather 130 artists from several different mediums and have them build upon each others inspiration with new creations. Think of a weird amalgamation of "Pay It Forward" and a game of "Telephone". One artist would come up with one piece, another (perhaps a writer) would follow that up with a piece inspired by the prior. Rinse and repeat.
Butiki Teas contributing branch was thus: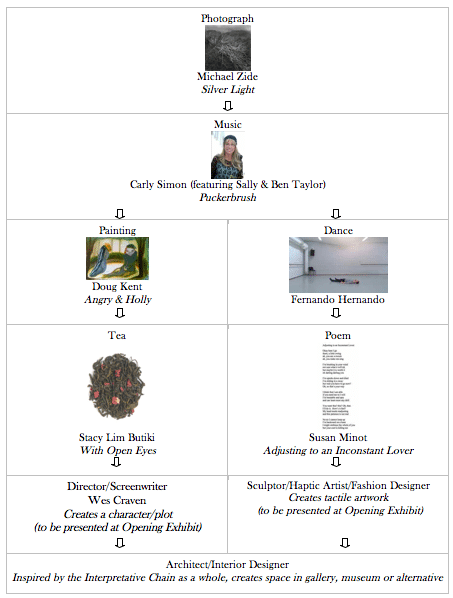 She was tasked with coming up with a blend inspired by a painting featuring two creatures. Even more daunting than that? The one following her up – doing a story based on her blend – was Wes Craven.
Yes, that Wes Craven.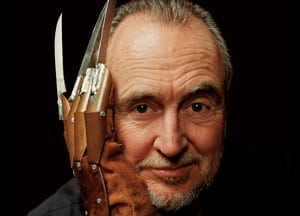 To top it all off, she only had a week to prepare it. Blending the right ingredients usually took months of trials. After a few attempts, she had come up with a combination – Long Jing (representing past expectations), strawberries (symbolizing new beginnings) and butter toffee (for hope). Ginger rounded out the blend, I guess, for sass. The blend was dubbed "With Open Eyes".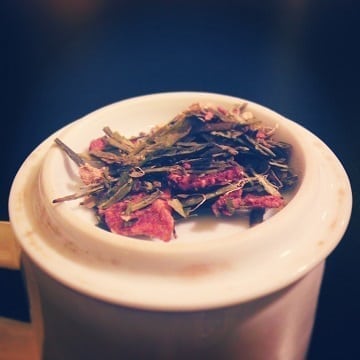 The result was a not-too-pungent bouquet of green and bold red with an aroma of berries and wine. At least, that's what I thought. The problem with using any sort of berry for a tea blend – strawberry or otherwise – is that dried fruits don't really contribute much flavor. They contribute some, but not enough to be noticeable.
Flavoring is required to create a bolder profile. Luckily, the natural flavoring used for this blend was vegan-sourced. It was the one time I was happy to see the word "vegan" in anything. Reason being, some natural flavorings come from rather…uh…disgusting sources. Case in point, some strawberry flavorings comes from the anal glands of this poor li'l bastard.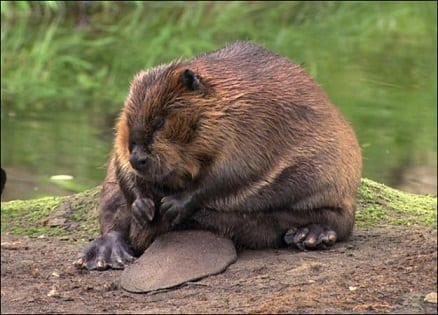 That's right, if you have something with strawberry flavoring, and it's not vegan…you're probably ingesting beaver butts. You're welcome.
Relief aside, the blend smelled wonderful, and I was happy to see that the green tea base used was Long Jing. Not a cheap tea to use. For brewing, I went with the recommendation on the sample bag: 1 teaspoon in 8oz. of 180F heated water. Steep time – two minutes, thirty seconds.
The result was a light green liquor with a pleasant aroma of berries and cream. Ginger was nowhere to be found in the aromatics, but that was alright. In all likelihood, it was roundhouse-kicked by the toffee. I was okay with that.
As for taste, well, it did exactly as promised. Long Jing's winy notes took point, followed closely by a strawberry-rich middle, and a creamy finish. It did taste like new beginnings.
In August of 2014, the Consenses gallery finally opened up in Martha's Vineyard.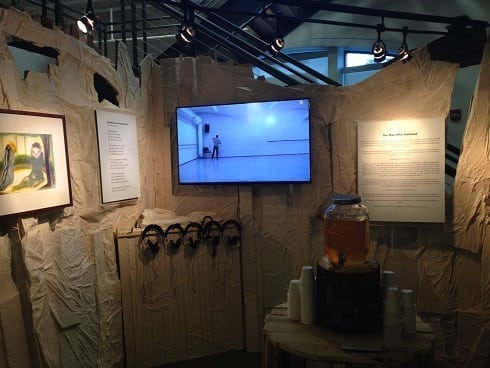 Butiki's blend was front and center, next to the other pieces in its artistic branch. The Wes Craven story it inspired was called "The Man Who Vanished". I hope to someday encounter it.
I had received the blend to try back in April of 2014. Butiki Teas announced they were closing their virtual doors in October of that same year. I didn't dip into "With Open Eyes" until later that same month. By then, it had completely sold out, which wasn't a surprise to me. I just wish I had told this story sooner.
In any case, I raise a toast to the Butiki family, to all they've done for the tea community at large, and the stories they've left behind. May they greet their new beginnings with open eyes…
…And without beaver butts.