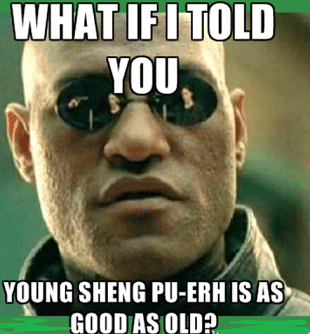 It's an honest question.
For years, I was taught that, sure, a young sheng (raw) pu-erh could be good, but it had yet to reach its full potential. After all, pu-erh was meant to be aged – to mature over time. Particularly the raw variety. However, I'm starting to rethink my stance on that. Sometimes, just sometimes, a younger, just-plucked, newly-pressed pu-erh can stand up against its older beengcha brethren.
Two months ago, I received a text from Nick "Misty Peak Teas" Lozito. He had just returned from a sourcing trip to Mount Yiwu, Yunnan province, China, where his farming contact was. Nick direct sourced from one farmer, and one farmer only. All the products he carried were from one dude. I covered his outfit a few months ago. But I digress . . .
Nick practically said, "Dude! You've gotta try this autumn flush I got. It's amazing."
He was too busy to get together that week, what with a newborn son and all, but he dropped some off at Tea Bar – the local outfit that carried his sheng to serve. I made the trip out to North Portland to try it. And, boy, he wasn't kidding.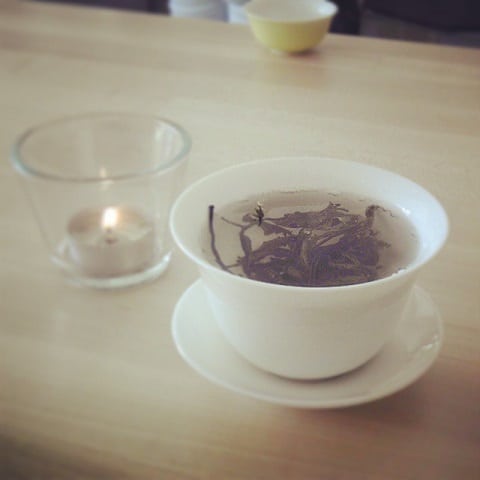 I wasn't used to judging pu-erhs by their recent seasonal plucks. Usually, that was Darjeeling territory. Pu-erh is generally judged by the year it was plucked/pressed, not the month. But there was a definite difference between the spring 2014 Yiwu pu-erh and the autumn. I just needed to judge for myself a bit more thoroughly.
In the meantime, Misty Peak Teas was carving out a niche for itself in the online community. I was hearing rumblings about how good the stuff was from other fellow bloggers. Their wares were even receiving accolades on Steepster. To date, the 2014 cake was the highest rated pu-erh on the site. Impressive, given the competition.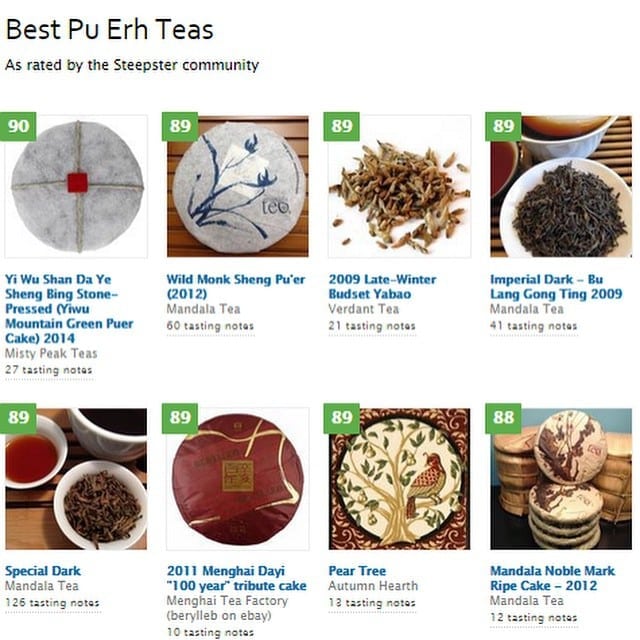 Alas, life got in the way, and I didn't follow up with Nick for a more thorough tasting until . . . well . . . yesterday [at the time of this writing]. He cut out a section of his day in which to entertain my urge to drink more of the autumn tea.
When I pulled up to "Misty Peak HQ", I was told to come around to the back. There he was on a green blanket, feeding his four-month-old, Vincenzo. It was far too adorable a sight not to snap.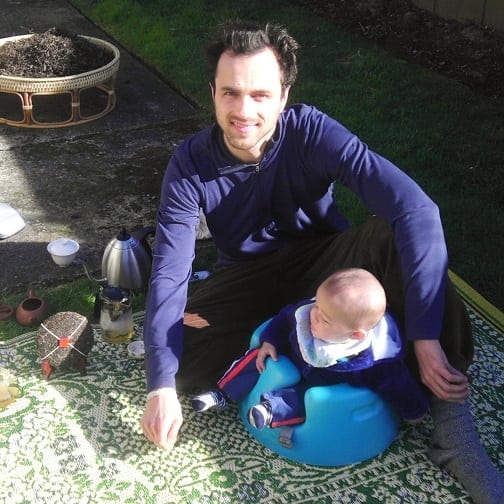 Then we got to drinking.
First, as a palate starter, Nick broke out a cake of his 2005. It was the one year from that farm I hadn't tried yet. The leaves were large and lovely.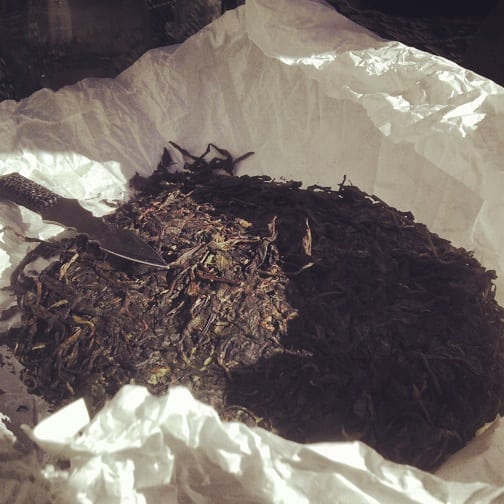 Brewed gongfu, the liquor was a deep brass, and I tasted straight stone fruit, earth, and ancient civilization. Is that a taste? Well, it is now.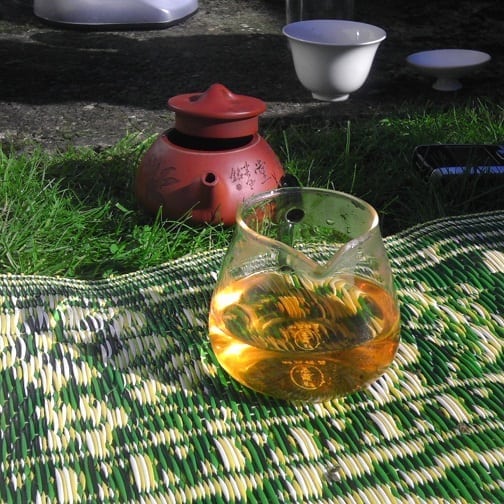 I was in a daze, and we had only just begun.
Next up, he offered up the autumn 2014 side-by-side with the spring.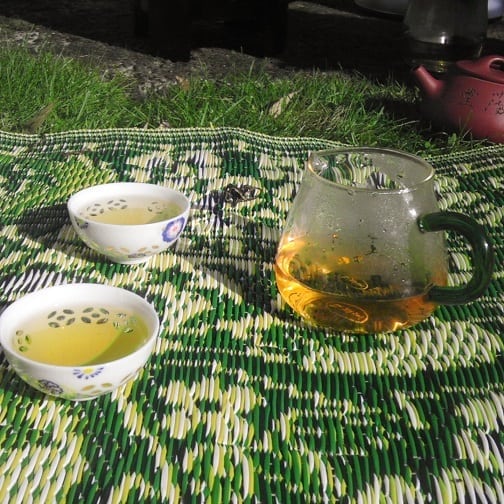 The spring pluck was fruitier, but the autumn was somehow sweeter – more mature. On a blind test, I couldn't tell them apart, but the difference in maturity was there, if subtle. The autumn was just a shy bit better. It was like comparing two pieces of cheesecake based upon how many strawberries were topped on 'em.
Further down the line, we compared two 2012s, binged on some pu-erh that'd been left outdoors to cure. (For the heck of it.) Mizuba Tea's Lauren Danson also stopped by to join in the festivities for a quick minute or three. What was initially intended as, maybe, an hour's tasting session turned into three.
After I-dunno-how-many cups of 2005, 2012, and 2014 teas, I was good and basted. Feeling the Universe and s**t. But it was high time to retire. Before I left, though, Nick brought out a really interesting sight to show off. A giant ball of pu-erh. No seriously.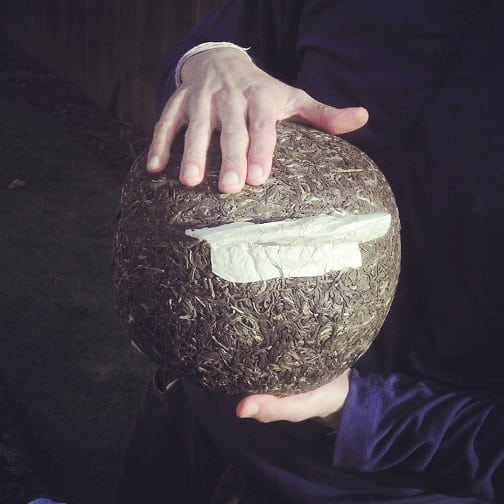 Look at that thing. Apparently, the farmer plucked it the same month Nick's son was born, and pressed the ball to the newborn's exact weight. I held it. The sucker weighed about seven pounds – and change!
As I made my farewells, I made it a point to acquire a cake of the autumn 2014.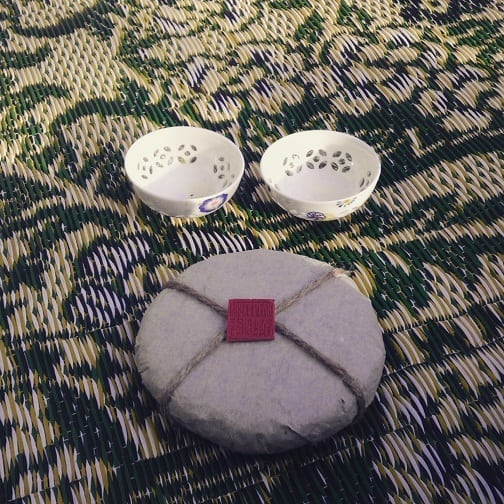 Oh yeah . . . I was supposed to be devoting this entry to making a case for young pu-erh. Look, it's a subjective thing. If you prefer the aged stuff, you'll likely stick to the aged stuff. Young pu-erh tastes young. It's like a green tea with lofty aspirations, or Luke Skywalker before raging against the second Death Star. All I wanted to show was, a great time could be had with the new as well as the old. And the less stuffy you are about either, the better.
Because . . . GIANT PU-ERH BALLS ARE AWESOME!
That is all.