Well, it's spring again, and with it comes warmer weather. That's how it is in the Pacific Northwest. I'm . . . not a fan. The reason? With warmer weather comes seasonal chronic migraines; a fun little diagnosis I received back in 2017. And it puts a heck of a damper on my routine tea drinking.
Every year is a little bit different. I have to spend a couple of months tinkering with my tea drinking rituals so as to avoid triggering a headache later in the evening. This year was particularly upsetting because everything seemed to be a trigger, even my yearly love affair with first flush Darjeelings.
So, it came as quite a surprise that I fared better when I switched over almost entirely . . . to green tea.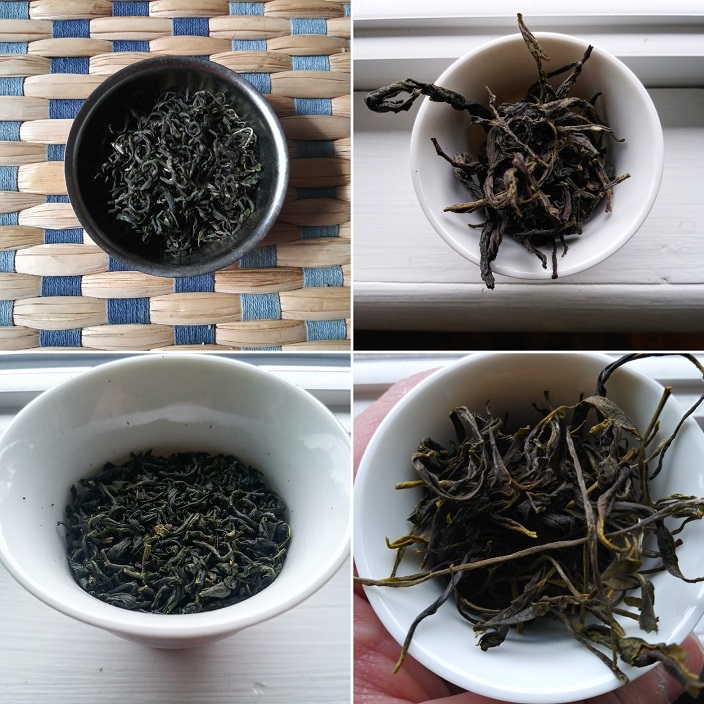 At least, for daily consumption. On the odd day off, I can get away with sampling (or bathing) in my usual hearty black teas and darker oolongs. For the daily grind, though, I could only do green tea in the morning. What made this change particularly difficult was . . . for the longest time . . . I wasn't a fan of green tea.
Granted, I liked some, loved others, and had been surprised by a fair share, but it was not a tea type my palate gravitated to. As such, there were many types I'd missed out on because of this unintended bias. Until I was forced to finally explore.
Around the same time as this change in tea consumption, I got a direct message from Seven Cups. They wondered if I had any interest in sampling some of their spring 2019 green teas from China. The timing couldn't have been better. I replied with a "Hail Mary!" of a "Hell yes!" and awaited their arrival.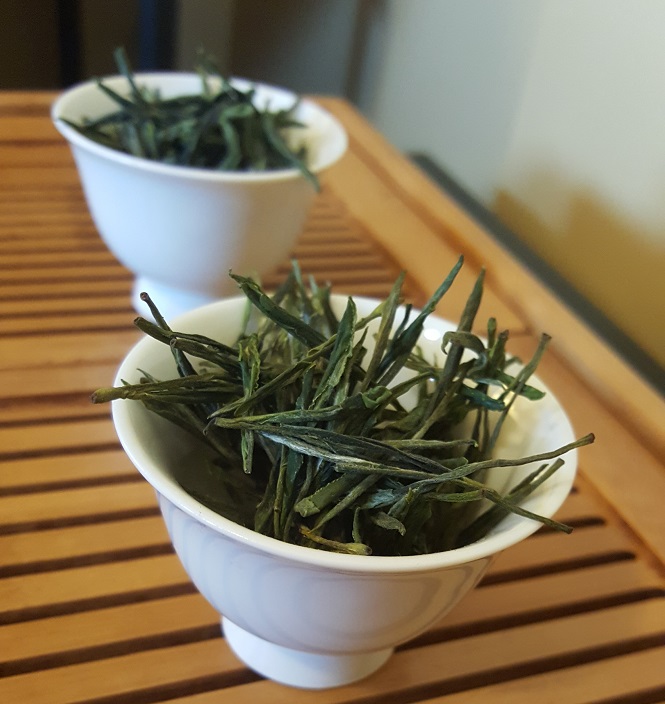 I received three. One I had tried a version of before, one I'd heard of but never tried, and one I'd never seen nor heard of. For my purposes here, I chose to feature the ones I'd never tried before. Lui An Gua Pian ("Melon Seed") and Gu Zhu Zi Sun (Purple Bamboo Shoot).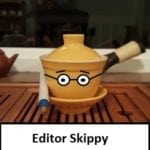 Editor's Note: Now, usually, this is the part where the author would try to summarize what both of these teas are about, but he's not his time. For the sake of word count (and my sanity). Seven Cups does a much better job of narrating the uniqueness of these teas. We'll link to those write-ups when appropriate.
For brewing, I handled both of these teas identically. I used roughly 2 grams of leaf, per 6 oz. gaiwan, and a steep of two minutes (for the Gua Pian) and three minutes (for the Purple Bamboo Shoot); with water brewed to 180F. I figured I'd have a good margin of error, but I didn't want to chance it, and went as conservatively as possible.
For the record, I never tried this type of tea before because I thought I had. Somehow, I confused this tea type with Lui An basket tea, which is a heicha ("dark tea"). Color me surprised when I learned just recently, I'd skipped over this lovely. A detailed blog write-up on this tea can be found HERE.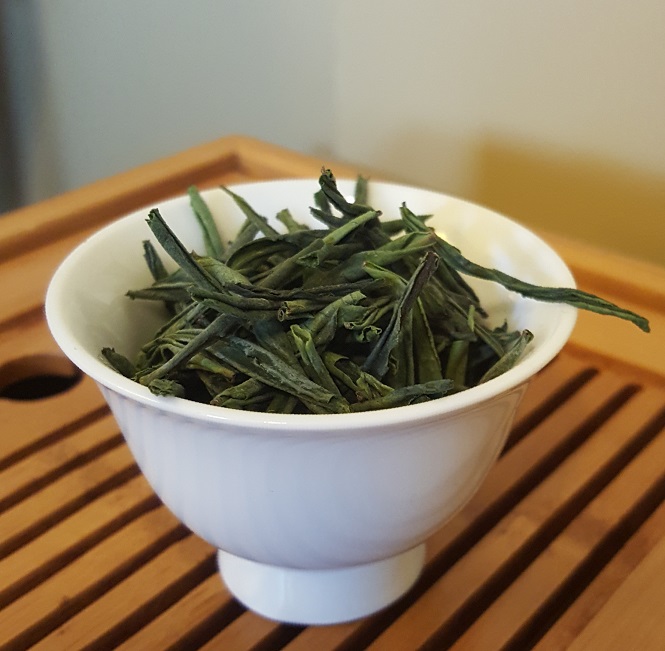 The leaves were gorgeous. Okay, that's not a very succinct description, but they were! I was basically looking at young, fresh, deep green leaves that were delicately folded into a needle-like pattern. Almost as if they were prepared to emulate buds. The aroma they gave off was pure vanilla nut-sweet joy. In my not-so-professional estimate, nothing can beat the aroma of a delicately fried spring green tea . . . in the spring.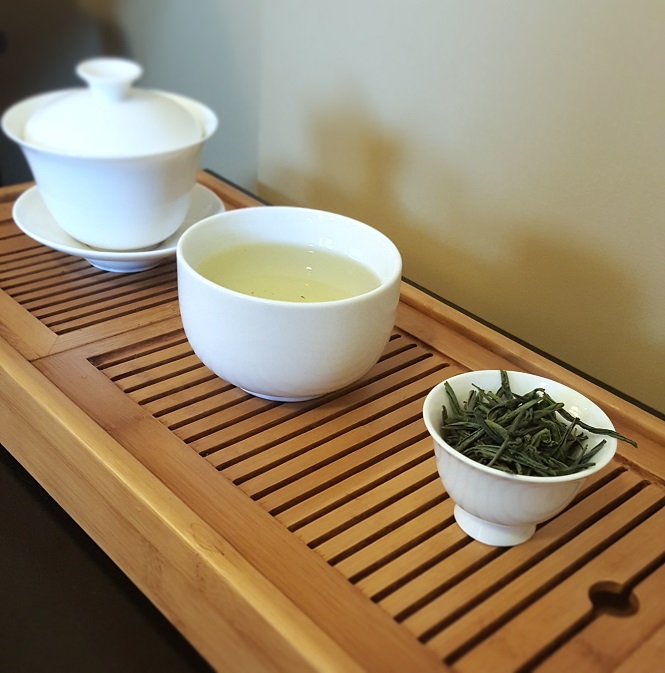 The liquor brewed to a pale, gold-green with a shimmer to the periphery. It was a very spritely brew. The steam aroma was equally zesty, evoking a sensation of artichoke hearts lathered in some sort of dessert-y sauce. I'm not a foodie; couldn't tell ya which one. Something French. The flavor started off with a slight grassy tickle, but then irised open like a soul camera to display more nuances of forest, sugarcane, and a toasty "green" finish.
Now, this sucker, I'd never heard of, but apparently it's famous. It escaped my notice entirely because of the green tea factor. I had no clue if I liked most pan-fried Chinese greens (in general . . . at the time). That changed when I opened the bag. A more detailed description of this tea can be found HERE.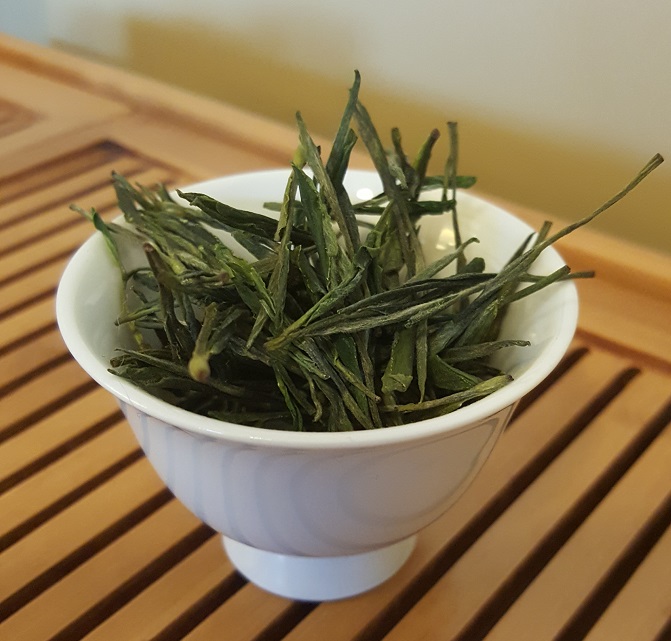 The leaves for the Purple Bamboo Shoot, slightly resembled the Gua Pian—in that the leaves were rolled into thin reeds. But that's where the similarity stops. The aroma had "some" of the same Chinese green tea nut-sweetness, but a freshness to the aroma also came along for the ride. The image that popped in my head? A forest of lemongrass that'd been freshly mowed. While the other green tea smelled sweeter, this smelled more like spring.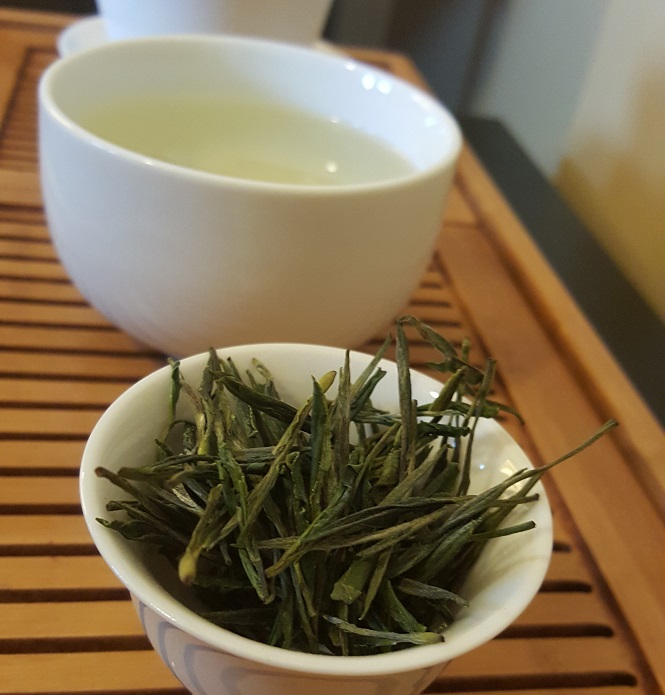 The liquor for this colored quite pale, even by my delicate brewing standards; but then I realized I accidentally steeped it for two minutes instead of three. I let it go a minute longer, and it colored a wee bit more, but not that much more. It was "white tea" pale yellow. The steam aroma was quintessentially Chinese spring green tea, save for a citrus zestiness on the finish. On first sip, it opened up with a nutty profile, but then—as if said nuttiness were crushed under the weight of my frivolous critiques—it transitioned to a creamier mouthfeel. Occasionally, that was punctuated with a bit of lemony tones, but they were swatted aside for spring-like freshness. The huigan was all cream.
I'm hesitant to pick a favorite. Both of these were superb and surprising. If I had a gun or sword to my head, though, I'd go with the Gua Pian. If only for the fact that it was meatier. Sure, it was nuanced, but nuanced in a weightlifter sorta way. That and it didn't get grassy at all if I steeped it for too long. Well, okay, neither of them had that problem, but the Gua Pian deepened in flavor. The Bamboo Shoot, if subjected to higher water temps or steep times, remained relatively the same. Which is also kinda badass.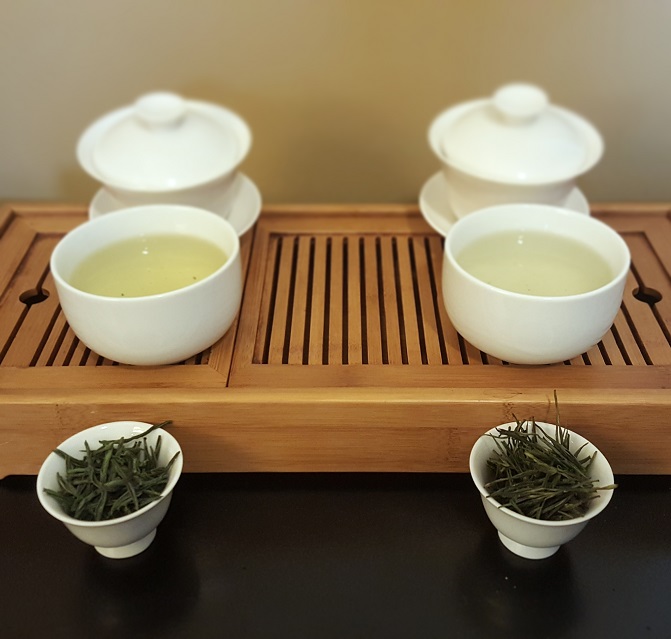 Knowing green teas like this are out there might just make this migraine-inducing summer a lot more bearable.
To buy their Liu An Gua Pian, go HERE.
To buy their Gu Zhu Zi Sun, go HERE.