Almost three years ago, I wrote a rant about steampunk – a sci-fi sub-genre focusing on a fanciful Victorian aesthetic. It wasn't very kind to the various gear-laden facets of the retro offshoot. I argued that the sub-genre lacked a key component that was the beating heart of any alt-history endeavor – a sense of whimsy. To be fair, I did point out its positive aspects, but I largely dismissed the sub-genre as a whole. Like some sort of tea snob hipster douchebag.
Well . . . then I went to a steampunk-themed concert featuring these guys/gals: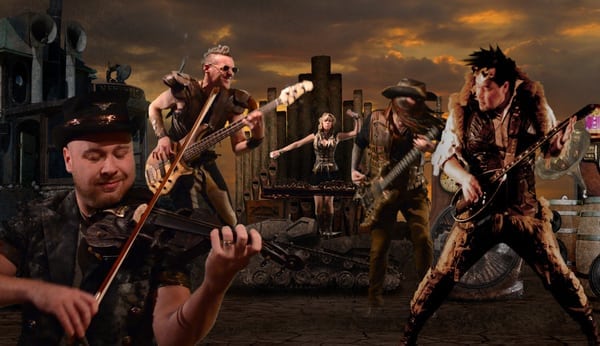 And I was forced to rethink my stance. I always enjoyed [most of] Abney Park's work, but I was curious what sort of show they would put on live. That and what sort of people would attend such a thing. The answer was simple: Geeks. Lots of them. In every shape and size. Sure, there were some posturing goths amidst the rabble, but for the most part – retro-cosplaying geeks. The whole shebang was downright . . . whimsical.
Why was that? And how was my – albeit anecdotal – analysis so way off? What was the source of this whimsy I had missed in my initial missive? As is not hard to believe, the answer was in front of me the whole time. In my damn cup.
The point was further drilled into my brain on an impromptu trip to Seattle. That eccentric metropolis had a very close link to the steampunk sub-genre. Abney Park was based in Seattle. A few authors also called the berg home. But those were just the tip of the chimney.
I was in Seattle visiting a geek/tea blender friend, and we ended up walking around the Fremont neighborhood. Then we stopped and beheld a place with this sign:

A steampunk-themed teashop. Awesome.
We went inside, and the place just about made my jaw drop.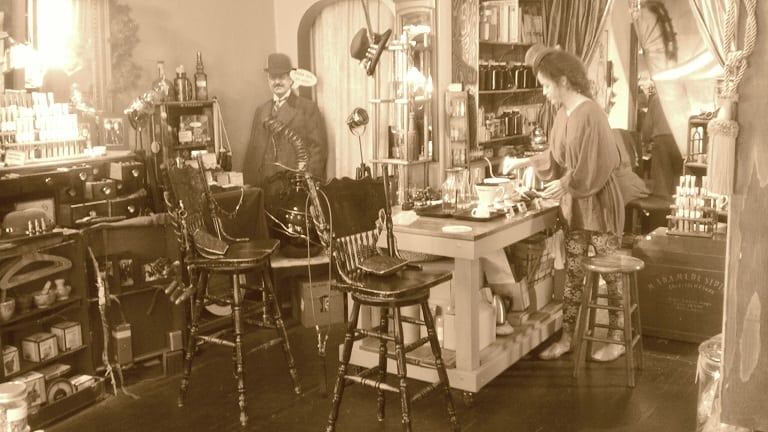 It screamed of period piece whimsy. Various knickknacks lay strewn about the interior. Pistols, old devices and other antiquities were on display. The hostess that greeted us was even wearing a tiny top hat. Nothing screams whimsy like a tiny top hat.
We also met the owner – William Sullivan – briefly before he stepped out. As was fitting for a steampunk teashop owner, he had an epic mustache.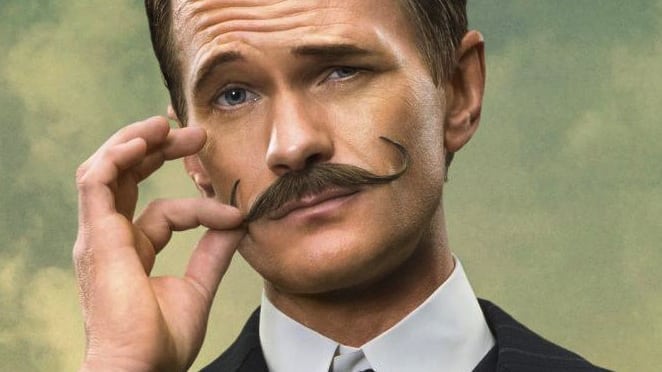 Not quite an accurate likeness . . . but close.
As we explored the various sites and smells of the interior, I looked at their selection. They were primarily a blend-specific op, as I figured they would be. But they had some orthodox wares in their arsenal as well. Of particular note, a Darjeeling from the Risheehat estate; I nodded approvingly.
While talking with the tiny-top-hatted hostess, I made some offhand comment about, "judging tearooms by the pu-erhs they carry." Even going so far as to say that one particular place "could still have my patronage" if they kept carrying this one particular sheng pu-erh.
My tea blender friend gave me a look and said, "I'm sorry . . . but just now you sounded like a tea snob hipster douchebag."
At first, I was offended, but then – after a bout of naval-gazing – I realized she had a point. She could've put it more delicately . . .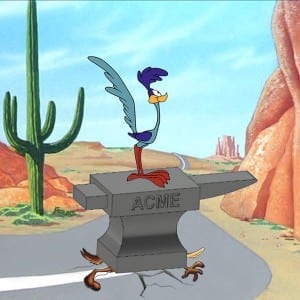 . . . but she had a point.
At what point did I lose MY sense of whimsy? I thought.
Here I was, judging a sub-genre for losing its childlike sense of glee, and I was displaying a veritable absence of the very glee I was championing. Over tea, no less! The SOURCE of my whimsy! A ways back, I wrote about the need for having a discerning palate, but never had I thought it would lead to my own snobbery. What the hell happened? I needed to prove something to myself.
Before leaving, I picked up two of their blends that interested my discerning douchebaggy palate – Clockwork Orange (an Earl Grey variant) and Leprechaun (a blend of Lapsang Souchong and peppermint). Both interested me on a purely visceral level. Nothing made me more whimsical or gleeful than an Earl Grey or a Lapsang Souchong cuppa.
A month later I dug in . . .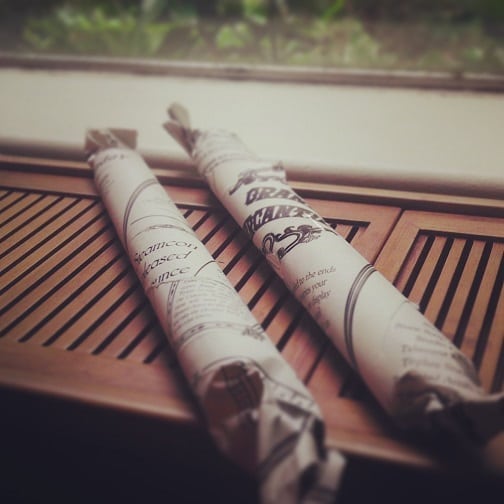 First off, I have to say, I loved their packaging aesthetic.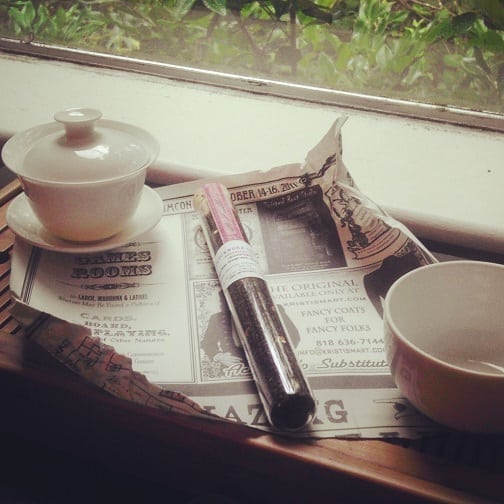 The wrapping was a custom-made faux-newspaper advertisement for various steampunk-related gatherings, organizations and establishments.
The teas themselves were housed in test tubes. Freakin' test tubes! Further supporting the shop's apothecarial motif.
Great ways to keep with the steam-theme.
First off, there was nothing droog-like about this blend, save for the name itself. It was advertised as a super-dose of orange, an even more citrusy Earl Grey. The ingredients list supported that claim: Earl Grey, orange peel and orange extract.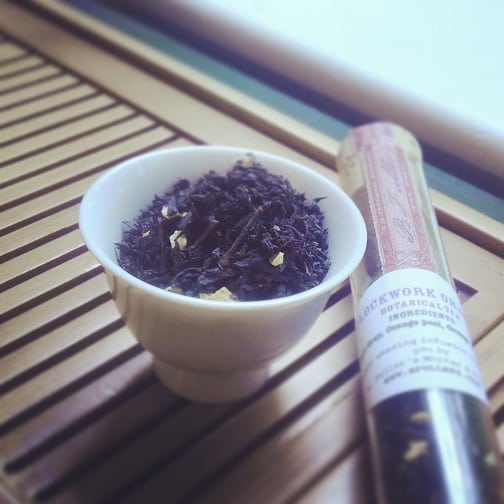 Upon uncorking the test tube, straight citrus met my nostrils. However, it wasn't overpowering, which was my initial worry. It was a very balanced – and still very bergamot-heavy – Earl Grey. And I know my Earls. (Not a snobby statement; just fact.)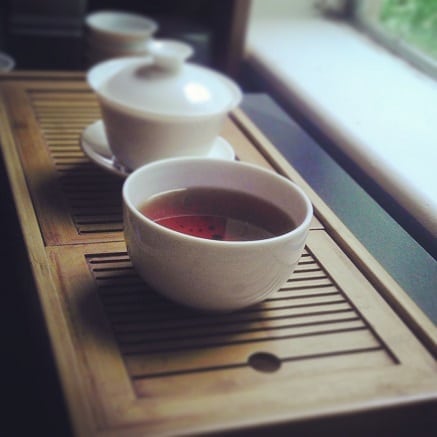 The blend itself brewed as dark red as anticipated, and echoed it's dry, aromatic presentation on taste. This was an Earl, alright, only wrapped in a strong blanket of citrus rind. It was a burly blend, but also light on its feet. Like an anvil ballet? Wait, no.
This was the blend I was both anticipating and dreading. Lapsang Souchong and peppermint were already strong flavors on their own. Put together, I guessed they would duke it out for supremacy of my mouth. But that was not the case.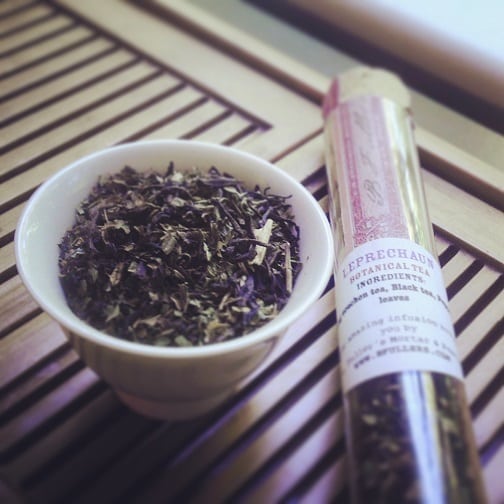 Quite the opposite happened, actually. Just like the dry aroma, the burnt-wood-smelling Lapsang, and the cool-herbaceous peppermint played rather nicely together. Like a campfire on a wintery day. I have no other way to put it. B. Fuller's mentioned that it was reminiscent of whiskey in its delivery, but I only kinda agreed with that comparision. It was more akin to gin – still quite balanced, though, even for as meaty as it was.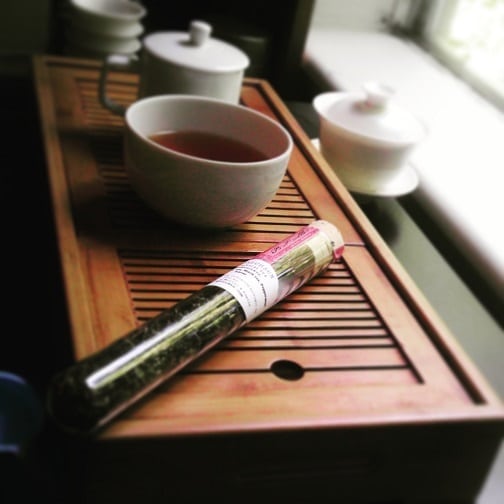 Moment of truth?
Like the steampunk sub-genre itself, I would have to say my whimsy is still very much intact. And, also like steampunk, I have my moments of poseur posturing and pomposity. (Plus, an unhealthy love of alliteration.) All said, though, I still retain a certain amount of childlike glee when it comes to tea, and I think that it is also the whimsical, polished-brass, beating heart of the steam-world as well.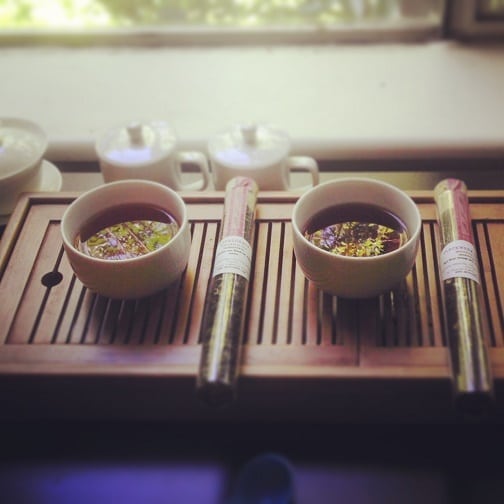 But if I find someone putting milk in a Risheehat Darjeeling . . . there may be fighting words.