It's officially the first day of September. The outside temperature has dropped twenty degrees. Skies are gray, and big-ass raindrops are falling. Yep, summer time is just about over.
And I couldn't be happier.
Not that I bear summer any ill will in general, and not that this summer was bad, but—y'see?—I'm a fall kid at heart. However, to usher summer's drunk arse out the door, I thought I'd reflect on the good moments of the last three heat-searing months. And, of course, all those great moments involved tea. And, sometimes, even people.
In order to wrap up the summer in a quickie fashion, Rachel "I Heart Teas" Carter gave me permission to mooch her "Photo Micro-Blogging" format. Just this once. Brace yourself, it's time for a breakneck Summer Time Tea . . .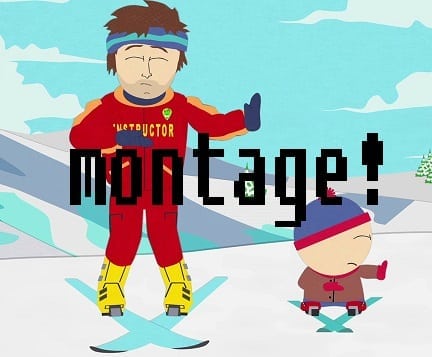 Fresh-Of-The-Plane High Tea
I had just returned from my World Tea Expo/Vegas stint that day. A mere six hours after my mother picked me up from the airport, and I was . . . having afternoon tea. My aunt and cousin were in town, and Mum thought a family tea outing was in order. My sister was also in on the festivities.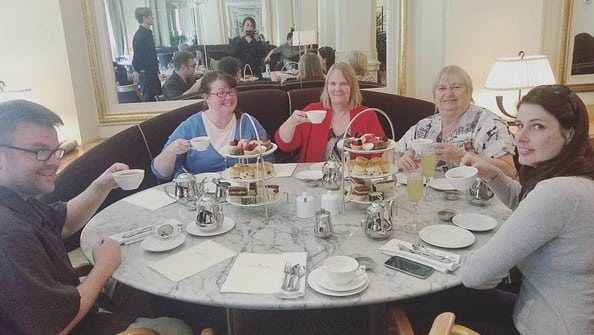 We ended up at the Hotel deLuxe and ate copious amounts of finger food, in record time. Even the staff were surprised how fast we packed it all away. Stranger still? We all ordered the same tea—Smith Teamaker's Provenance Black, a deLuxe exclusive blend.
Short version: It was perfect.
Tea Friends from Outta Town
The day after that tea outing saw the arrival of yet another. The reason? Chris "Tea-Guy" Giddings was in my neck of the woods for a wedding, and it was downright mandatory we get together for food and tea. My suggestion? Well . . . the Red Robe Tea House, of course.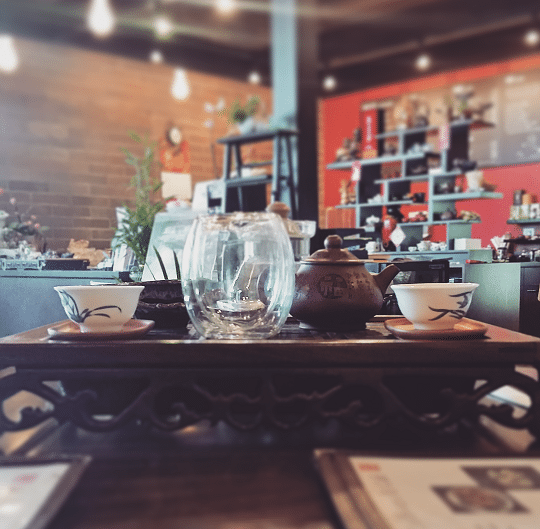 I was looking for an excuse to make it back there, and having tea friends from out of town was as good enough reason as any. Yes, I said friends—plural. Turns out Australian tea blogger, Effie Gidakos of International Tea Review, was also in Portland that day. She met us at the Robe.
I'm not entirely sure what tea I ordered. Fairly certain-ish it was my usual, their Yunnan Mao Jian black.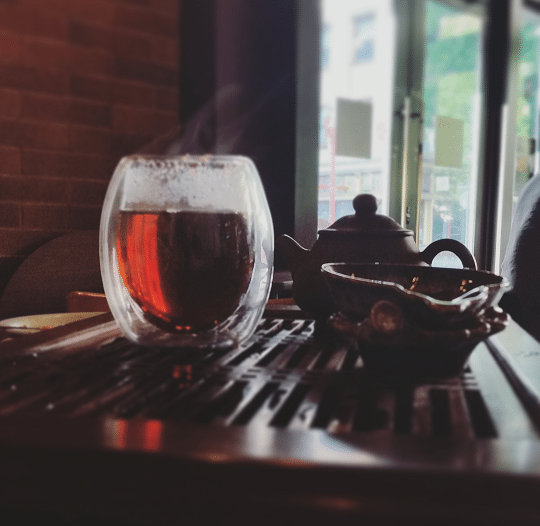 We left food-full and tea drunk. As one does.
Later that week, Chris and I also hit Tea Chai Te for masala chai drinkage.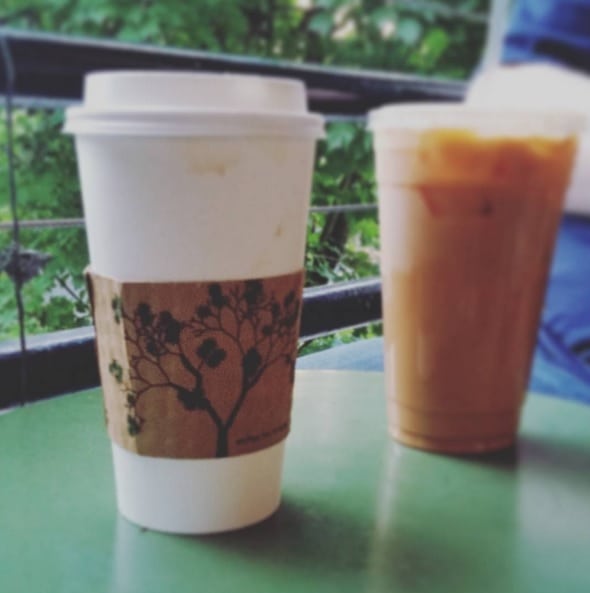 The rest of time, unfortunately, I had to work. Chris, however, explored the rest of Portland without me. Like, literally, the rest of Portland. He even found places I'd never heard of.
And Speaking of Australians and Tea . . .
Mentioning Effie reminded me of two minor tea milestones that occurred. One, I dipped into a hojicha . . . from Australia. Of all places. How was it?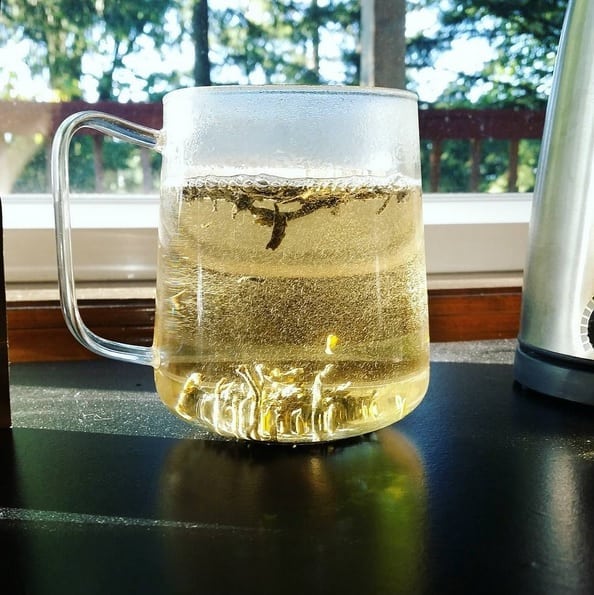 Well, it was a note-for-note hojicha. Roasty, green-ish, and awesome. Can't quite recall off the tip of my brain what garden it's from. I'm sure Joy's Teaspoon's Naomi will remind me. Rest-assured, I'll explore their teas more thoroughly in the future. Thus far, though? A great start to this future project.
A couple of weeks down the line, and I also dipped into this li'l beauty.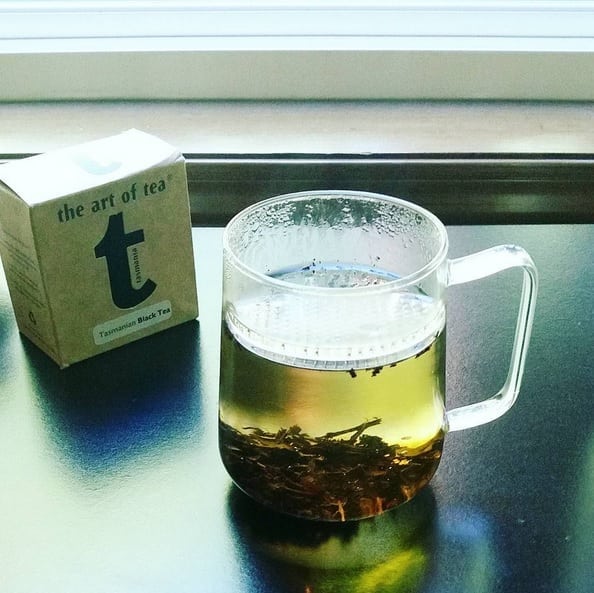 Yep, you're reading that right; Tasmanian black tea. No, I will not put up a picture of the Tasmanian Devil. Okay, maybe later when I do a more in-depth tasting of it . . . but not now. It was a li'l WTE present from Effie. And, by golly, it's quite good. Lighter than most blacks, but it puts up with an accidental over-brew perfectly.
Red Oolong to Keep Me "Moving"
You, fair reader, may have noticed that the last two pictures aren't in my usual, cozy tea station. Well, that's because it's not my usual, cozy tea station. For you see . . . in July, I moved. Financial circumstances (and the nuptials of my sister/former roommate) dictated that I vacate my overly-priced apartment.
The catch?
I live in Portland. It's quickly becoming very expensive to reside here. And particularly on my hourly wage. Necessity dictated that I move back in with my parents. This didn't bother me one bit, but I was slightly off-kilter at the idea of moving in general.
I don't deal with change well. But there was one tea out there that kept me mostly even keel-ish during the entire transition. Norbu Tea Company's Ali Shan Red Oolong.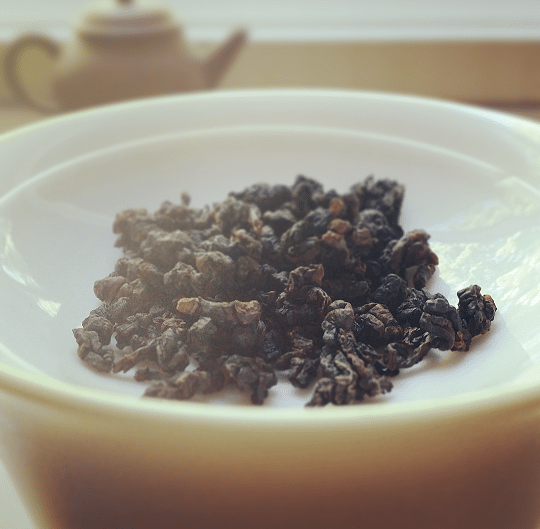 Not sure if it's the almost-black-tea burliness or the kill-greened goodness that made this my go-to Zen juice du jour. But this stuff?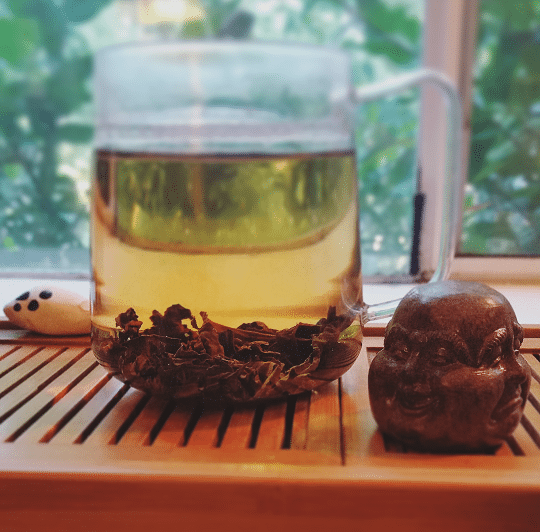 Yeah, it kept me sane.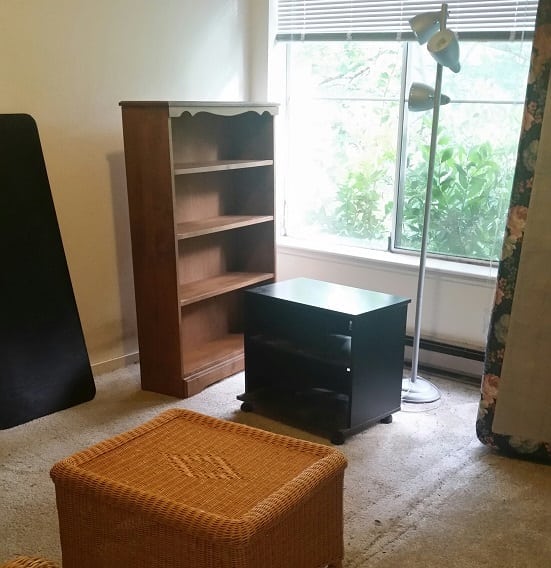 I was able to get my room all packed up in one night. Thankfully, I didn't have to do any actual moving. My back was still recovering from an injury a year ago, and my mother and I hired other people to do it. Plus, I still had a work schedule to contend with.
For which, I also brought the red oolongy burly-Zenny-goodness with.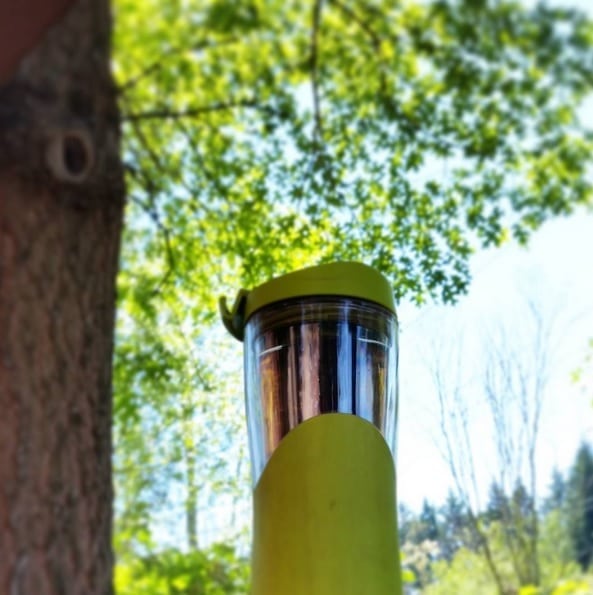 And speaking of Zen juice.
Puerh to F**k with Co-Workers
While kinda/sorta unpacking from the move, I realized there was a Misty Peak sheng puerh cake I never got to the spring prior.
I had every intention of dipping into it, and I just . . . never did. And so, I decided to rectify that . . . on my lunch break at work.
Coworkers were busy raiding free samples left for the staff by a literal "Monster" truck. They were unveiling their new "tea" line. Me? I settled for actual tea. True to form, coworkers looked at me funny as I peeled leaves off of a very suspicious looking disk. I did my best to explain what it was (mostly to no avail).
So, I went with the oddity, and brought it in week-after-week. One day, I even iced the sucker.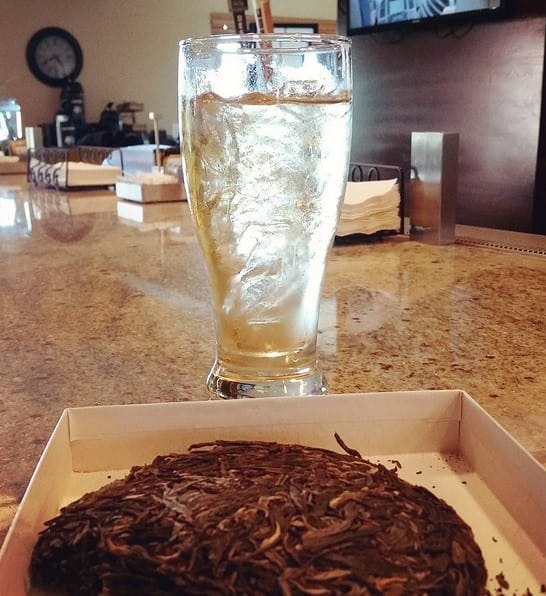 Turned out delicious, particularly in a humid July.
By the end of August, the cake looked like this . . .
Still plenty left, but—no—I won't be storing it to age anytime soon. Too busy tearing pieces off of it, still.
Loose Leaf Tea in a Bar
Throughout the summer, I occasionally found myself at a microbrew pub with friends. The pub chain? McMenamins. Did I order beer? Nope.
McMenamins properties were the few places that had loose leaf tea options on their menu. Sure, they were some of the reliable standby options from the Tao of Tea. Good stuff but nothing fancy.
But you should have seen my look of joy when I sat in a bar with a piping hot mug of Darjeeling! Honest to India, Darjeeling!!!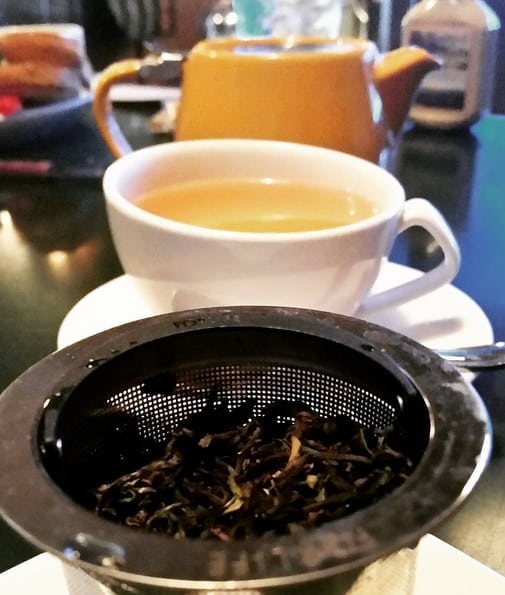 I may have been a little overly excited, but I hoped this was the start of a new trend on the rise.
The Short Life of a Tea Travel Mug
Oh, Teabook Travel Mug . . . I barely knew ye.
Seriously, I only had it a week, and—man—it was a beautiful tumbler. Sleek and sexy.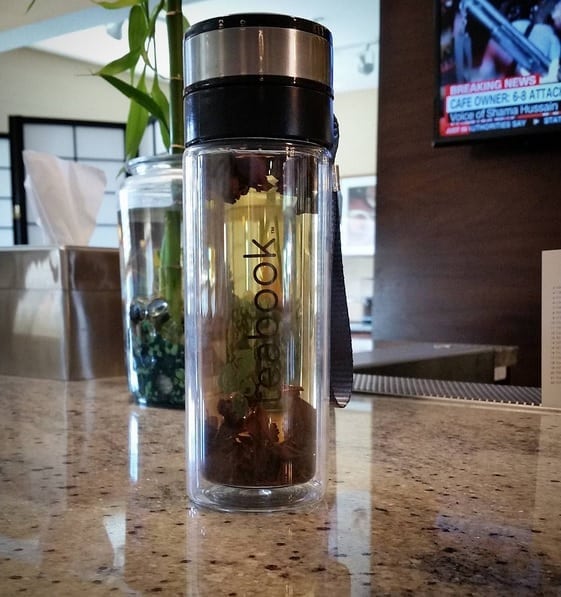 Handled every whole leaf I dished at it with honarable aplomb.
Then my dumb ass dropped it.
I didn't even have the chance to give it a name. Rest in Teas.
Tea in Marilyn's Garden
I think I've mentioned my local tea friend Marilyn "Delights of the Heart" Miller before. Haven't I? Well, if not, you should seriously check out her blog. It's delightful, as the name implies.
Anyway, Marilyn invited my mother and I over for tea and pie in her garden. I know some of you long-time readers know about Marilyn's garden. Two Tealet parties were thrown back there.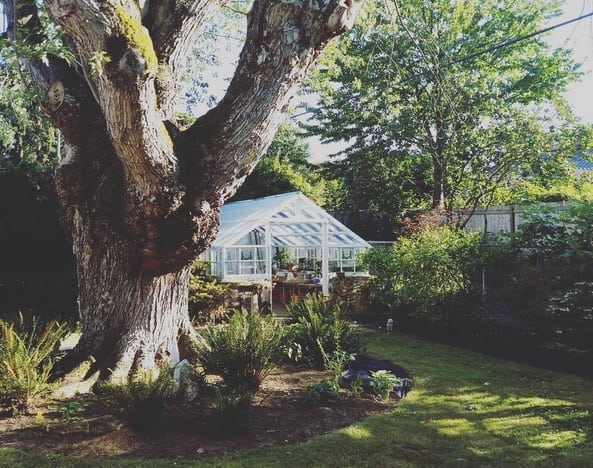 Marilyn and her husband Jim were (and are) great hosts. The only job I had was to provide tea from my World Tea Expo excursion, which I did. Then we got to drinkin'.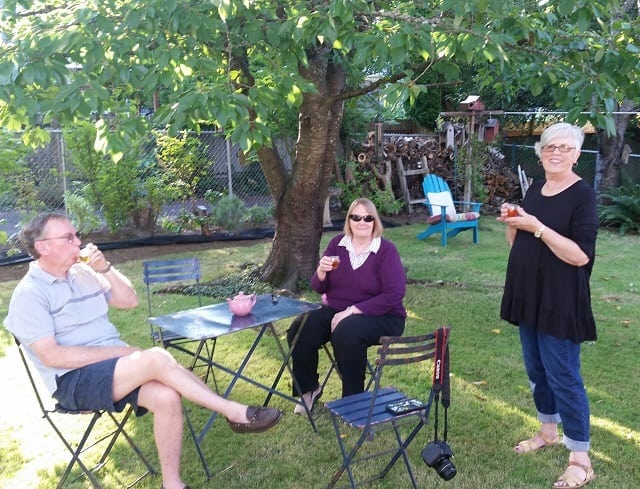 For the occasion, Marilyn whipped up a marionberry pie.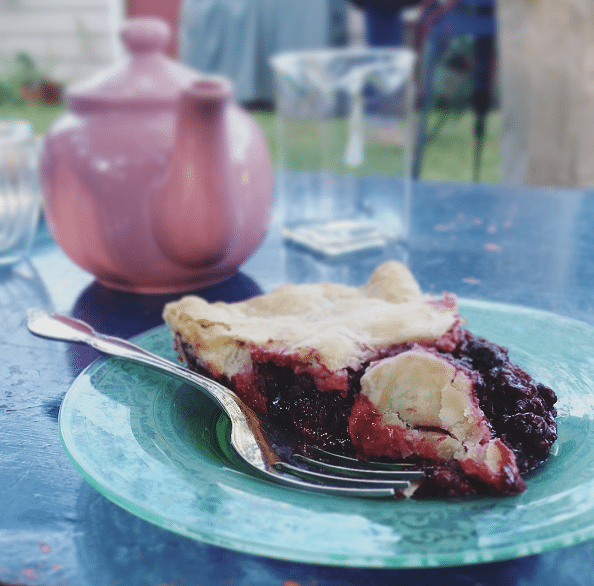 From scratch. It was the highlight of the afternoon. Sure, my teas were good, too.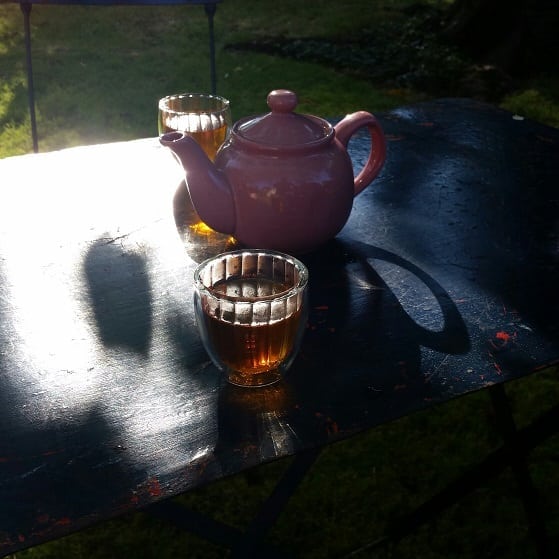 But nothing compared to that pie.
A Jasmine Pearl Pit Stop before a Weird Al Concert
In late July, my phone reminded me of something on my schedule. Which was weird since I put nothing on my calendar. However, this was a "Mandatory" (with a capital "M") sort of reminder.
Weird Al Yankovic was coming to town, and I had a ticket. I bought the darn thing back in March. Totally forgot about it, until my phone reminded me.
I arranged to carpool to the venue with friends (to save the stress of concert parking). As was typical of me for major events, I left the house early. I thought traffic was going to be horrendous; it wasn't. This left me with two hours to kill.
So, I made a pit stop at The Jasmine Pearl Tea Merchants for a spell. Their new season of yuzu-blended black tea came in from Japan, and I wanted to sample it. And sip it, I did.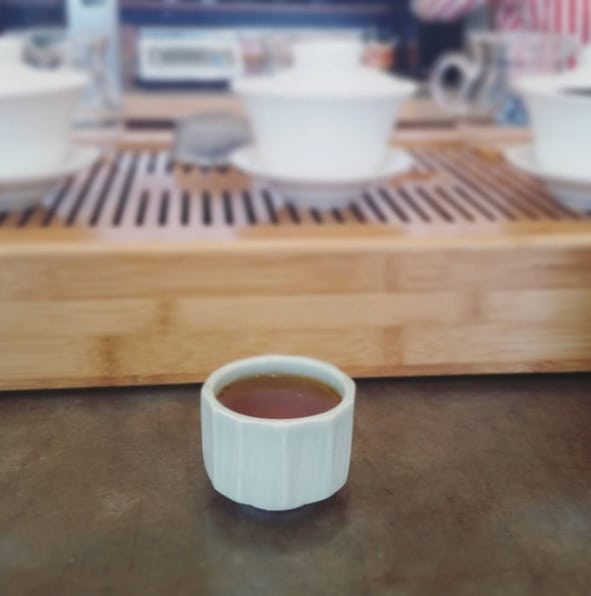 Four times.
Then I ordered a full cup of it—iced.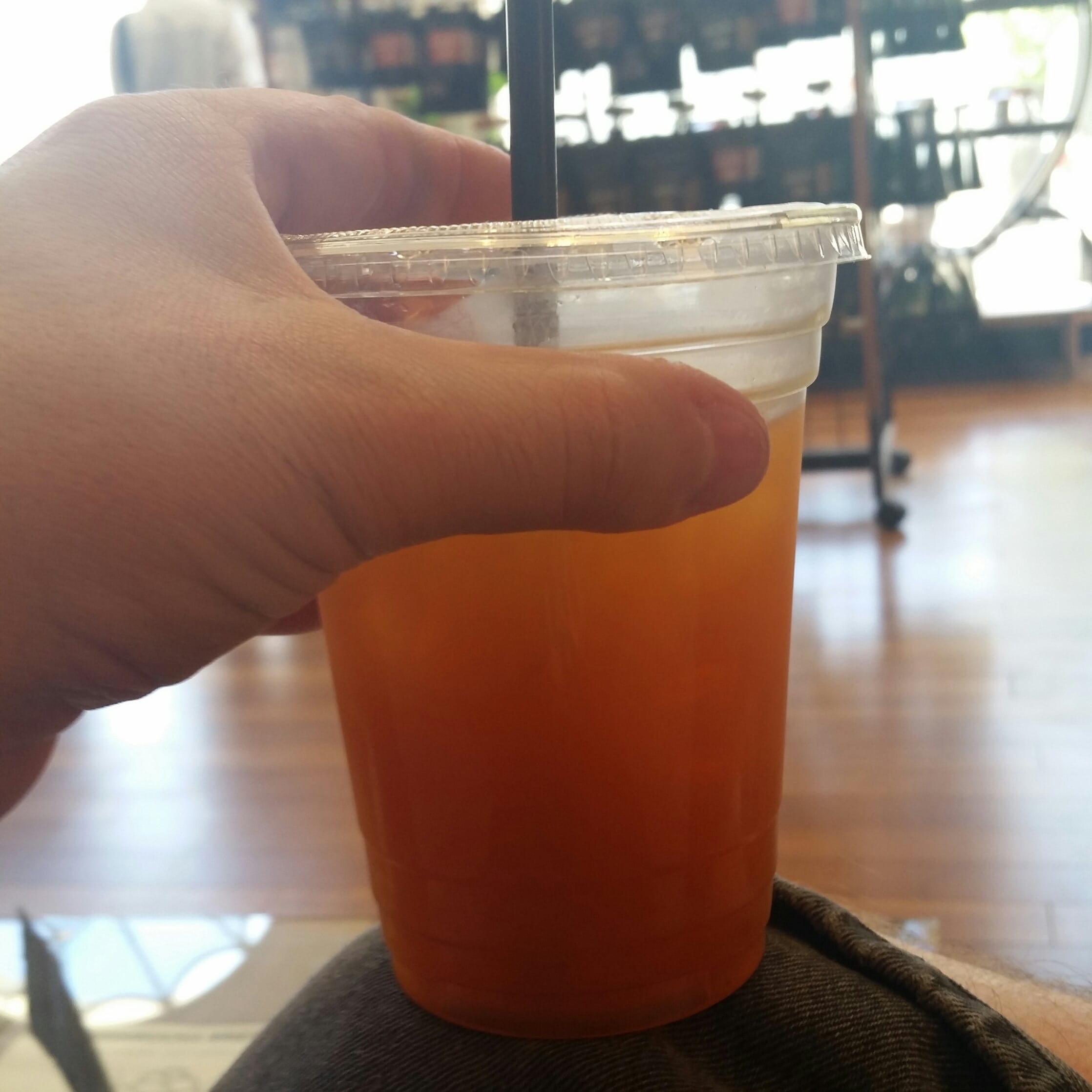 It was more citrusy than prior years, but I didn't mind. In fact, that gave it more of that "Bushido Code Earl Grey" quality, which I adored.
As for the concert?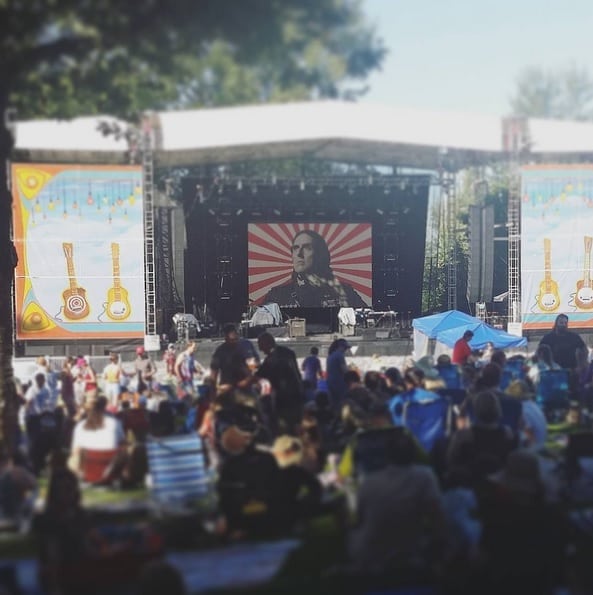 Yeah, it ruled, too.
Visiting Mizuba Tea HQ
In early August, I finally made a pit stop to friend Lauren "Mizuba Tea" Purvis's new office in Portland proper.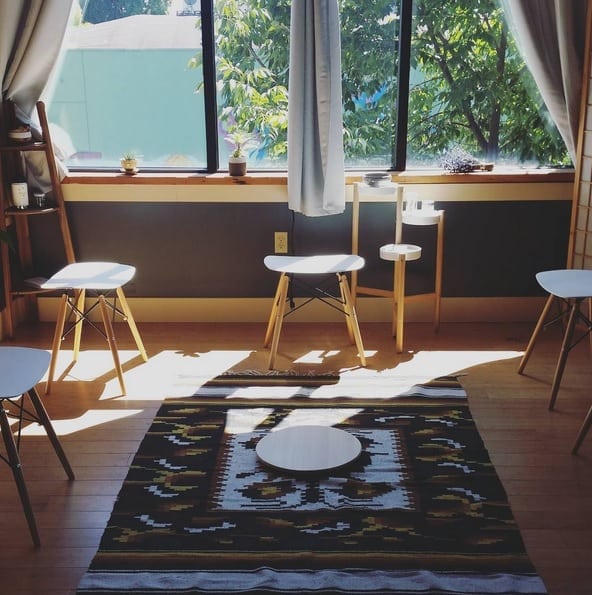 The reason? To fetch me some Hibiki matcha. It was my favorite, and I was jonesing for it. Lauren happily provided me with a canister fix (which I paid for, let's be clear).
And for the next couple of weeks I whisked.
And whisked.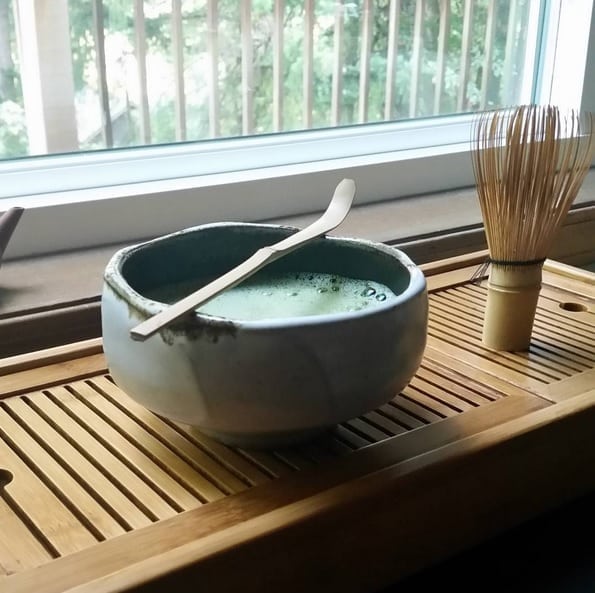 And whisked some more.
Okay, confession: I've been having matcha just about every morning.
The Hojicha Prelude
I was having one of my typical late-night rando conversations with Greg "Norbu Tea" Glancy, and he made me a strange offer. One I couldn't refuse.
"Hey, do you want some Nepali green tea to make your own hojicha?" he asked.
". . . Sure?" I said. Not sure what to make of that.
A week or so later, this arrived.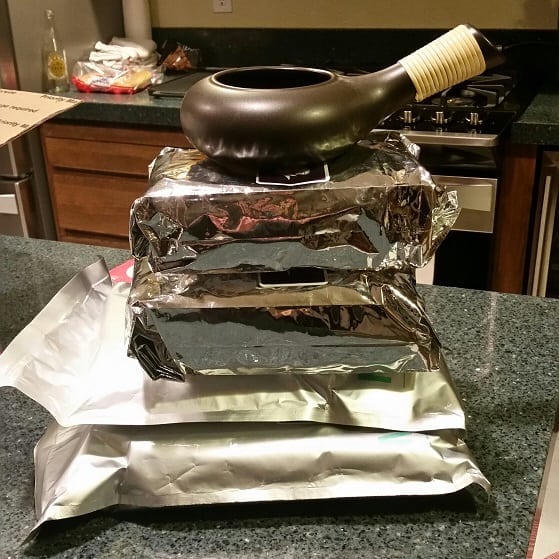 The thing on top is called a horoku. The bags below it? A metric butt-ton of green tea. Oh, I thought. He was serious.
So serious, in fact, he even sent me a how-to video on how to use the horoku.
The funny thing? It's by a French tea sommelier I've written about before. (No, not @xavier . . . but  he's still awesome. Read his blog.)
I still haven't attempted my own hojicha, yet. But when I do, rest assured, I'll write about it. Whether or not I screw it up.
And, yep, that was my summer in a nutshell (or teacup). Don't have much else to add, and this "article" is long enough already. All I have to say is . . .
Fall, I'm ready for ya.