Two weeks back, I received an invite to go here: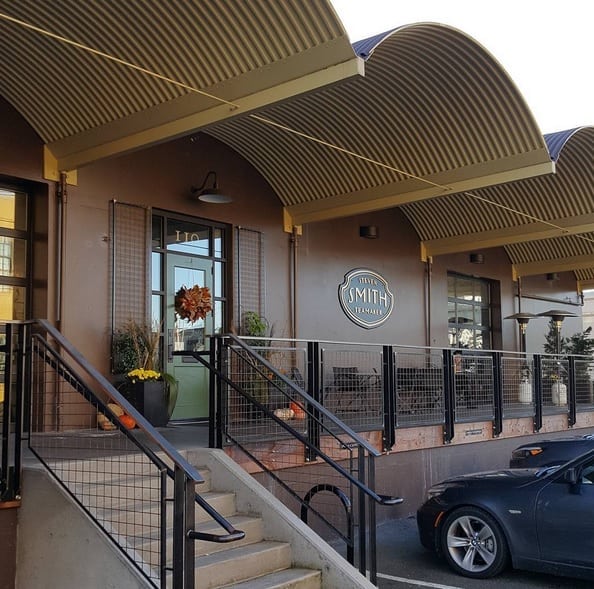 Okay, I go to both Smith Tea locations quite a bit on my own, but this was a special occasion. Like last year, this was their media-only holiday pre-release party. They were going to be showcasing their upcoming blends, partnerships, and limited edition holiday offerings.  And I was convinced I couldn't go. Work and all that.
I was so convinced about my lack of attendance, I even shot off an e-mail to lead blender dude, Tony Tellin, to see if I could mooch some of pre-release batches for an article. Y'know . . . to pretend I was there. I'm good at pretending. None of that was necessary because I was magically able to convince my work to let me off early that day.
When Thursday, November 17th, rolled around, I . . . rolled in early. Like, an hour early. So, I busied myself with a pot of oolong, while the staff hurriedly set up for the party.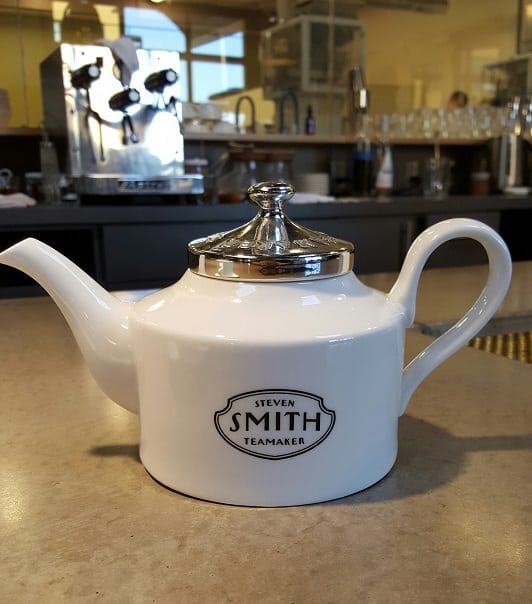 Once everything was prepped, draftees from Watershed Communication greeted us at the door. (I was already inside, but I pretended I just arrived.)  They gave us a brief rundown of what would transpire, and also provided us a handy-dandy map of the different "stations" on display.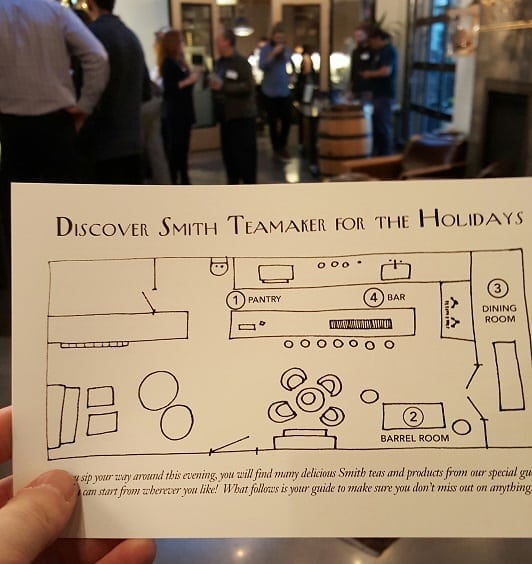 The moment they handed me that map, I went from this: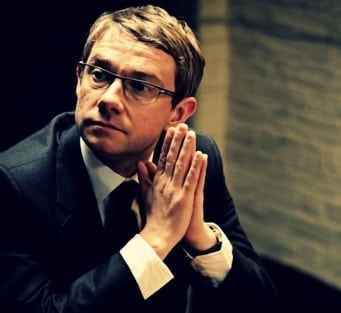 To this: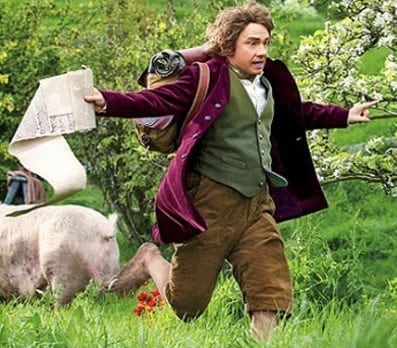 It was no longer a media party; it was a friggin' roleplaying game!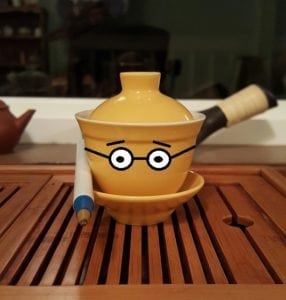 Sidenote: Editor Skippy here. As some of you might have guessed, already, the Lazy Literatus did not follow the map in its proper order. But for the sake of theme and narrative cohesion, we're going to pretend that he did. Trust me, it's better this way.
Uh . . . thank you , Skippy.
Anyway . . .
The map of the tea room was divided into four stages: The Pantry, The Barrel Room, The Dining Room, and The Bar. Each stage housed at least two new releases. I went to "work".
Stage One: "The Pantry"
As we approached the first table, we were greeted with a shot glass of this: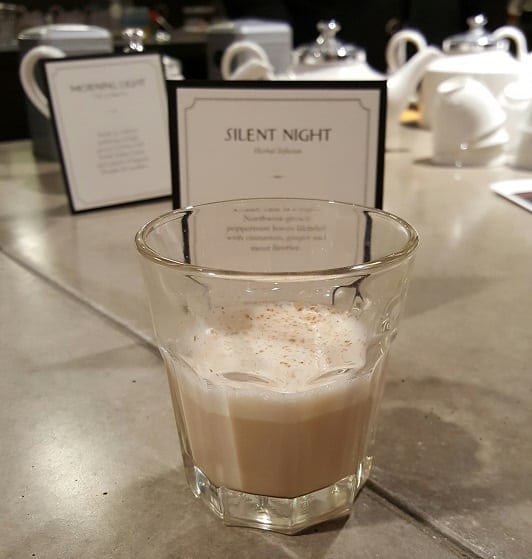 It was one of the new tea latte releases featured for the Smith HQ locations, utilizing a new (old) holiday herbal blend—Silent Night. Short version: It tasted like candy canes that had been melted down and pureed into bubbles.
Also featured (another returning player) was their Morning Light blend—a black tea base with Douglas Fir needles. Yes, I've had it before. Yes, it tastes like Christmas. Yes . . . *sigh* . . . I forgot to take a picture of it.
And, lastly, there was this new addition: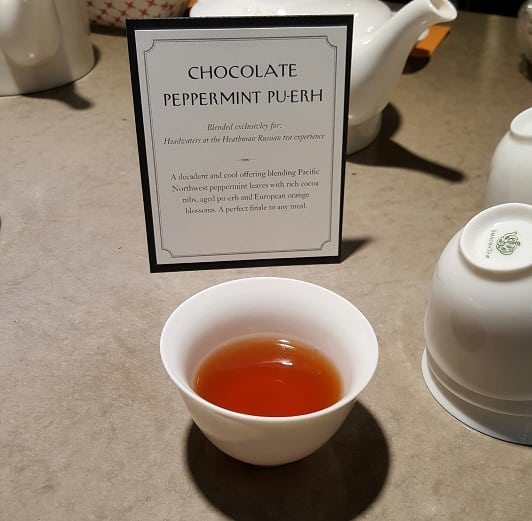 Cooked puerh blended with cocoa nibs, meant for making lattes with. I didn't get to try it in latte form, but by itself . . . it tasted like Junior Mints!!!
Sorry, I just love Junior Mints.
Stage Two: "The Barrel Room"
This was the station I was most excited about. For this year, Tony and team released two new limited edition barrel-aged teas. One was a partnership with Stone Barn Brandyworks; the other was a pairing with Westward Whiskey (coincidentally located right next door to Smith HQ). There were also representatives from both liquor makers present, pouring the actual brandy and whiskey to pair with the barrel-scented teas.
I . . . didn't partake of the booze. Those days are done. But I wasn't completely done with barrel-aged teas, particularly those put out by Smith's.
The offering they aged in the brandy barrel was THIS: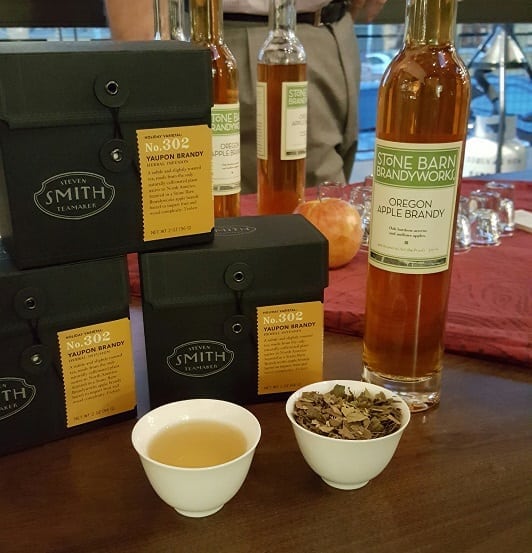 Freaking' yaupon holly! From the gals at Cat Spring Tea. They gave me samples years ago, but I never got around to it. Ironic that my first time trying their batch of caffeinated herb was after it'd been brandy barreled.
The second, whiskey barreled offering was . . . hoo-boy . . . THIS:
Zheng Shan Xiao Zhong (freakin' Lapsang Souchong!) from Zhejiang province, China . . . aged in a whiskey barrel. How did it taste? Holy fuuuuuuuuu . . . we'll just end that thought there.
I even went up to blender Tony and said, "That Wuyi Whiskey! What the s**t?!"
To which he said nothing and just gave me a tea-bro high-five.
Easily the best barreled tea they've come out with since their Methode Noir.
Stage Three: "The Dining Room"
This stage took place in their laboratory/tasting room . . . and—for me—it was the most "challenging", yet. Why? Food. Lots of food. And gold-tipped Assam. Two of my major weaknesses
The first thing I beelined to was the tea chocolates: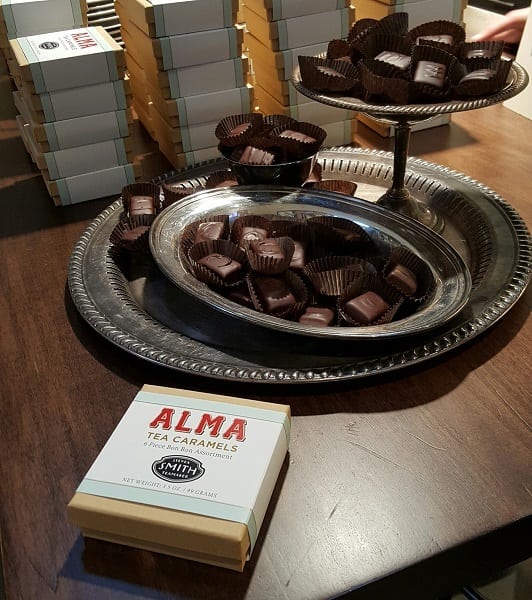 Yes, chocolates infused with tea, made by Portland's own Alma Chocolate. Featured for the party were treats made with Assam, masala chai and bergamot. I had all of them. And I took a sample pack. (It didn't survive the night.) Highly delicious.
Second was a platter o' delicacies provided by Olympic Provisions: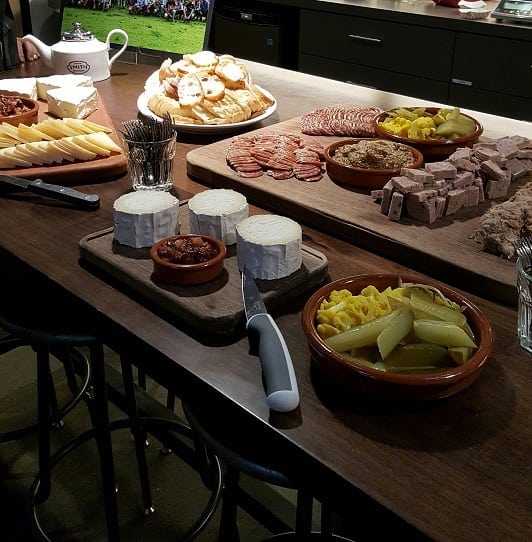 There wasn't a representative on hand to inform me of what all of the food was. I wasn't well-versed enough in their culinary wares to identify any of it. Plus, I'm not foodie enough to expound upon it further. I'll just say . . . uh . . . I went back for seconds, thirds . . . and eleventies. Tall praise, I think?
And then there was my favorite part of the third stage: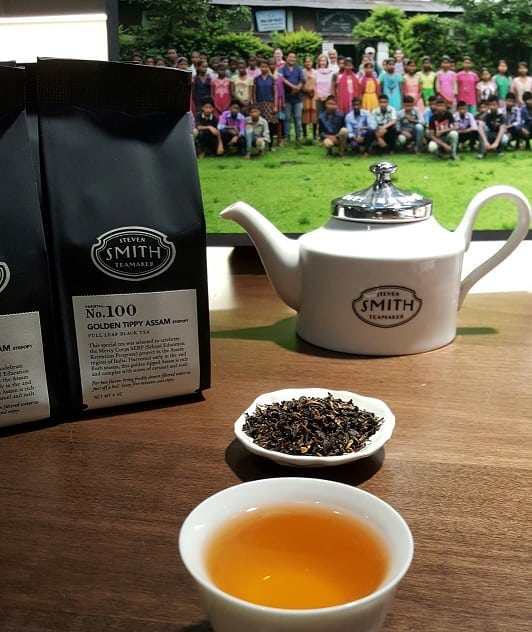 Golden Tippy Assam from the Tonganagaon tea garden, located in the northeastern part of the state. Aside from it being a really awesome honey/malty black, there was a deeper story. It was being offered as part of a fundraiser spearheaded by Smith Tea's co-owner, Kim DeMent. As some probably know, the late Steven Smith and his wife were heavily involved with Mercy Corp, particularly with SERP (School Education Retention Program).
In July, Kim and her son, Jack, along with a few others from Team Smith, made a visit out to India. This video highlights the reason why:
The video gave me a case of serious feels, folks.
Kim and Co. decided to put a fundraiser in place, linked to a product related to the project. With every purchase of the Golden Tippy Assam, Smith Tea donates $10.00 to SERP. Patrons are also encouraged to donate directly, if they can.
For more information, you can also visit Kim DeMent's journal of the trip, HERE.
I finished that stage far more enlightened than I anticipated. I knew I'd leave with a full belly . . . but not a full heart.
Stage Four: "The Bar"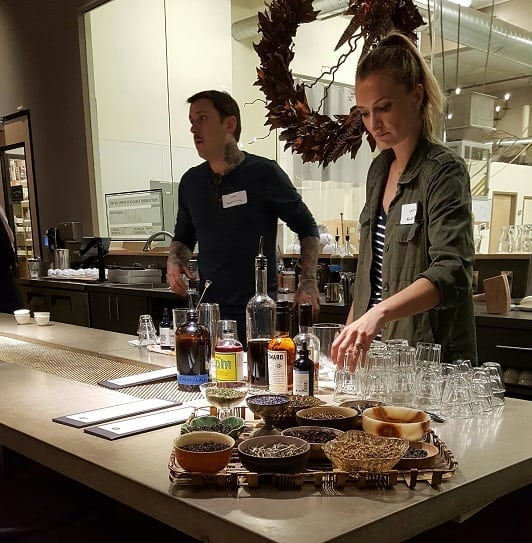 To be frank, this was a stage I thought I was going to skip. Why? Well, I'm a proud teetotaler, now. However, I felt compelled to totally tea the hell out of this quest. So, I had to at least pay it a visit. Imagine my surprise when I was told they also had mocktails available for dry patrons.
All of the cocktails, including the nonalcoholic offerings, were made using Smith's creations, including their last Makers Series blend, Astoriamaro. The blend was created in cooperation with Bull in China, a local cocktail bar I'd never heard of. It was a lightly-caffeinated fusion that utilized shaved El Salvadoran coffee cherries as the base. I never got to try it during its initial release . . . and now I was trying it in mocktail form.
Sure, why not?
I went up to the bartender and asked for a mocktail.
He asked, "Which one?"
I said, " . . . Both?" (I'm horrible at making decisions.)
He gave me a look, and then went about moving and shaking.
The Digesteaf and Spiced Cranberry Sarsaparilla, respectively, tasted exactly as they were intended. The first one tasted like hibiscus on steroids, while the latter reminded me of root beer by way of a spent wallet. But I wasn't done.
Somehow, someway, I was able to convince the Smith staff to make me an Astoriamaro tea latte.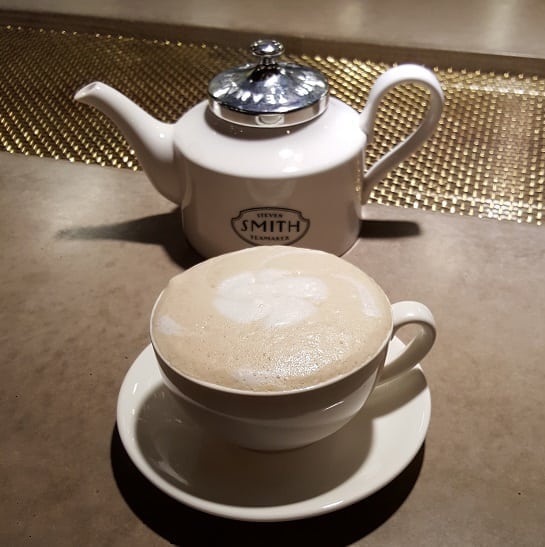 Just . . . yum.
Final stage: Complete.
After two hours of way too many sights, smells, sounds and tastes, I decided to take my leave. But even amidst the sensory overload, I was lucid enough to approach blender Tony one last time. I wanted to mooch at least one sample of a barrel-aged tea for further "examination". Y'know, as a prize for completing the quest and all that.
He disappeared in back for a moment, and then reappeared, shoved a box into my chest and said, "Don't show this to anyone."
It was a box of Wuyi Whiskey. Not just any boxes, it was the first box off the line—Number 1 out of 300. That was a first. I dipped into it a few days later.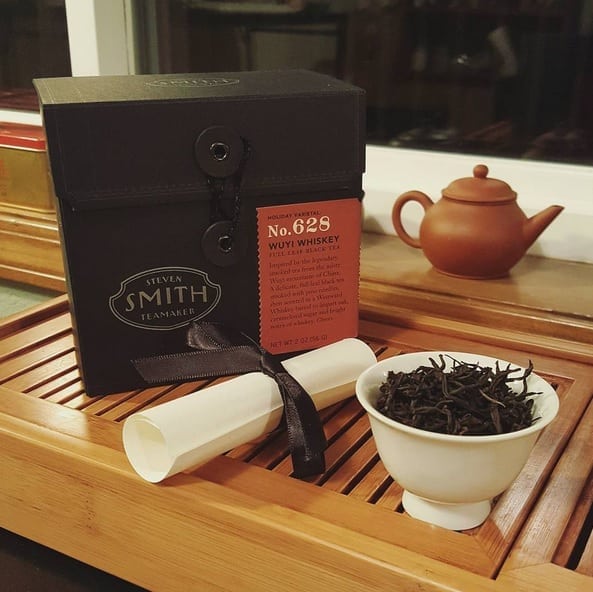 When I finally opened the box, I was delighted to not only find the requisite bag of loose leaf tea, but it also had a scroll! Could this be more quest-like?! Aaaaah!
Okay, calming down. The old-timey scroll basically gave [one of the] histories for Zheng Shan Xiao Zhong and a tidbit on the process of how it was made. But enough of all that shininess, on to the leaves!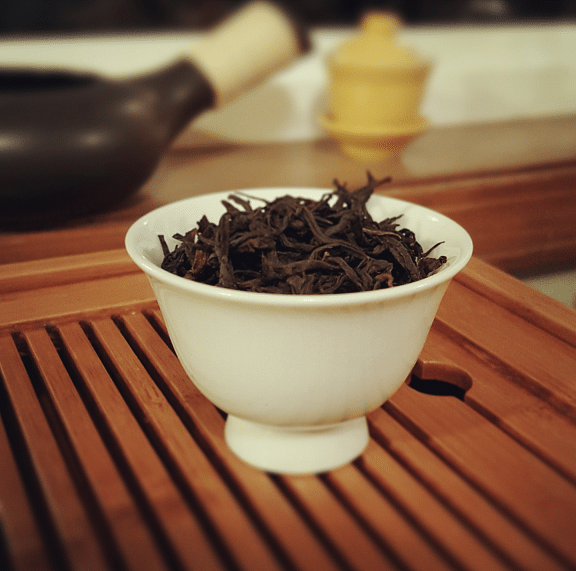 The leaves were typical of its type, if not larger—medium-sized, soot black, and with a slight curl. The aroma was all over the place, and in the best possible way. It first started off with that lovable hickory smoke aroma, but then took on added layers of wood and peat. As expected from something with the words "barrel-aged" in the product description. I felt like I got a slight buzz just huffing the bag like paint.
For brewing, in honor of its Chinese(-ish) origins, I went with a gaiwan as the chosen brewing vessel. But I decided to brew it up Western style. I used a heaping teaspoon of leaves and boiled water. As for the steep time . . . uh . . . I kinda got distracted by all the fun I was having, and I lost track of time. I think it was four minutes.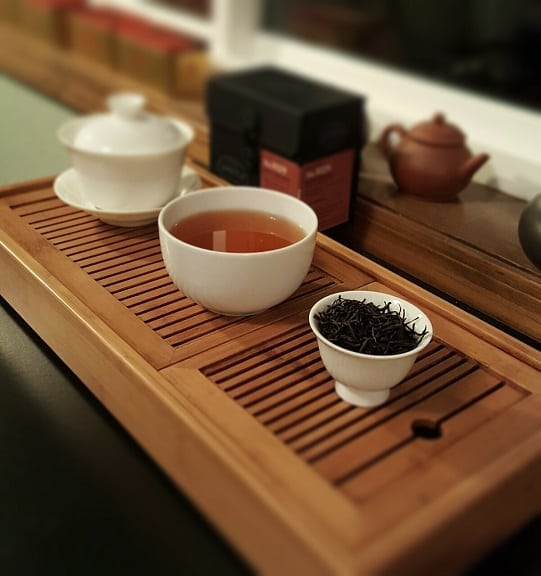 Regardless of the brew time faux pas, the liquor colored far lighter than I anticpated—a rusty red as opposed the usual cherry wood brown. The aroma was also understated and smooth, not loudly reeking of . . . steak. (Not that I would've minded if it had.) On taste, it was like having scotch in a private scholar's club, wearing a tweed smoking jacket. With slippers; can't forget the slippers. Oh! And hunting stories! It was a sophisticated man's drink; a tea for the gentlemanly debauch.
As tea quests go, this was epic. I really don't have much more to say than that. For now, until next week, I'm putting the game controller down . . . and reminiscing. For one, solid night, this tea nerd quester felt totally V.I.P.