Back in May, before attending World Tea Expo in Long Beach, I did a brief stint with family in San Diego. I set aside three days during that trip for no agenda whatsoever. My only plan was to stay with my dad and stepmother. Everything else was up in the air.
During dinner, though, my stepmother did ask me if there was anything in particular I did want to accomplish. I replied, "I kinda want to see Auntie Rhonda."
Rhonda was my stepmother's sister. I hadn't seen her in . . . wow, I think it'd been nearly a decade. And nearly two decades since I'd visited their home in Temecula – aptly named "The Rhondarosa". I forgot why it was called that; I know they told me, but I spaced it. I think it was because it was a ranch-style house. In the middle of SoCal wine country. But I'm getting off-topic . . .
My stepmother was surprised at this, but pleasantly so. She called up her sister that night, and we set up a day to visit. I even offered to bring tea, which I had plenty of. (I was in California for a tea expo, after all.) Rhonda and her family were open to the idea, even though they weren't tea drinkers. And so, tea time at the Rhondarosa was a go.
Stepmum and I set out the next morning. Temecula had changed in the two decades since I'd seen it. Sure, there were a few wineries around at the time, but the region was practically littered with them, now. It looked very Napa-like, now, but with a distinctly "Caucasian pueblo" air to it. No, I don't mean that as a compliment.
Off the beaten tourist tra- . . . I mean, track, though, lay the Rhondarosa. It even had a sign that said "Welcome to the Rhondarosa". I wish I'd taken a photo of it; it's awesome.
The last time I visited the residence, it was brand new and quite impressive. Presently, it reminded me of the Millennium Falcon – in various states of repair, but it could still do the Kessel run in twelve parsecs.
Rhonda's husband greeted us at the door, as did their daughter and her husband. Rhonda, herself, was looking better than I expected. She'd had a rough year of it. Her hair was coming back in, if slowly. But her face beamed a grin when she saw us. Those Applegate women and their magnetic Irish smiles.
Rhonda lamented, however, that they didn't possess any brewing equipment in the household. No kettle, no pot – heck, no teaware. That didn't matter to me, though. Half the time, I pinted my tea in a coffee mug. Rhonda eventually found a clean saucepan and a cooking strainer for the leaves, and we were in business.
I let her decide the tea. Since I didn't have a clue what her palate was, I brought some Lapsang Souchong and the bourbon barrel-aged black tea I made a year prior. It wasn't a hard decision.
"Well, bourbon barreled, obviously," Rhonda said.
Then we got to brewing. I had no clue how much to measure out for the saucepan, so I just took a handful of leaves and plopped 'em in there. Like they were sauce ingredients, and they were . . . of a sort.
While the leaves were steeping, Rhonda remembered she had something for just such an occasion. She came back with a box. In it were a range of floral-decorated teacups. Never used.
"I got these as a wedding present," she said.
Perfect! I thought.
The microwave timer dinged, and we gently poured out the contents of the saucepan into three cups.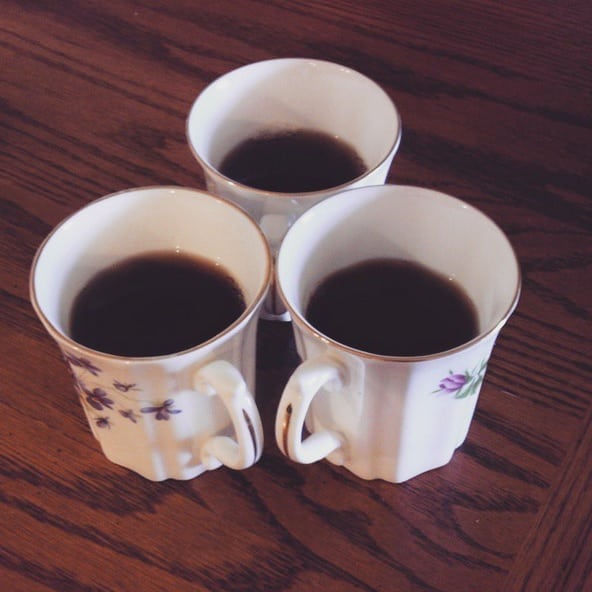 She took one, her husband took the second, and I grabbed the third. I think my cousin also joined in, but with a coffee mug.
Everyone seemed to like it, but they preferred it with honey. I followed suit, and . . . I had to agree. Honey brought out some extra dimension in the liquor-scented leaves.
We stayed for a good three or four hours, just talking. Rhonda was just as witty as she'd ever been. Her mind could run circles around mine. (Not that it's a big track, mind you.) By around 4PM, we finally decided it was time to say our good-byes.
It was our last.
***
I meant to have this pleasant outing posted on the blog months ago, but I kept shelving it in favor whittling down my monstrous tea review backlog. But something happened that finally forced me to put fingers to keyboard.
This week, Rhonda passed away after a four-year fight with colorectal cancer.
I won't call her my step-aunt. She was my aunt. After all, what is a "step" but another part of the path to family? However, I am glad I was able to share one more moment with her. A tea moment, no less.
My favorite.