After covering more barrel-aged teas than I ever thought possible, it was only a matter of time before an idea struck me. It wasn't actually my idea, though. The lead blender at Smith Teamaker suggested several years ago, "Why don't you try it yourself? Get a barrel and just roll with it." Not his exact words, but the idea stuck.
When visiting a friend up in Seattle, I brought up this notion. I also lamented that acquiring a large bourbon barrel – and finding someplace to put it – was a near impossibility. My friend said, "Well, they do make micro-barrels." The idea blossomed into a kernel.
A few years later, I was perusing the Bootleg Botanicals Facebook page. They were starting up a new line of alcohol infusion kits. The new line included 3-liter micro-barrels for aging. In the comments section, I inquired about procuring a used one for experimental purposes – at whatever fee. Ryan Belshee – the co-owner – gave me the titular reply of, "Lemme see what I can do."
Less than a week later, he came back to me with confirmation that he could acquire a used 1-liter barrel. It had been used for aging bourbon. The next obstacle was finding the right tea to put in it.
I mentioned my percolating idea to Norbu Tea's Greg Glancy. The notion of a bourbon barrel-aged anything intrigued him. He offered up some of his back-stock for the experiment. Plenty of his wares sounded enticing, but in the end, I chose his 2012 harvest Ye Sheng Hong Cha as my guinea pig.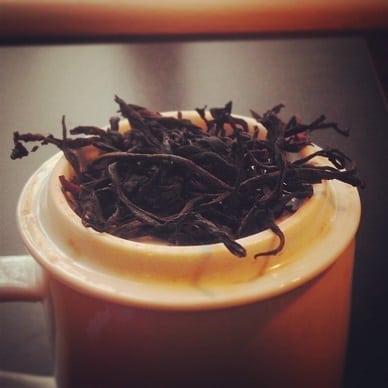 Upon receiving the tea, I immediately dug in to confirm whether or not it would complement a bourbon note. The resulting brew was wood-sweet (like a Keemun), Earthy (like a sheng pu-erh) and malty (like a second flush Assam). Unlike any other Yunnan Dian Hong I'd tried. Might've been due to it's uh…wild-ness…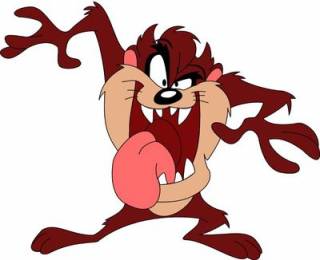 Or something.
Ryan Belshee contacted me a week or so later informing me of the micro-barrel's arrival. We arranged a day to play around with it. The micro-barrel was – for lack of a better word – adorable.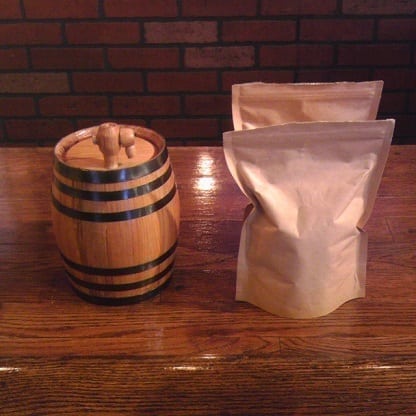 Far smaller than I thought it would be. We determined that roughly 200 grams of tea leaves would fit inside. The real challenge was how. The micro-barrel's original bunghole (yes, that's what it's called) was extremely small. We needed an opening that was roughly eleven-or-so inches in diameter.
Luckily, Ryan had a drill on site with that size of bit. After making a large enough opening, we journeyed to a brewery supply store and picked up a plug for the bunghole. (*snicker*) Then, it was time.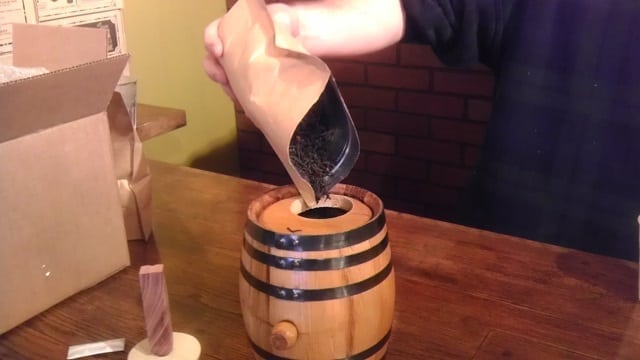 The 200g pile o' leaves were poured into the barrel and duly plugged.
I guesstimated that the aging process would only take about two weeks. Most companies I'd encountered usually barrel-aged their teas for a month and a half. Given the smaller size of this barrel, I figured it would be done aging in half that time.
Roughly two days went by when Ryan imparted some advice. "Don't you think you should tap the barrel to see how the tea is doing?"
"Nah," I replied, "should be fine."
"Just humor me."
"Okay(?)."
The next morning, I did so. Due to some of the residual moister in the barrel, the dry leaves had become more pliable. This worried me a little. Following that, I brewed 'em up for a taste-test.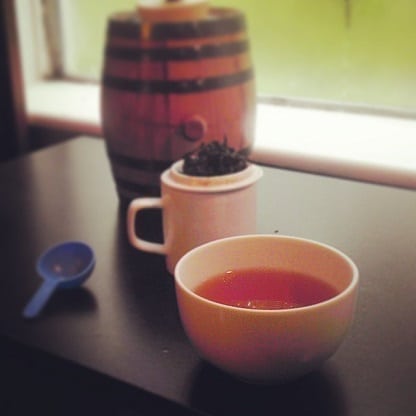 Whoah, I thought. In only two days, the flavor had changed. The tea was noticeably oaky and had taken on a bit of the liquor sweetness. Not peaty, just sweet.
I got back in touch with Ryan and said, "Change of plans. We're tapping this in a week; not two." The moisture and rapid flavor change worried me.
Two days later, I tapped the barrel again. This time, I brewed the contents and the untampered tea leaves side-by-side. Just to see how much it was changing.
The barrel-aged version differed from the original in its…almost tiramisu-ish quality. Both retained the same sweetness and woody taste, but the barreled rendition had more of it. It was noticeably more molasses-like.
That Sunday, I did the final tapping with the Bootleg Botanicals team. We laid out a tray, covered it in tinfoil, and spread the barrel-aged leaves on it.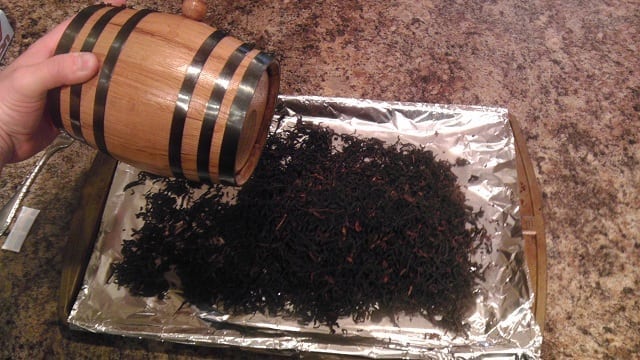 Melanie Belshee (Ryan's wife) pre-heated their stove at the lowest setting, and then turned it off. The tray of leaves was placed inside to quicken the drying process. Whatever residual moisture remained would vanish quickly with very little flavor loss, or so I hoped.
Once finished we did a side-by-side cupping of the original Ye Sheng Hong Cha, and it's "Wild Bourbon Black, Mark-1" sibling.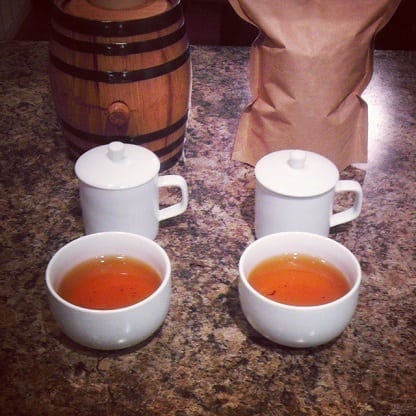 While all the taster notes I mentioned earlier were there, all three of us agreed that there wasn't enough of a liquor note to justify the laborious process. The flavor had changed considerably. It was sweeter, smoothed-out, and more layered. But nothing about it screamed "bourbon", save for the smell of the dry leaves.
It was time for Mark-II.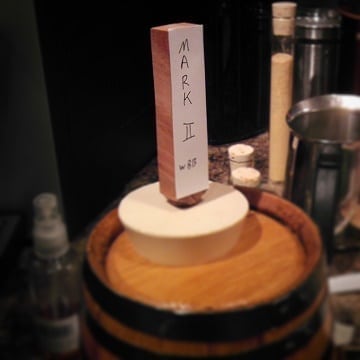 For a second attempt, we decided to take another 200 grams of leaves…and spritz them with actual bourbon, prior to placing it in the barrel.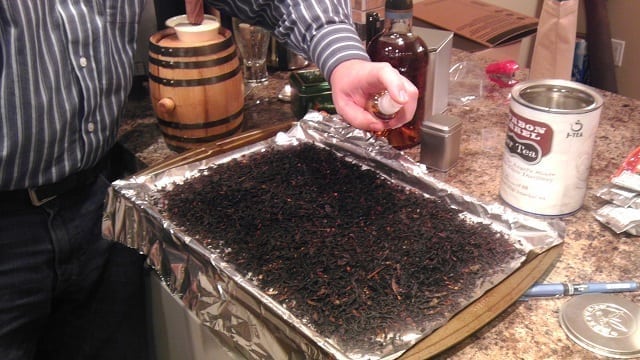 The hope was that it would dry out the leaves and prevent any moisture from collecting. Not that there was much moisture left in the barrel, anyway. I taste-tested it a couple of days after, and the results were…"off".
I couldn't explain why, but the flavor was muddled – schizophrenic, even. Like it couldn't tell if it was tea or liquor anymore.
A few days later, I gave it another go. Things had considerably improved. It had a lot in common with the Mark-I, but the flavor was considerably dryer – more astringent and lingering. Similar to a dry Riesling, if I wanted to reach for a comparison.
As of…well…today, Wild Yunnan Black, Mark-II is still in the barrel. I haven't dared do a final tapping, seeing what it'll do as time passes. Thus far, the flavor hasn't changed much. It's still wood-sweet, oaky, dry…and only subtly liquor-like.
The more I think about it, the more I realize that I may have jumped the gun with Mark-I. Perhaps, the ideal process was what I originally had in mind – a two-week aging cycle with a partially-moist barrel, followed by a good drying. These two experiments weren't failures by any stretch, but not complete successes, either.
Oh well, if at first you don't succeed…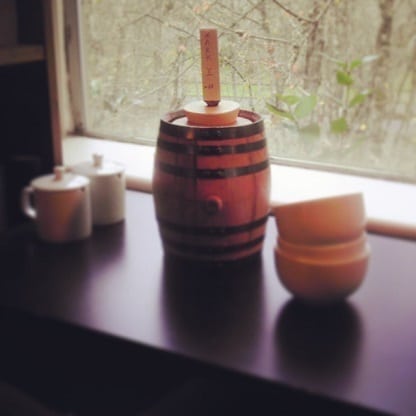 Drink and drink again.