I think we can all agree on one thing: moving is a pain in the arse.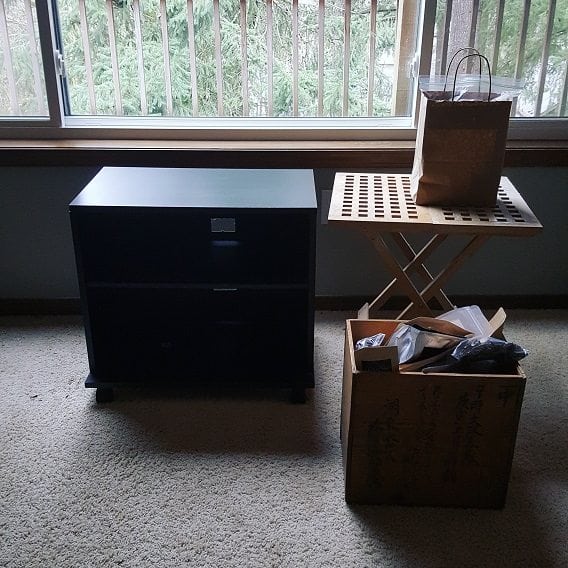 Moving when you're a tea drinker? Even more so. But I think I stumbled across the perfect way to do it this time.
Over the last five(-or-so) years, I made two different moves, and I was on the eve of making my third. In 2013, I had to move because my brother/roommate got married. In 2016, I had to move again because my sister/roommate got married. For a little under two years, I occupied the basement level of my parents' basement. (Yeah, I was "that guy".) What? Portland, Ore. is really expensive.
Lord knows, I didn't want to remain a basement troll in his 40s; that and the parental units were seeking to sell the house in early 2018. So, I used that as my main excuse to finally put the feelers out across social media for potential residency. I also perused Craigslist and other apartment hunting websites, and came up with . . .
Not much.
While the allure of "weird Portland" was finally wearing off, there were still pockets that saw continued growth. And with those population increases came escalated rent prices, and more stringent standards for acceptance. Security deposits were hiked up to the nth degree, as was proof of income. (I.e. Some places required you to make a certain amount to even qualify for a lease.) I was nowhere near worried about passing background checks, or my rental history, but my income was an issue. Sure, I worked full time, but affording rent would eat up 70% of my income on Portland's coveted "west side".
Luckily, that didn't prove to be an issue for long. I received a message from a friend on Portland's east side. She and her husband were looking to rent out a room to a tenant. Their preference was someone they already knew and trusted. We'd been friends for almost a decade, so I immediately met that qualification.
The following week, I paid them a visit to look at the room. I immediately fell in love with it. It had a bed!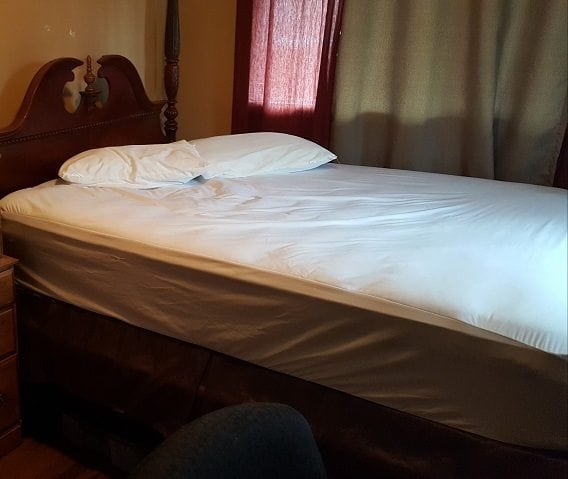 My bed was . . . dying. We'll just leave it at that. The rental price they were asking for was also well within my wheelhouse. After several nods of approval, I said, "I'll take it!"
I chose March as the move-in date. Not only to give me time, but that was also when the parents planned to put the house on the market. That would give me enough breathing room to prepare. Although, chances were I would've waited until the last minute. Except . . .
The parents announced that they needed to replace the carpet in my downstairs area, nearly a whole month before I planned to move. This meant I needed to have all my furniture, and other knickknacks, off the main level. I looked at my room . . .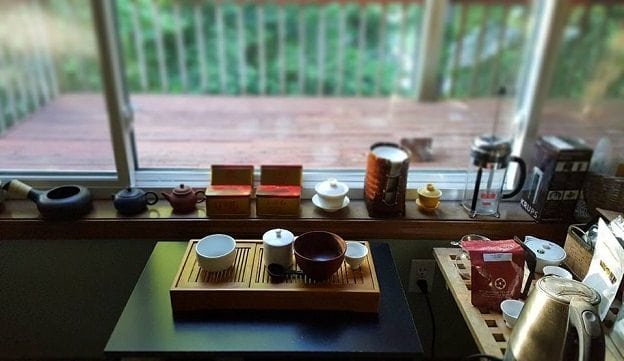 . . . And sighed.
It took a lot of work to turn the downstairs into my own personal tea troll cave. And now I had to uproot it all. Over the course of a week, I did so. And I came to another realization.
I had a lot of stuff.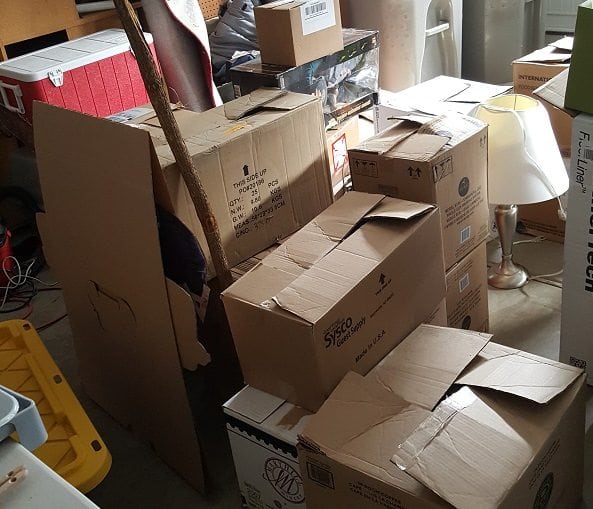 Thirteen boxes were just tea and teaware, and that only took up half of my horde. The rest was furniture, DVDs, CDs, and other outdated geeky stuff. I remember a time when my life could fit into one car. Now, it could fill a U-Haul truck. Okay, a rather small U-Haul truck.
Shortly after that, the carpet was replaced. However, instead of putting things back to where they were, I just . . . left everything packed. Yes, even the teaware. I kept everything boxed up and partitioned away. In the meantime, I had a select few teas I considered daily drinkers (Darjeeling second flushes, Ming Hongs, etc.). And for brewing, I just lived out of a tea tumbler for a month or so.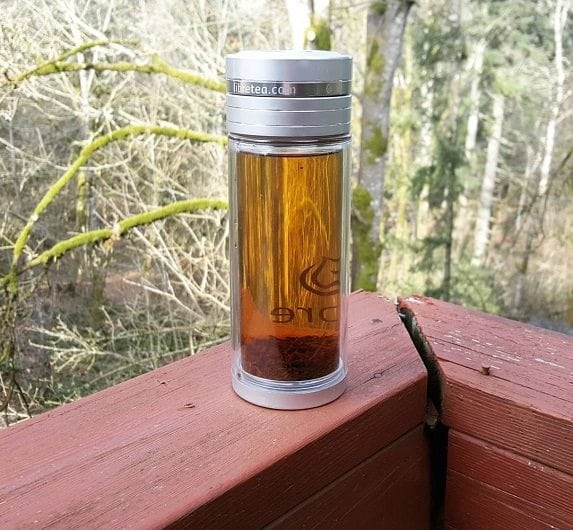 That month went by far quicker than I expected. I decided early on to split the move into two phases. First phase: furniture; second phase: the rest of the crap. For the first phase, I enlisted the help of my brother, since he had a pickup. I, then, requested a day off from work that correlated with his schedule. The afternoon before the move, I staged the furniture.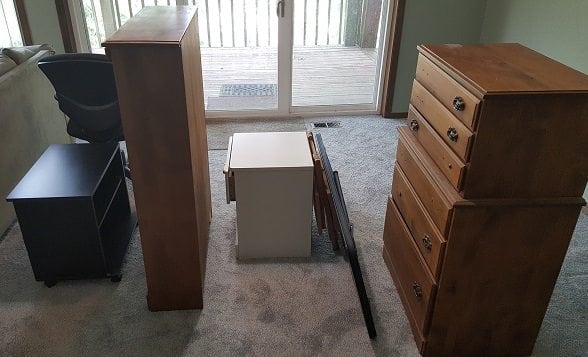 Overall, hauling everything to the new house took roughly four hours. Most of that was spent tossing my old bed to a dumpster, followed by contending with Portland traffic. Putting everything in the room proved to be far easier than I anticipated. And the room looked . . .
Feng shui as f**k.
For Phase Two, I originally planned on making several small trips in my tiny car over the course of the next week. After all, the rest was just . . . crap. Mostly tea crap. No one else needed to contend with that. However, one of my new roommates put forth the kind offer of utilizing his monster pickup. And we took care of nearly all the miscellaneous boxes in one fell swoop.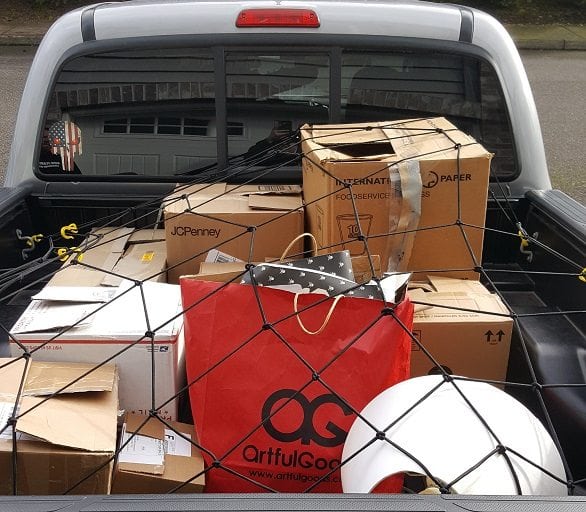 With all my stuff situated, all I had to do was take care of cleaning the downstairs area I used to occupy, babysit my parents' cat, and any other last minute logistics. The soon-to-be former landlords were on vacation, thus allowing me an extra few days to properly vacate. No rush; no worries.
The best part? The new place even had room for all my tea stuff.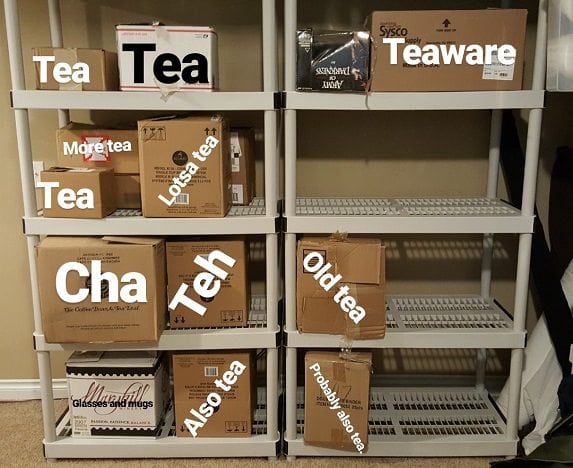 With the promise that I'd consolidate in the near future, of course.
Another month has since gone by , and I'm fully situated in my new place. Granted, I haven't unpacked my tea stuff, yet. I'm still living out of a travel mug. And I haven't had a decent gong fu cha session at home since . . . January? But I can say, "I'm home," and truly mean it. This was easily the smoothest transition I've made, as a tea person, in my life.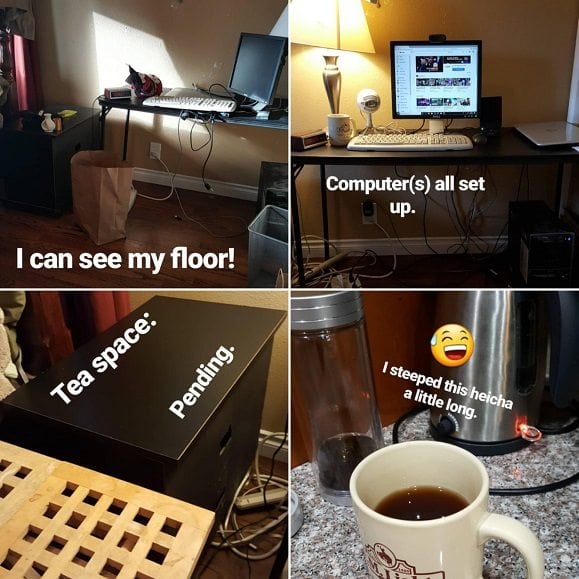 So, let's backtrack: all I had to do was (A) find friends willing to rent a room to me, (B) pack everything a month in advance, (C) stay packed for that length of time, (D) find two people with pickup trucks to assist with the move in two phases, over two days, (E) live out of a travel mug throughout, and (F) make sure the new place had room for a ton of tea.
This "plan" might not work best for everyone, nor would the stars align this well for all movers. But if you are a hardcore tea drinker, and have a lot of tea/teaware, the best advice I can give is to plan ahead. If that luxury isn't available to you, and you have to move with haste? Well . . .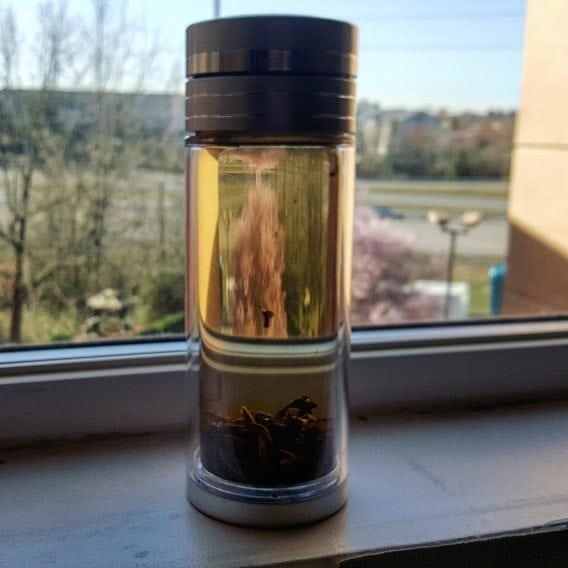 At least remember the travel mug.