On my days off, it is not uncommon to find me at a tearoom. I mean, having tea at home is great and all, but sometimes one has a desire to leave the house . . . and even the comforting confines of one's pajamas. Last week (that being, January 14th, 2015, depending on when you – fine reader – are viewing this), I originally had plans to grab a tea latte with a co-worker. She had to cancel due to financial constraints – a plight I know all too well. So, a Plan B was needed, even if it wasn't entirely planned.
Following the co-worker cancelation, I was in the middle of a chat with the owner of Chariteas – the titular "Charity" of the name. I mentioned I had some teas to pass on her way, and wondered if I could stop by the shop. I also had a hankering for one of their chicken salad sandwiches and a scone. She said she'd be there, and that a stop by around lunch time was fine.
And thus, I made the hour-long jaunt to Sandy, OR. to Chariteas.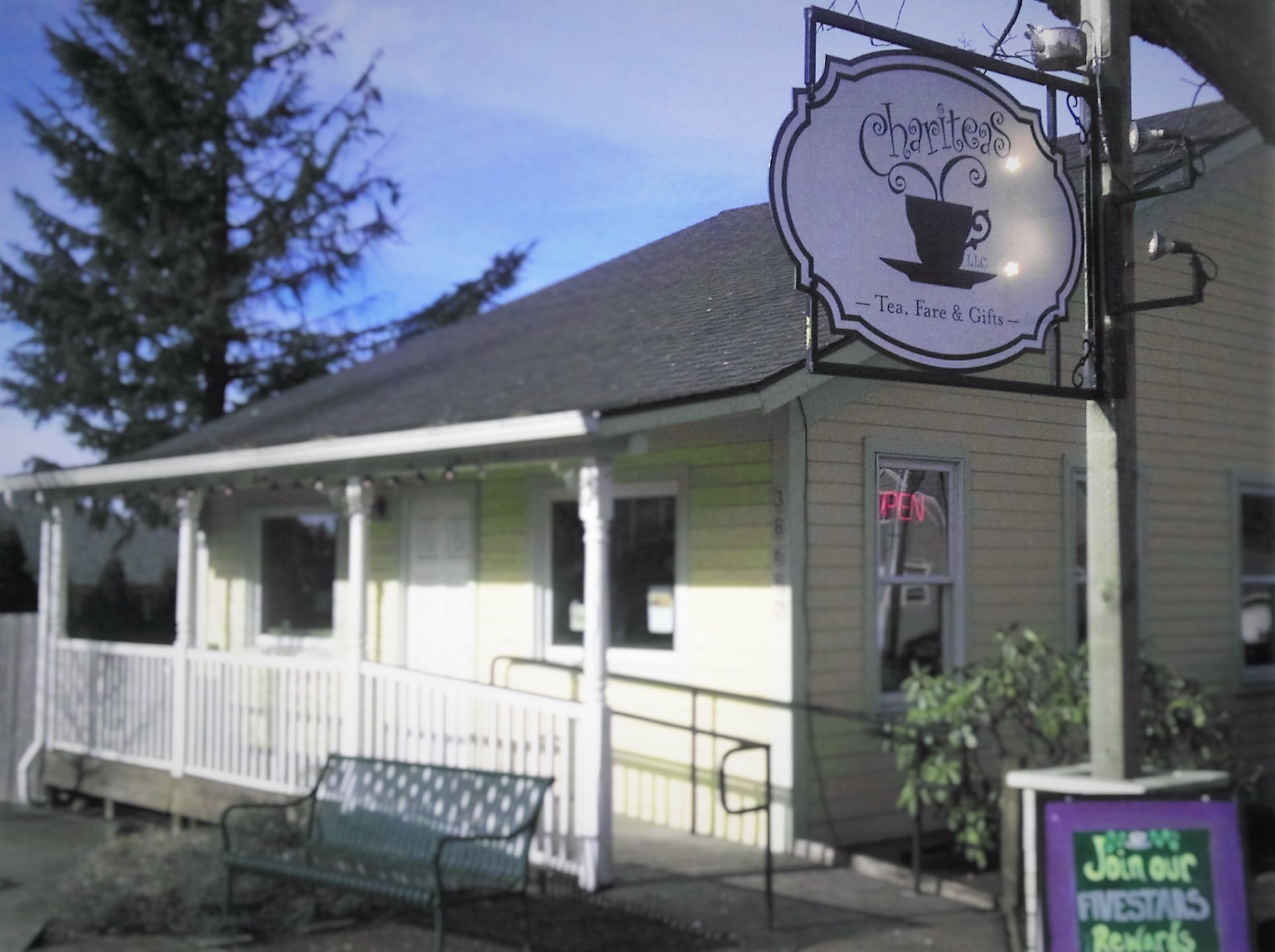 It remains my favorite tearoom on the fringes of Portland. The food is great, the prices even better, and the owner knows her shit when it comes to tea. A veritable trifecta of awesomeness.
I had a few things in my possession to hand her, including: A sample of some barrel-aged tea I made, some bitter gourd-aged Tie Guan Yin, and some "off-white" teas (like her shop's Grey Dragon). When I arrived, she already had a tasting station prepared in the back. Resting on the table was a huge slab of a tea tray with a drain. I'm not even sure what to call the thing; it looked like a black hole made manifest as teaware.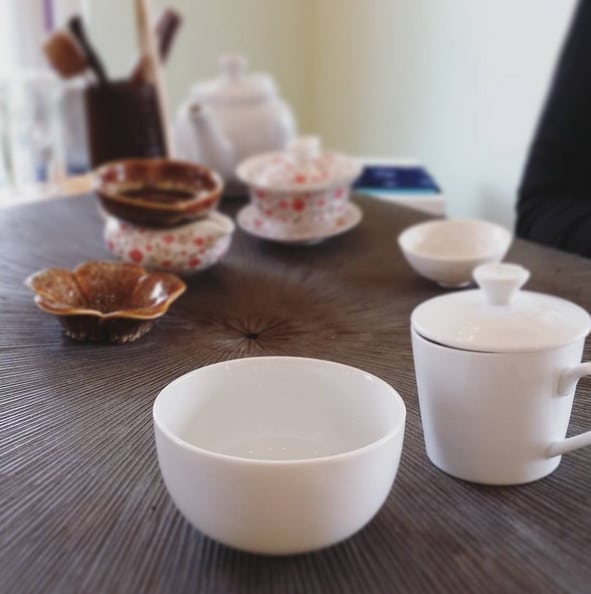 She said it weighed a ton, and I could believe it.
I ordered a sandwich on croissant bread and a scone with clotted cream. She prepped the tasting station, and we went with the aged oolong first. After several steeps of that, Charity brought out a small baggy of some Tregothnan orange pekoe she bought a couple of years back. For her own private stash.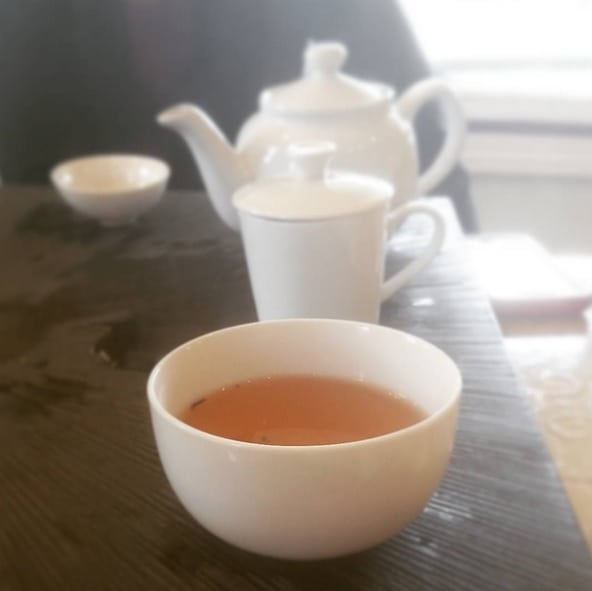 This was the pure unfettered stuff, grown on the estate. And . . . it tasted like a Darjeeling second flush. Not surprising considering Cornwall had a similar climate to Darjeeling.
We next moved on to one of the "off-white" teas – the Castleton Moonlight Imperial I brought. Throughout the tea trade-offs, I saw how the daily operations of a tearoom changed. Chariteas had its share of interesting customers. (I mean that in a positive way.) It made me wonder why there'd never been a British show set in a tearoom. The colorful characters could write themselves.
The last tea Charity dug out was a twelve-year-old puerh bingcha (tea cake) from a part of Yunnan I knew nothing about – Baoshan.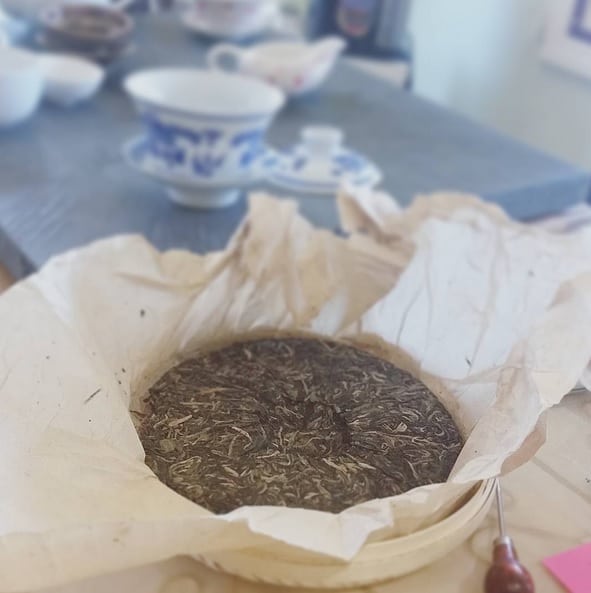 She even asked if I would do the honors of cutting the cake open and serving it out. I rarely served other people (besides myself), so I was a little nervous about it. Some of her staff members also joined in for a cup or three during the down-time.
We got a good eight or nine steeps out of that cake chisel. For an over-a-decade-old cake, it tasted surprisingly green. I likened the flavor to ferns and pinewood. The image of a pine tree being choked into submission by fern vines, all the while having a Yunnan old grown tea tree whispering the "safe word", crept into my mind.
As I tried to stand up from the tasting station, I felt good and silly. When I looked at my watch, my eyes widened. It was 5:30PM. I'd been at Chariteas for five hours! The last time I stayed at a tearoom that long, I was in Seattle. The only reasons I had to leave were the fact that they were closing soon, and I had a dinner party to get to clear in St. John's.
That's the only problem with great tearooms: You really do whittle away the day in the best way possible. Can't wait to go back . . . but next time, I'm bringing on a stopwatch.