I don't get out much.
Of course, with how "well" these brew-based blogs turn out, that goes without saying. In the last couple of months, I tried to make a concerted effort to step out of my comfort zone (i.e. my basement) and—maybe—explore new teashops. Well, that didn't happen. I mean, there are places I need to check out, but they aren't appearing here . . . yet. However, I thought I'd highlight two separate tea sessions—locally, as in, Portland-centric—I had with two tea-bros recently, instead.
What's a tea-bro?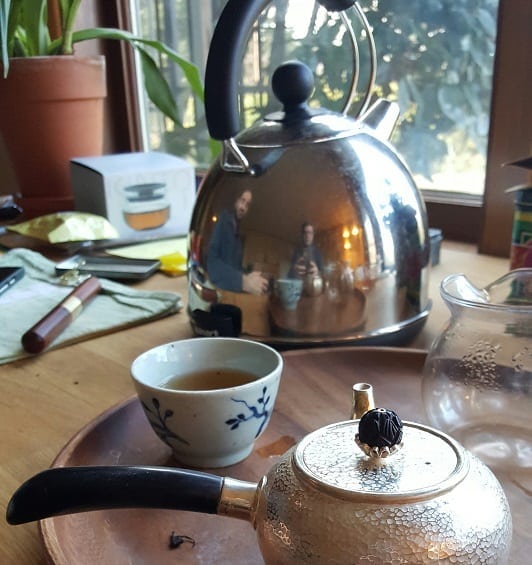 It's a bro you have tea with. Duh.
No, not the negative connotation of "bro"; all the positive aspects. As in, someone that'd bail you out of jail if you stole all the teaware from the local museum . . . or who probably ends up in the cell with you. Portland (and, by extension, the greater Pacific Northwest) is full of tea-bros—both new and old, male and female. Yes, girls can be tea-bros, too. And, as insinuated above by my hermitism, I hadn't made a concerted effort to get to know any of 'em. I decided to change that, or—rather—they changed it for me.
One unassuming night, I received a message from one Nicky Evers. While we'd been friends on Facebook and followed each other on Instagram, we never had a full conversation. I only knew him as "that Steady Hand Tea dude" and/or the moderator for an online Gong Fu Cha group; someone who was rather connected to the Wild West tea scene of San Francisco. Apparently, he and his girlfriend decided that SF was financially suffocating, and they jumped ship and moved up to Portland. A city that was fast becoming financially suffocating.
We arranged for a tea meet-up the following Friday. I had no clue what to expect. I knew the dude was far younger than me, but he had developed a decades-old palate in a matter of a few years. He even globe-trotted to various tea growing regions.
When I finally found his place, he greeted me at the door, and we traded barbs like fast friends for a half-hour or so before getting down to brewing. We discussed some of our mutual acquaintances; some of our weirdest tea finds. (I think he had me beat.) He and his girlfriend even regaled me with tales of how they met.
Answer:  While juggling. In a circus group. That's . . . kind of amazing.
Eventually, he finally moseyed over to the tea chest to pick something out. And I do mean, it was a literal chest—like something out of a pirate movie. Nicky asked what my preferences were. To which I had . . . no real answer. (I'm a bit of a whore of all tea trades.) Upon hearing I had a Taiwanese tea affinity (this week), he picked out a bag and got to brewin'.
It was a black tea made from a Tie Guan Yin cultivar, but grown in Taiwan.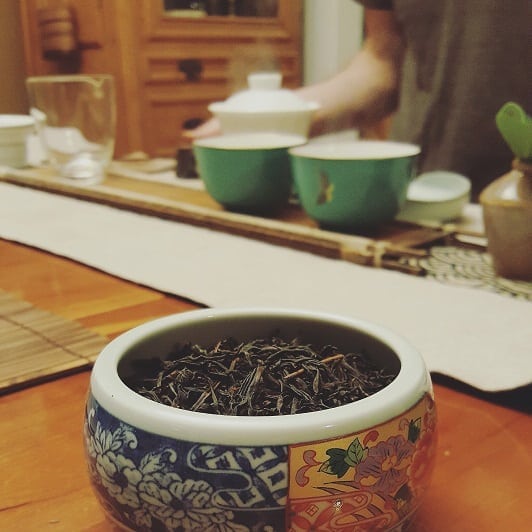 I can't quite recall the exact taster notes that beast evoked, but I seem to remember the words "rye bread and mint" were uttered by me. Sounds apt. The last time I had a Guan Yin black tea (from ZhenTea), the flavors were similar. We got about four good, burly steeps out of that sucker.
Our second tea was something I brought: an aged oolong from Thailand. I've written about it before. Moving on.
The third (and final) tea we destroyed was another Taiwanese black—Hongyun #21.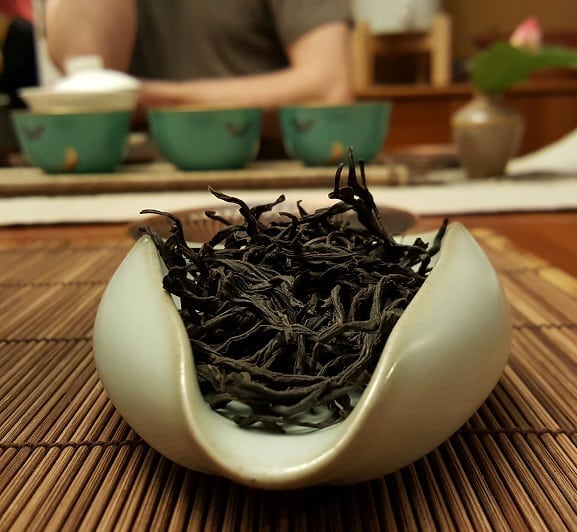 Not to be confused with Hongyu #18. Darn you, Taiwan, and your confusing tea cultivars! Anyway, it tasted like an Assam, minus all that tannic stuff. Although, that might've been due to the fact that we were gong fu-ing it.
I left Nicky and his girl's place after three hours and one heaping head-buzz. I think I got some sleep . . . but not much. Great way to spend a Friday night.
***
Throughout the early weeks of January, a fellow Taiwanese oolong fan, Dan Pappas, and I had tried to coordinate our schedules for a marathon brewing session. Ice storms, snow storms and work schedules prevented such attempts. But sometime in the middle of the month, we were able to make it work. I was particularly looking forward to this session for once reason.
Bug shit.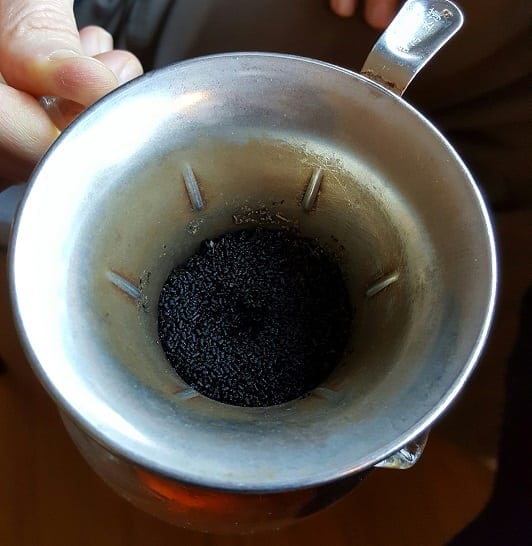 While he was at the Xiamen Tea Festival, he picked up some "Dragon Pearls". That was the polite name for them. In reality, they were small, circular pellets found in (and on) puerh cakes that were stored for a number of years. Said pellets were . . . exactly what you—fine reader—think they are.
You see, sometimes—in those funky warehouses—stored puerh cakes are the chosen meal for moth caterpillars. Before these violated cakes are put up for sale or auction, the pellets are removed from the leaf material. And, for some reason, those are sold as tea as well. The 'pillar pellets are, indeed, leaves that were . . . "passed" . . . but they aren't fully digested. Meaning, technically, they're still tea leaves, but with the added benefit of . . . um . . . bug shittiness to them. A second type of Dragon Pearl/bug shit tea also exists, wherein caterpillars are put on actual tea trees, and then the droppings are collected. Dan acquired the first type.
And I'd been trying to collect that shit for YEARS!!!
Moving on . . .
Dan and I arranged to meet at his place in the morning. He wasn't much of an evening tea drinker. (Smart; I should probably stop that, too.) I brought along UNYTea's bug-bitten Jin Xuan and a puerh cake from Myanmar.
I didn't expect us to go through all the teas we displayed. But we did. And, then, at the finale; it was time for bug shit.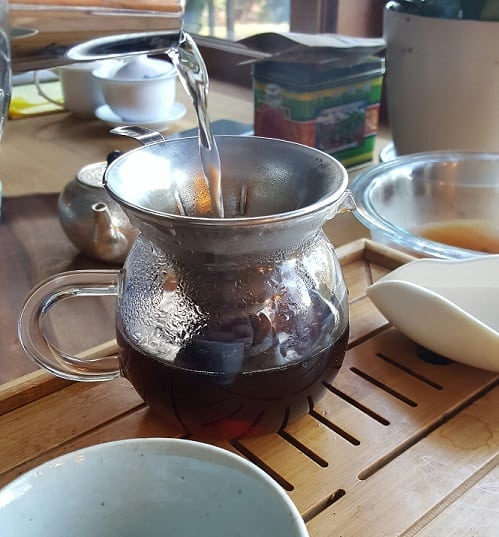 The pellets looked like CTC-grade black, except they—sort of—glistened. No other way to describe it. The appearance reminded me of caviar. Old caviar.
Like CTC tea, the pellets also didn't take long to brew. One merely needed to slow-drip 'em through hot water like coffee. The resulting brew turned up dark and ready for drinking. And the flavor was . . .
Surprisingly pleasant. Earthy on the front; cooling and mentholic on the back. Like a learned, Buddhist sage with rockin' mullet . . . caught in an outhouse.
If I wasn't tea drunk before; I was after two steeps of the bug poo-poo puerh.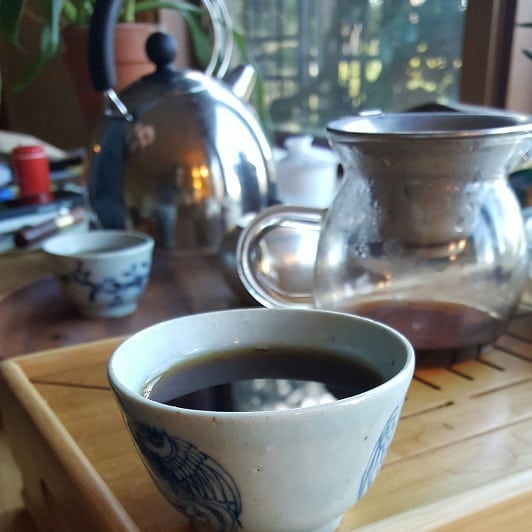 In the span of four days, I had two completely different, genuine, and amazing tea sessions. It reminded me that I should leave the comforts of my mancave more, and share what oddi-"teas" I possessed. After all, that was another, quick way to run into new and exciting teas. Can't wait to do it again.
If the couch isn't too comfy, that is.