This all started because of a tea cake.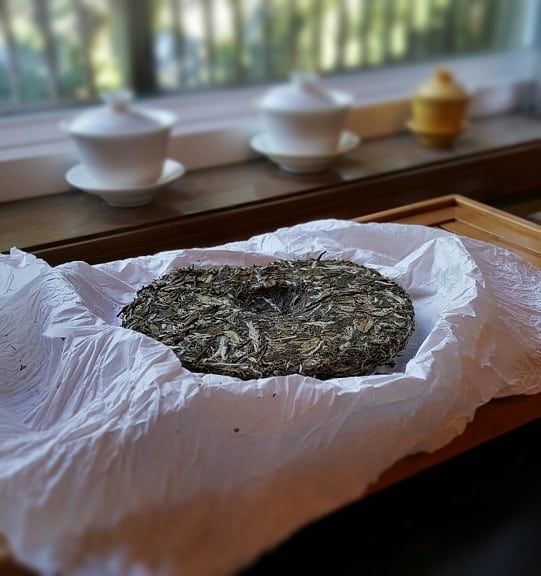 No, not that kind of tea cake. An actual cake. The kind you eat; not drink.
Instagram has been a useful tool for several reasons. One, it put me in contact with new tea people across the world—some personal, others professional. But it has also helped me touch bases with old friends from the hither and yon. Case in point:
Meet Kristin Barger.
Thanks to the "Gram that Is Instant", we reconnected after an unintended social sabbatical that lasted four-plus years. I'd known the young woman for nearly a decade, hearkening back to the days I fondly remember as "The Myspace Era".
What's that? You don't believe I know her? You want proof. Well, fine! Here's your proof.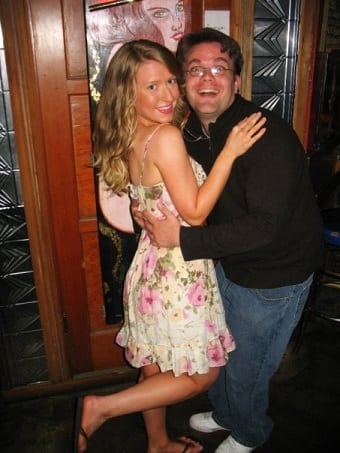 I . . . have no idea what my face is doing there. Moving on.
Anyway, since our last bit o' contact, she'd relocated from Portland to San Diego, adopted a puppy named Mowgli, and—the reason for this here rambling blog—became a bit of a baker-genius. The name of her new operation? Küchlein Bakery. To be honest, I only paid half-attention to her culinary creations, if only for my own sanity. A recovering fat man can only look at so many doughnut pictures before he eventually succumbs to temptation.
But then she posted this!
The woman made a matcha cake. She had crossed into my territory. Naturally, I contained my glee (badly) when inquiring about it. Inspired by her many jaunts to a favorite local Portland tea shop—Tea Chai Té —she had the nifty idea of offering a tea cake menu on her new website. As she was slowly prepping said menu, she also gradually rolled some of the scintillating suspects. Including the aforementioned matcha cake.
Feeling slightly cake-teased, I thought it was high-time I picked her brain like a sweet-toothed tea blogger zombie. What inspired her to do a tea cake menu? How'd she become a baker in the first place? What else did she have up her ruffled sleeves?
I sat her down [via e-mail] and demanded [more like "begged"] a confession out of her:
When did it all start?
It all started around the age of five. As soon as my arms were long enough to grab a spatula and clear the edge of that shiny stainless steel bowl, I was baking. Sometimes that also meant climbing a barstool to sit atop the counter, thereby acquiring adequate torque to stir properly. Someone else usually operated the oven while I yearned to be just a little bit older and bigger so I could do it myself. The earnestness hasn't changed one bit.
Were you keeping your talent a secret? And when were the seeds planted for Küchlein Bakery?
I grew up as the middle child in a large family, and my sister and three brothers served as some of the toughest food critics alive. It's not that I hid my talent, it's more that I just didn't think I had any talent whatsoever; though they always came back for more, they did not let me develop much of an ego. Fast forward to age 26: I started baking again after a bit of a hiatus. The catalyst: meeting some of the best humans I've ever known at The Art Institute of Portland. Suddenly, all I wanted to do was show my affection and I did so by baking for them. Annoyingly so, I'm sure (we're talking dozens of cookies per day!) but between these friends and co-workers, I garnered the confidence to entertain the idea of starting my own bakery. You see, at that point, I had fully realized baking was an extension of me. At that particular magical and serendipitous time, I was consistently pushed by those around me to "reach for the chocolate dipped stars" and never stop sharing my talent with the world.
What would you say your specialty is right now?
My flourless double dark chocolate chip sea salt cookies (named "Del Mar" on my menu.) The recipe is flourless, butterless, and only comprised of five ingredients. The best part is I created the recipe entirely on accident after running out of flour midway through baking. I substituted the flour with powdered sugar, and the rest is history. Easily the #1 seller on my menu.
What was the inspiration for the tea cake menu? Did you purposefully set out to experiment with different teas aside from matcha?
My love of tea, of course! I think I waited until age 24 to even taste coffee (and if you think I'm bubbly now, just picture me drinking espresso for the first time!) Before that, it was all tea. Any kind of tea, really, but I've always had a particular affinity for green tea. My strongest, fondest memories of Portland were those shared over a pot of tea, so my new Tea Cake menu is simply the extension of my affinity for tea and wistfulness for the people who have shared a cup (or two or three) with me. Matcha may very well be the trendiest of teas in Southern California, so to maintain my street cred, I had to make at least one matcha cake and utilize the hashtag, "#iloveyousomatcha." Once I accomplished that, I was free to draw upon other sources of inspiration and create deeper flavor profiles. For example, after visiting London for the first time last Christmas (and experiencing the richness of British desserts first hand) I created an Earl Grey buttercream by steeping the tea leaves in simmering milk (and straining well!) before incorporating into my fresh buttercream frosting. The result is less in-your-face (so non-tea drinkers, you'll be fine) and more of a "complex aftertaste dancing on your tongue after each bite" kind of experience. The leave behind notes of lavender and bergamot really make for a special impression.
So when can I try a slice? Or at least a doughnut?
Right now, I can only deliver my tea cakes locally, but I can ship cookies and doughnuts across the country! While we are on the subject, please send me your address, because you are long overdue for a box of goodies.
Coffee or tea?
TEA! While I do love the depth of a rich espresso in my old age (it took me a while to build up a tolerance!) I love the sweet earthiness of a cup of tea more than anything. Inimitable.
True to her word, she actually did send me some of her Del Mar cookies; a dozen of them!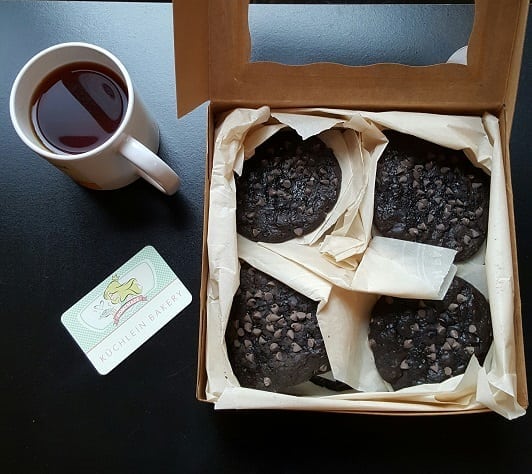 I dipped into four of them the day they arrived with a mug of Doke Black Fusion. They paired wonderfully with a malty Assamica-based black tea. The sweet-'n-savory notes of the cookie danced quite well with the honey-nut-spiciness of the ol' Fusion. And then there was the next day . . .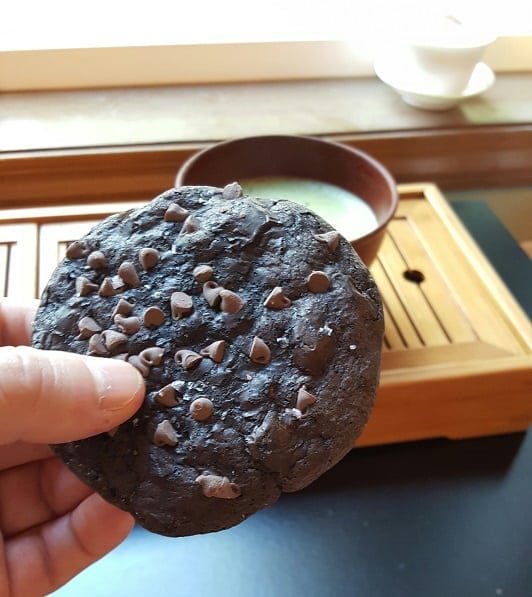 Yes, that is a bowl of matcha behind the cookie. And, yes, that too was a perfect pairing; almost as poetic as the Black Fusion meet-cute. In total, the Del Mars lasted two days in my presence, and that was showing considerable restraint, on my part.
I suppose my next mission will be convincing her to make masala chai doughnuts. And then—quite possibly— getting her to send me some. Er, that is . . .
If her pup doesn't get to 'em first.
For more information on Küchlein Bakery, go HERE.