LaosTea—a wholesaler of heicha from Laos—had a booth at World Tea Expo again this last summer.
And I didn't visit it once.
In my mind, I kept saying, Eh, I've already tried everything they have to offer.
What I should've been thinking was, I really need to solidify some of my vendor networking contacts!
Hindsight and all that.
The real tragedy of neglecting their booth was that they did have some new wares to show off this year. Chief among them, a Laotian white tea!!!
Everyone got a taste of it, but me. Oolong Owl even (figuratively) rubbed it in a couple of times on the Expo's last day. I grumbled a little bit. (Okay, a lot.)
Following the Expo's last day festivities, our li'l cadre of tea bloggers ended up at Tealet HQ for their now-annual WTE After-Party. Lots of folks were there—new contacts, old contacts, and . . .
In one of the three-or-so rooms, Mike Petersen, the dudes from LaosTea, two editors from Tea Journey Magazine (Nan Cui and Si Chen, respectively), and James Norwood Pratt were in the thick of a tasting session.
And I barged in like a tea drunk rhino.
I'm pretty sure I interrupted whatever they were talking about. All for the sake of inquiring about their Laotian white, and how to get a hold of it. Alex, the LaosTea member doing most of the pouring, said they didn't have any on them. But he did invite me to participate in the puerh comparison in progress. They were comparing a Yunnan cooked puerh with a Laotian one (!!!). That got my attention.
In comparison to the Yunnan offering, the Laotian cooked "puerh" had far more bold an earthy profile. It tasted like something that was seven years old, but Alex said it was picked and processed in 2014. That . . . kinda blew me away. But only a little. After all, I was familiar with the earthen stone-fruit wonders of their sheng puerh offerings.
Between steeps one through "I-lost-count", we discussed many different things. Alex and co. were quite shocked that I knew a thing or two about Russian tea estates. (They both hailed from Moscow.) Before the night was through, Alex graciously passed along a sample of their cooked "puerh". He wanted feedback . . .
And it was months before I finally got around to it. Not sure why. Maybe because my subconscious still considered it a consolation prize for having lost sight of the Laotian white tea; but then one night I brewed it up. And . . .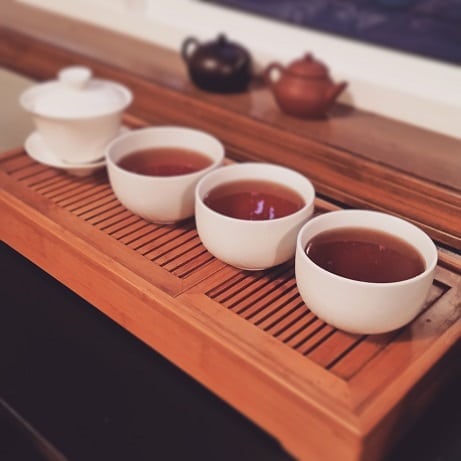 I was floored!
I didn't take notes of what I tasted and/or experienced, but I do remember liking it quite a bit. The earthiness that was there from the party was . . . well . . . still there. But there was a lot more going on. Sometimes it was hard to find all the nuances until I did the brewing myself. In pajamas.
On another random day, I chose to take some leaves with me to work for my lunchbreak re-caffeination. I can't even remember how long I brewed it for—maybe a half-hour. And the leaves took the punishment like . . . well, Russians. Laughing the entire time.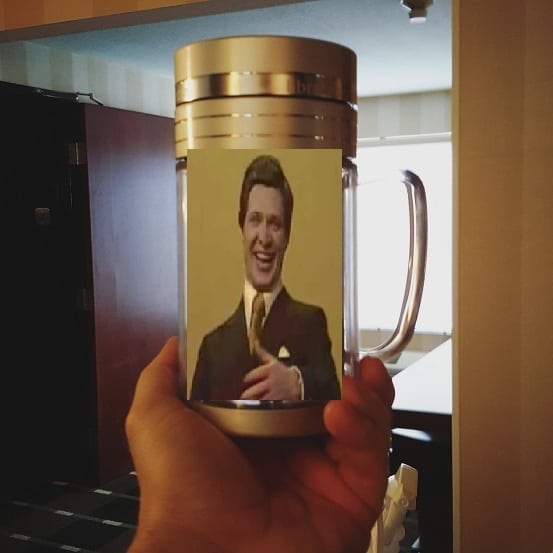 A few weeks after that, I received a follow-up e-mail from Alex, wondering if I tried and liked the new tea. He explained to me that it was something they developed themselves from leaves picked and processed in Phong Sali. They opted for a cooked puerh variant that was more suited to a Western palate, and to offer something relatively affordable to the more . . . tight-walleted heicha consumer.
(I definitely fell into that category.)
I told Alex I would get to a more thorough(-ish) tasting session with the cooked. By "thorough", I mean . . . something a little more concrete besides, "Yum, is good." And on another uneventful night, I did just that.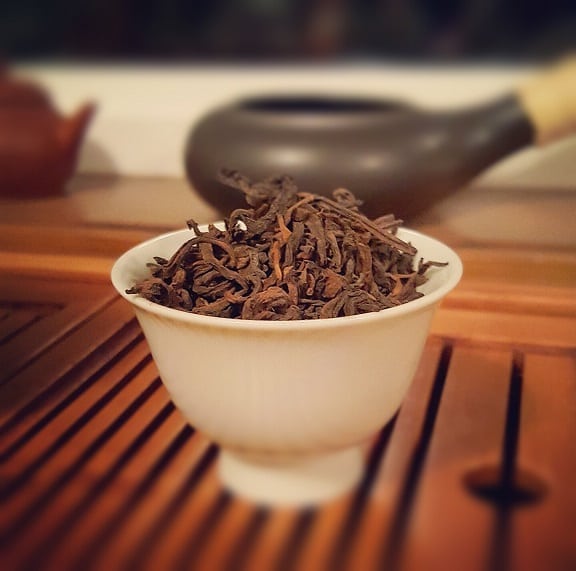 The first thing I noticed about the leaves was how . . . dusty they looked. Shou/cooked/ripe anything always had this "old" sort of appearance. But most dark teas of this processing method didn't look this old this quickly. While they said this was processed in 2014, it looked three years older than that, yet. I've seen five-year-old Yunnan puerhs that looked younger than this. And unlike those Yunnan true puerhs, these leaves actually smelled like ancient earth. Not the usual marina or fish-compost found in young ripe offerings. Nope, this was earth, tree bark, and many maybe some flame-tickled kindling aroma (if I'm reaching).
For brewing, I went the usual route that I would for something with the "shou" moniker tacked to it. Roughly a heaping teaspoon of leaf, boiled water, successive steeps in a gaiwan, short infusion times (thirty-to-forty seconds each), and enjoy the ride. I'd already done it a couple of times this way, but I wasn't paying particular heed to nuances or . . . minutes. This time, I meant to be more careful.
I did do a pre-wash, just to be on the safe side, and the wetted leaves smelled like . . . tiramisu? Chocolate liquor? Hoo-boy.
The first infusion did exactly what I thought it would.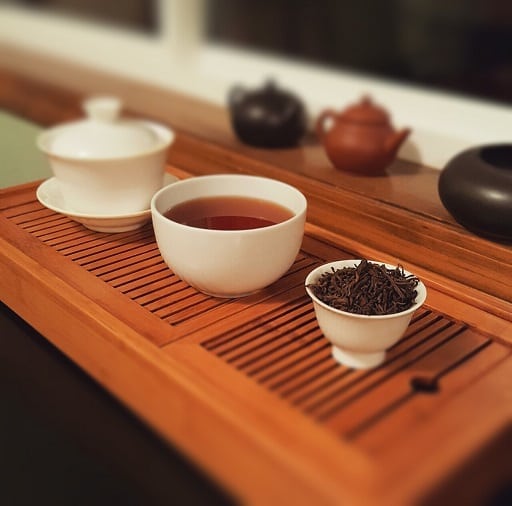 The quick-fermented leaves delivered a suitably dark broth—red-brown bordering on "depths-of-my-soul!" dark-brown. The aroma was all earth and . . . unsweetened Reese's Peanut Butter Cup. What? That's seriously what came to mind; front and center. Earthy and sweet, in other words. The taste conveyed that as well with a smooth delivery on the front, no kickback, no soil-licking sensation—just an earthy sweetness that reminded me a bit like espresso snacks.
Further infusions got sharper on initial delivery, deeper on the earth tones, and crisper in the top note. The residual sweetness found in the first steep mellowed out into standard almost-stone-fruity fair. (I will confess, though, when trying to Insta-Snap-Story—or whatever they call it on Instagram—I sorta messed up the fourth steep. It went on for, like, a minute. Didn't seem to phase it, though.)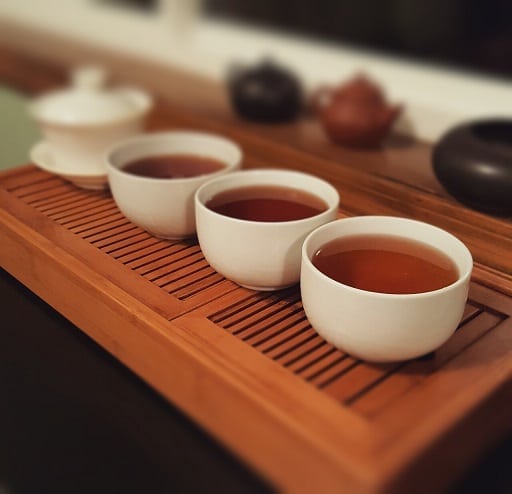 At the end of the session, instead of finishing each steep off individually, I just . . . mixed 'em together and chugged 'em as one. It didn't affect the taste at all. None of them really differed from each other enough to make the experience jarring.
I suppose what I came away with most from the endeavor—how approachable it was in various forms. Late-night party mode, almost-sleep mode, grandpa-style, and even mixed together. Shou puerh is a difficult thing to get used to. Hell, heicha in general is not often for tea-newbies. The boys of LaosTea set out to create a utilitarian shou offering, and it seems to me they did just that.
I'm still holding out for a taste of that white tea, though.
For LaosTea's Russian site, go HERE.
For their English site, go HERE.