NaNoTeaMo, Day 13: "Mortimer and the Malawi Dark Tea"
Everybody, meet Mortimer . . .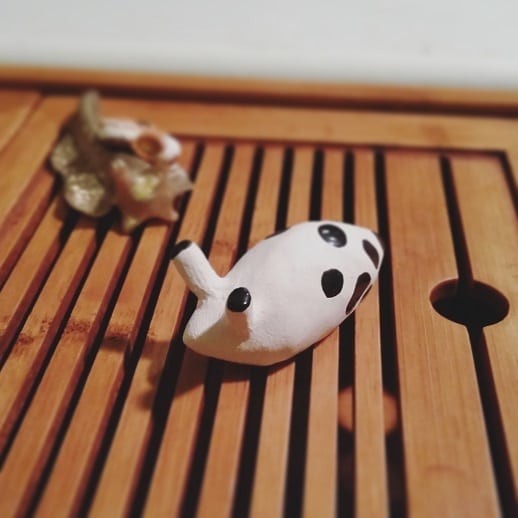 He's a tea pet – specifically, a tea slug. On a visit to Phoenix Tea yesterday, co-owner "Cinnabar Gongfu" talked me into adopting him. She said he had "little anime eyes", and the next thing I knew, I was reaching for my wallet. Yeah, I bought the li'l bastard. Vladamir the Racing Snail isn't too sure what to make of him; Mortimer doesn't seem to be aware of Vladamir. And . . . good god . . . I'm so alone.
Moving on to tea, dammit!
A couple of years ago, I made mention of a booth at World Tea Expo 2014 run by a bevy of Belgians. They were representatives of the Satemwa tea estate in the Shire Highlands of Thyolo, Malawi. Yes, the African country. You read that right. There was a third generation owned tea estate. Run by Belgians. In Malawi.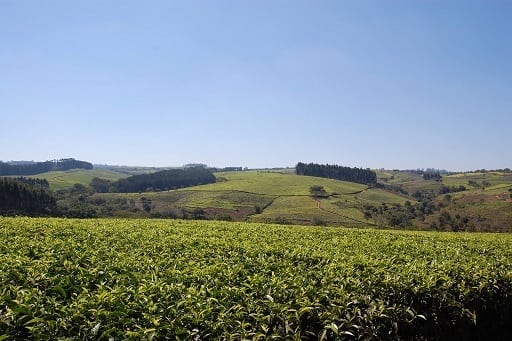 Allow me to wrinkle your brain even further. They put out one of the best white teas I ever tried. Early on in my tea exploration, I first encountered a Malawi white tea that tasted like straight grape candy. It was from Satemwa.
In 2014, they had several such wares on display, including a scrumptious oolong. It was so good, I even used the word "scrumptious"; who does that? Moving on.
One of the oddities in their retinue that I wanted to try – but only caught a whiff of – was their Satemwa Dark. No, I'm not going to call it a puerh. The golden rule states: "If it doesn't come from Yunnan province, China, it can't be called puerh." However, I'll confess, at the time, I thought its aroma was indistinguishable from a young cooked puerh. In other words, it smelled like dirt. But I was still curious about it.
The tea estate made a standing offer to send me a sample of it, if I so wished, but I never followed up on it. My backlog box was already halfway full by then. (Even less than it is, now.) I was afraid I would never get to it, which wouldn't have been fair to them.
Then, yesterday, I learned that Phoenix Tea was carrying it. Now was a good time as any to finally dive in, especially since I was whittling my backlog down quite well.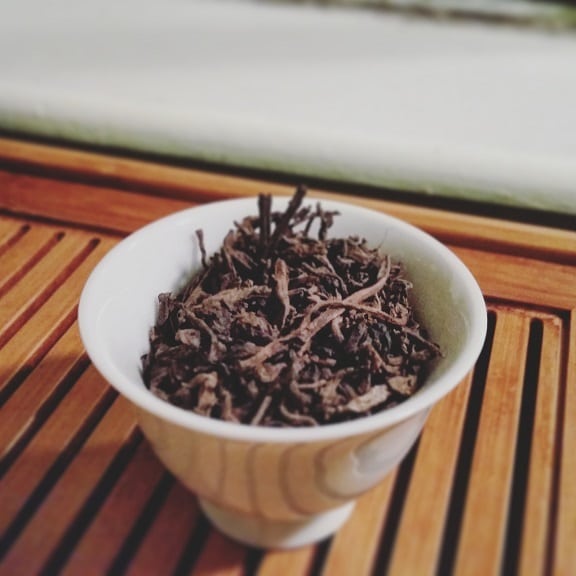 The leaves looked like any ol' loose cooked puerh – faded brown and ancient. There was also a chalky look to their color palette – also very cooked puerh-ish. The aroma was a tad different than most young dark teas. It made the offering seem far older. If someone wanted an earthy smell out of their post-fermented teas, this had it. Like straight dirt earth. No other way to put it.
For brewing, I "busted" out my trusty Xi Shi yixing pot.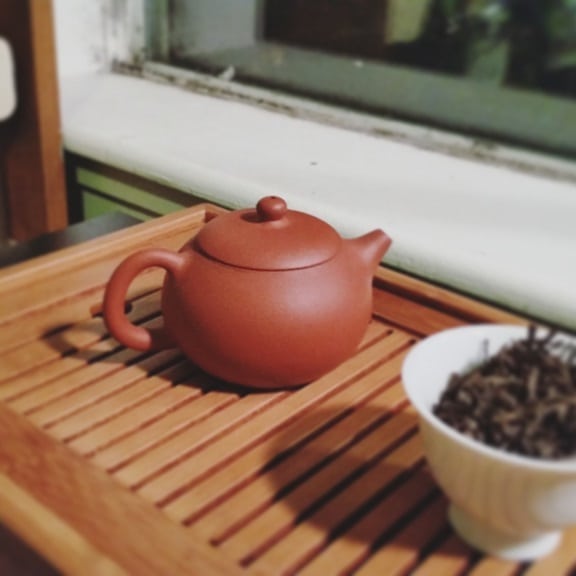 (The joke is that its designed after a boob.) I used it for primarily puerhs and other heichas. So, I figured, why not use it for an alternative dark tea as well?
I approached each infusion with the same care and finesse I did with all my semi-aged teas. Meaning . . . I didn't. I guessed about thirty seconds for each infusion.
Each of the three infusions I poured brewed a solid if "fuzzy" brown. The scent they gave off was faintly fungal, almost moss-like with a touch of sage. I braced myself for the taste of dirt as I sipped . . . and . . .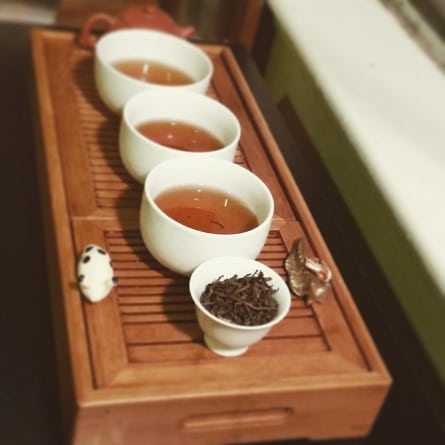 That's not what happened. Actually, it was rather pleasant. Sure, the earthiness was there in spades, but it was a casual earthiness. More forest-floor than damp cave. The sensation reminded me a bit of a couple of twenty-year-aged shengs I had in my possession. Same medicinal undertones to go along with the ancient overtones. Whatever Satemwa's accelerated aging process was, it made the leaves taste five years older than they actually were.
On a damp Fall night, it was quite the quencher.
Even Vladamir and Mortimer approved.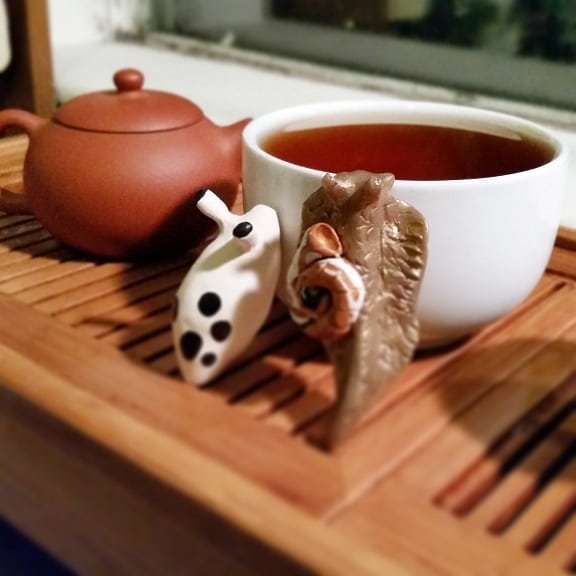 See? See?! Look at how much they want that stu– . . .
What do you mean I need a girlfriend?