NaNoTeaMo, Day 12: "Montanan Breakfast Tea"
This morning, I received a message from Gary Robson, o' he of Red Lodge Books & Tea fame. I wasn't quite awake, yet. My hands clumsily fumbled for my phone, and I accidentally activated Facebook's calling function. No idea how it happened, but it led to a rather spirited conversation nonetheless.
Following that dialogue, I took that as a sign to brew up one of Gary's signature wake-the-f**K-up blends. In my backlog box, there happened to be a tea he made called "Gary's Kilty Pleasure". I received it a couple of summer's back on a trip to his tea bar in Montana.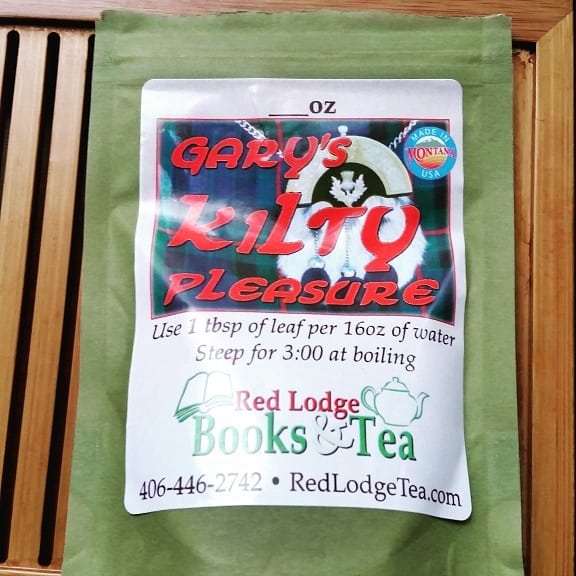 Kilty Pleasure was his take on a Scottish Breakfast blend. Such blends tended to be even burlier than English or Irish Breakfasts. Some say that was originally due to Scotland's soft water, but I think the reason is far more visceral. There was no set blending recipe for it, save for the inclusion of a malty Assam – for the caffeine content.
Gary had just such an Assam on his roster, hailing from the Khongea tea estate. I knew that outfit well. He rounded out the blend with a Kenyan black tea from the Lelsa estate. That was a tea I knew nothing about, and I was a bit apprehensive. I've only encountered two Kenyan black teas I liked. The only way to tell if this combination worked was by giving the ol' Kilty a looksee. (Innuendo intended.)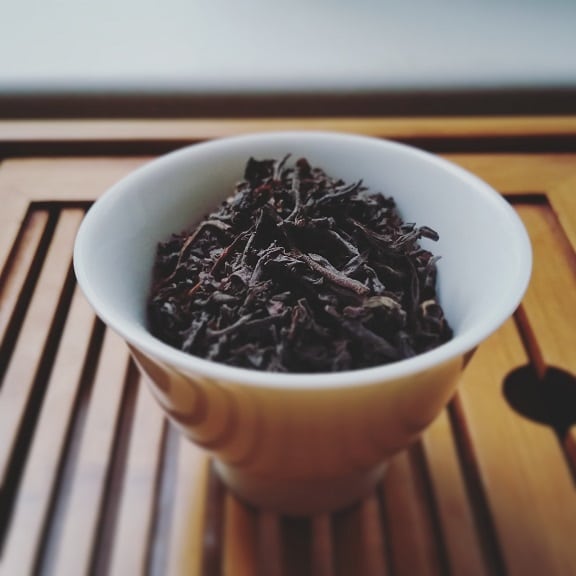 One thing I was impressed with was how uniform the blend looked. Sometimes when different black teas are used for a blend, it's easy to tell which single origin is which just by leaf shape. Not the case here, the Assam leaves and the Kenyan ones looked like they were made to be fused together. What was also puzzling was the blend's aroma. Not sure how or why, but I was whiffing straight cacao husks . . . with a dash of malt. I had blends with cacao husks in the backlog box, but I was (mostly) sure none had touched the Kilty bag.
For brewing, I went bold . . . –ish. I eyeballed a teaspoonful of leaves, and put 'em in a Ceylon steeper cup. Then I boiled water to the brink, and poured it over the leaves. A three-minute steep, though, is where I stopped with the machismo. I wasn't in the mood to embitter this brew.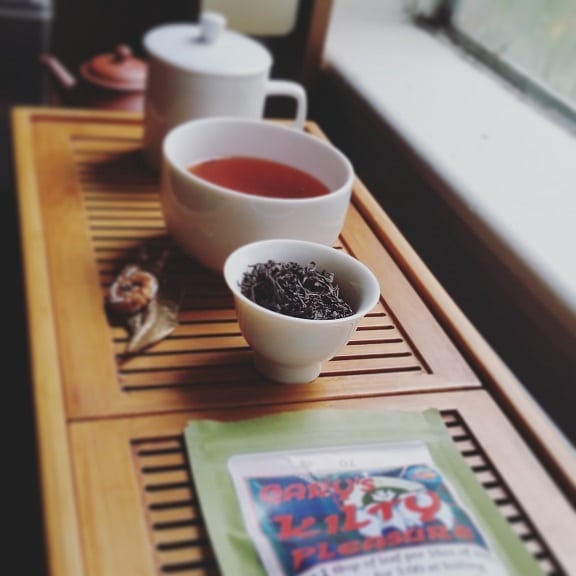 The moment water hit leaves, it immediately started to color. After three minutes, the brew was a bold copper with an aroma of straight malt and man-scars (metaphorically speaking). On taste, it came at me with claymore drawn, but then stopped in midstride and shook my hand. Or at least, that's how it seemed. There was a very bold, bitter and blunt introduction, followed by a smoothing-out in the middle. Malt and wood took over after that, like a gentleman's wager. The aftertaste was astringent but pleasantly so.
A sure-fire wake-up call I could raise my kilt up for.
Cup . . . I meant cup.