NaNoTeaMo, Day 10: "Nut Tea"
You – fair reader – might think I'm certifiably nuts, but . . . I asked to leave work early today, so I could write about tea. If I had left at my normal time – 5PM – that would've left me with exactly a half-hour to formulate today's article. And find a tea to write about. Plus, I was getting together with friends later in the evening.
So, like a bonafide tea nutter, I left at 4PM. This insane decision led me to the obvious conclusion of what my next brew-up was going to be. This li'l fella.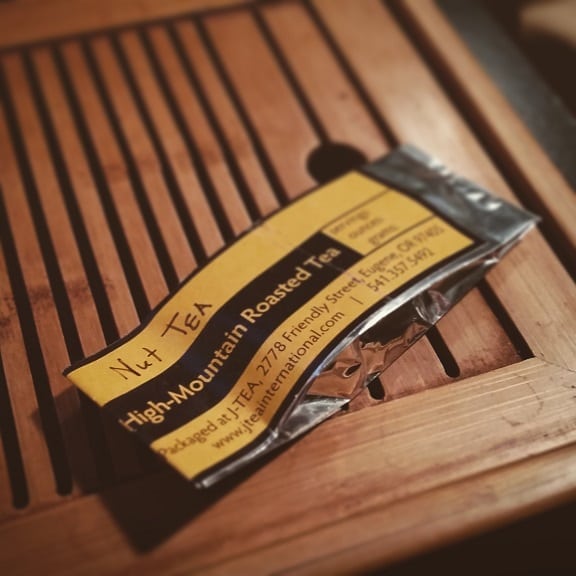 I seriously want to enter the mind of Josh Chamberlain – J-TEA's owner – as he thinks of some of these names. It must me a wonderfully scary place. Something tells me that "Music Box Dancer" is playing on repeat as tea trees dance the waltz, while drinking bourbon straight from the barrel. Or something like that.
This oddly named "Nut Tea" hailed from the Shan Lin Xi tea district of Nantou county,Taiwan. And as the package stated, it was grown at high elevation. I'm not sure if it was from the usual Qing Xin cultivar, but that didn't matter much.
Opening the bag, I sniffed straight trail mix.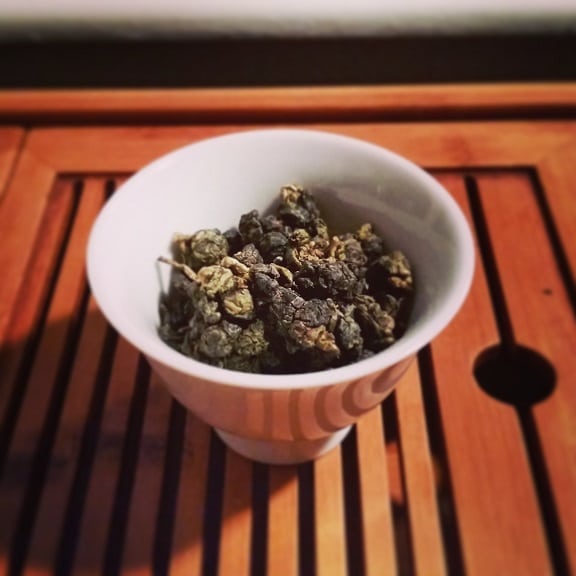 The ball-fisted oolong leaves looked like a typical mid-roast, but the aromatic profile was a bit different. Some of the roasty notes were there, but they were forced to submit to a dominion of . . . well . . . nuts. Any nuts; all nuts. This sucker was so damned nutty smelling that I couldn't pinpoint what nut it was.
For brewing, I decided to stick with the J-TEA theme, and broke out my Melon yixing pot I got from there. I prepared three steeper cups for the individual, thirty-second gongfooled infusions. And – I was so proud of myself – I only spilled once!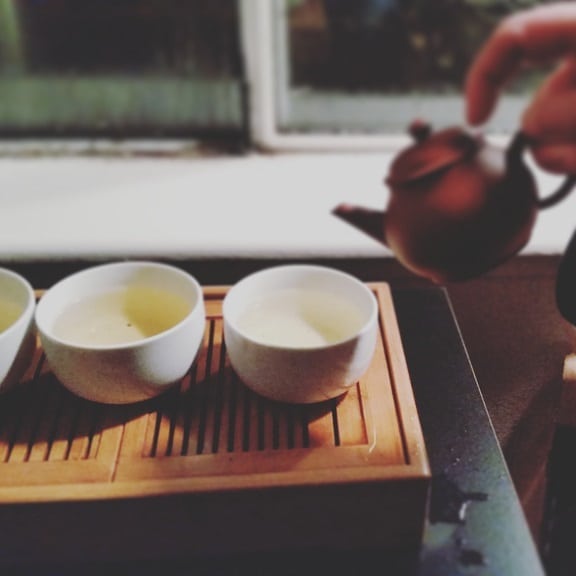 Totally unheard of.
I was surprised at how pale this brewed. Each infusion didn't darken all that much. Even the final steep only darkened as far as a pale bronze. The steam-smell, though? Different story. I whiffed macadamias. At least, I was pretty sure they were macadamias. Mostly sure . . . okay, half-sure . . . maybe.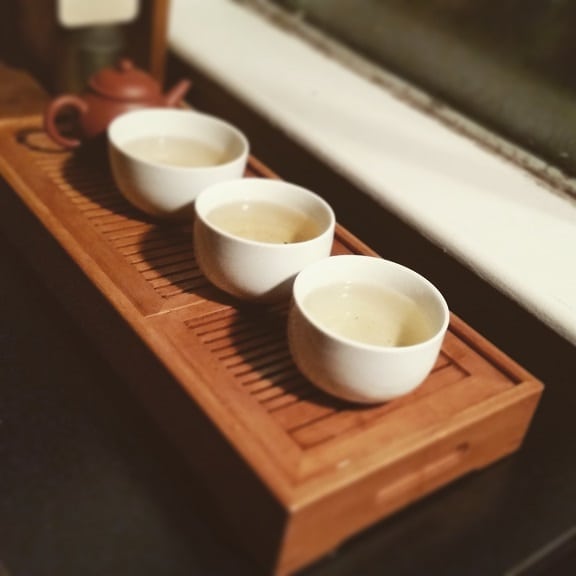 The taste was straight almonds. Not normal almonds; rather almonds lathered in date sugar. There was also a whole honeycomb vibe going on in the top note and trail-off that just begged for creepy, "Yummmm!"
Yep, this was nuts. I won't question Josh's naming schemes again .This was rather apt.
You all thought I was going to go in another direction with the whole "nuts" theme, didn' ya?
No . . . just, no.