Sometime in early spring, my tea-centric social media feed blew up with images of this:
My first thought was, Wow, that is one SWEET mansion!
A modern-looking building, decked out with many windows allowing for natural light, smack-dab in the middle of a tea garden? It was as if someone drilled into my brain and pulled out the ideal image of the sweetest tea blogger bachelor pad, ever. But why was it showing up in my feed(s)?
As it turns out, it wasn't a residence, but rather a factory—dubbed the Tea Studio.
It resided in the middle of Nilgiri tea country, and looked nothing like tea factories I'd covered before. Sleek-'n-modern exterior aside, early buzz in the various articles I skimmed dubbed it a revolutionary facility. Variations of superlatives I'd heard before. By the fourth iteration of an article touting its excellence, I stopped paying attention.
Until I listened to a podcast.
On the March edition of The Talking Tea Podcast, host Ken Cohen interviewed Kevin Gascoyne from Camellia Sinensis. In it, they discussed the Tea Studio in greater detail, its significance—not just to the Nilgiris region of India—and the history of its development. A familiar name came up in the conversation; one Indi Khanna.
Yes, o' he of the elegant moustache.
I'd written about the Indian tea professional before, and spoke at length about his efforts towards organic tea farming on a plot he leased from the Coonoor plantation. What I did not know was that the Tea Studio was his brainchild. Over the course of years, he assembled a veritable tea brain trust of like-minded professionals, which happened to include the team behind Camellia Sinensis.
The Tea Studio is situated on the Coonoor tea estate in the aforementioned Nilgiris district of the southern Indian state of Tamil Nadu. While the Nilgiris have a long and varied history when it comes to tea growth and production, the region never possessed a character all its own. Assam teas were defined by their robust maltiness, Darjeelings by their muscatel notes and aromatics, but the Nilgiris were often seen as a location for middle-of the-road commodity tea.
And I could somewhat attest to this.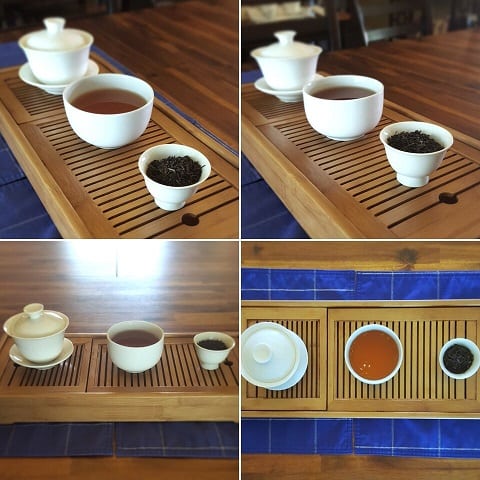 A few months back I did a flight of Nilgiri first flush teas, searching for a common thread, a unique characteristic . . . and I couldn't. I mean, the teas were . . . fine. Like "Marvel Cinematic Universe Phase 3" levels of ". . . fine"—reliable, even. But save for the oft-touted Nilgiri Frost teas, and a few other outliers, the region had no tea identify of its own. A factor that may be its greatest benefit.
In the podcast interview, Kevin Gascoyne remarked upon the Nilgiris untapped potential. The climate was perfect for tea growing, and the temperature-temperamental tea bush variety, assamica, flourished there. Many saw the tea growing region in terms of growth potential.
That's where the Tea Studio came in.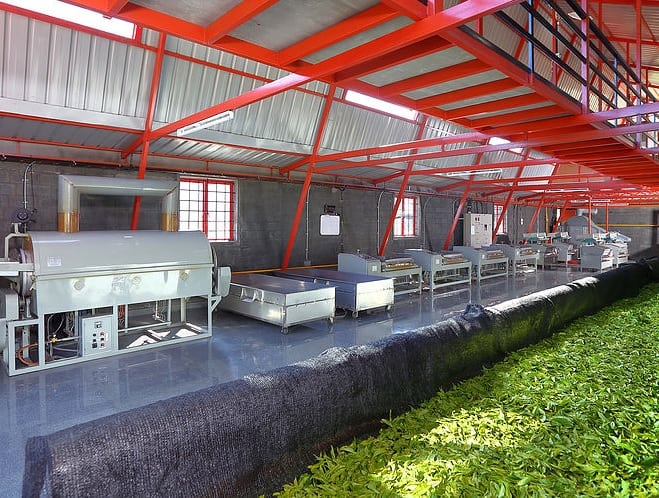 The factory would serve as a test-case of sorts; a modern, small-scale facility with state-of-the-art machines used to produce off-region tea types. The facility possessed 28 Chinese-made machines capable of creating five different styles of finished leaf, which could then be subjected to varying processing methods. Only five women "manned" the factory proper, and—most notably—low-emission liquefied petroleum gas was the primary power source for the building's heaters and driers. A first for an Indian tea factory.
The Tea Studio is currently in the middle of its Phase 1 roll-out. Meaning, the "Can it make good tea?" phase. Phase 2 would expand the factory's role into tea experimentation. Phase 3 would involve it being an educational prototype for other potential facilities in other regions.
After swallowing all that knowledge in the span of an hour-long commute to work, I knew I had to find out more. A quick perusal of Camellia Sinensis's website turned up another surprise. They carried four Tea Studio teas!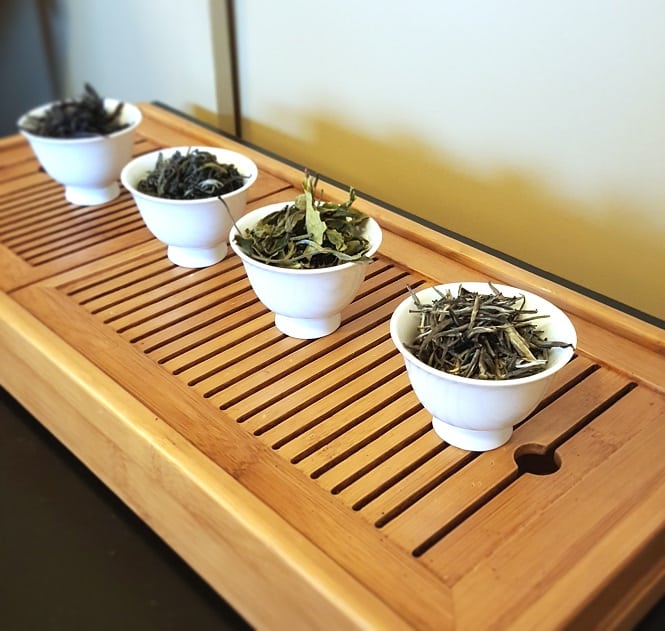 I shot Kevin Gascoyne an e-mail, seeing if I could test-drive some of these experimental teas. A few weeks later, they were in my possession. Two white teas, a green tea, and a black tea. The whites had appearances and aromatics similar to other Indian made whites I'd tried, the black had the appearance and robust aroma of an Assam, and the Mao Feng-style green . . . looked and acted like a Chinese Mao Feng.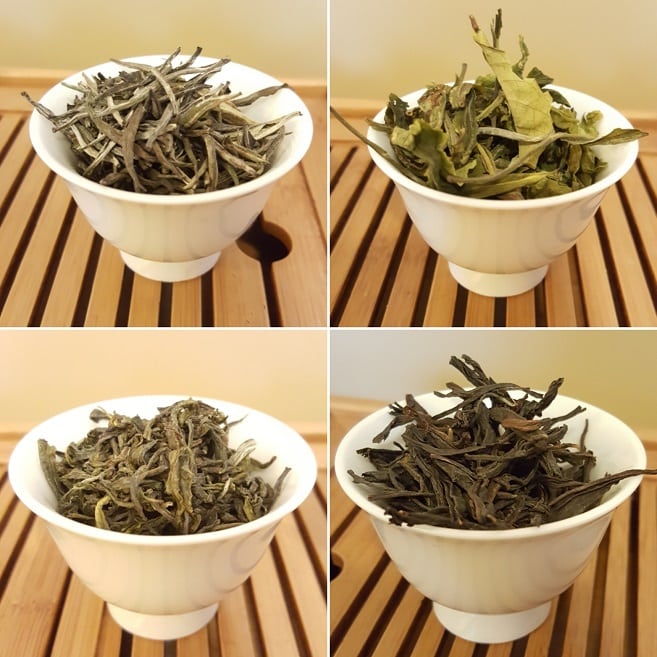 For brewing, given that these were all teas made from assamica leaf, I treated them roughly the same. I heated water to about 90° Celcius, measured a heaping teaspoon of leaf, plopped 'em in a gaiwan, and went to town. Yes, even the green tea. If it was anything like Mao Fengs I'd tried before, it could take it.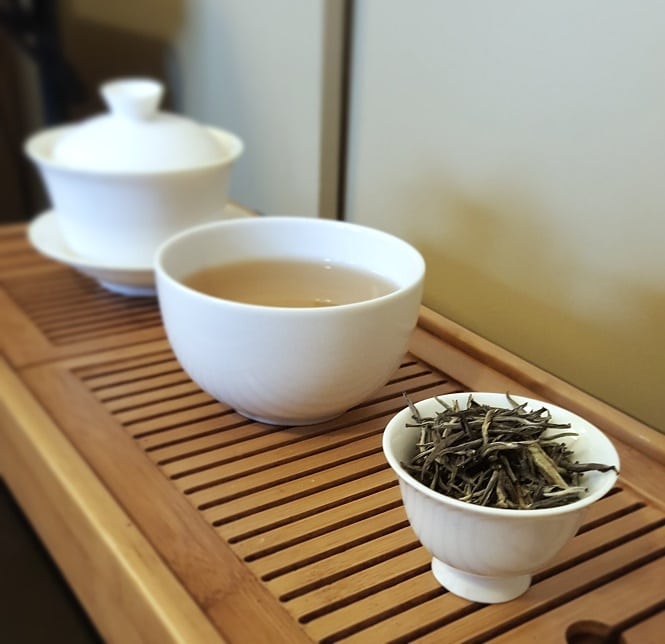 The liquor brewed up bold amber with an aroma of sage and tropical melons. It seemed a little rough in the smell, but that probably had more to do with my rougher brewing approach. On taste, it delivered on a subtle, almost floral introduction before rising to an herbaceous top note akin to verbena and other Mediterranean-like herbs. The finish was smooth, velvety, lightly floral, and with a hint of citrus on the back-end.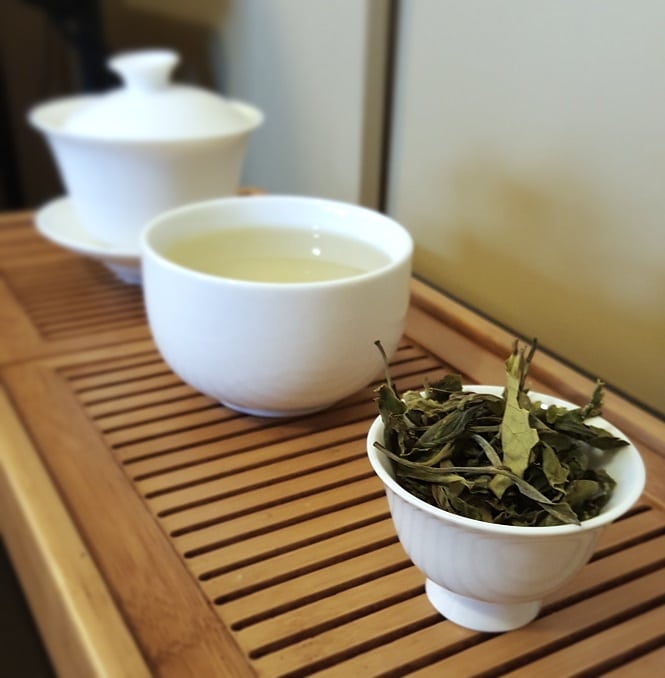 The liquor for this brewed up far lighter than the Yin Zhen white, which I attributed to the larger leaf material. The steam smell alternated between lime and pine needles. There was also a faint grassiness to the scent. On taste, the pine-y sensation dominated the forefront before giving way to more familiar, stone fruity Bai Mu Dan territory. The finish? Well, that was the odd part, it had the umami bend of a Japanese green. A bit more untamed of a flavor profile compared to a Fujianese white tea, but definitely similar to a Yunnanese one.
Dunno what to say about that umami kick, though; that's new.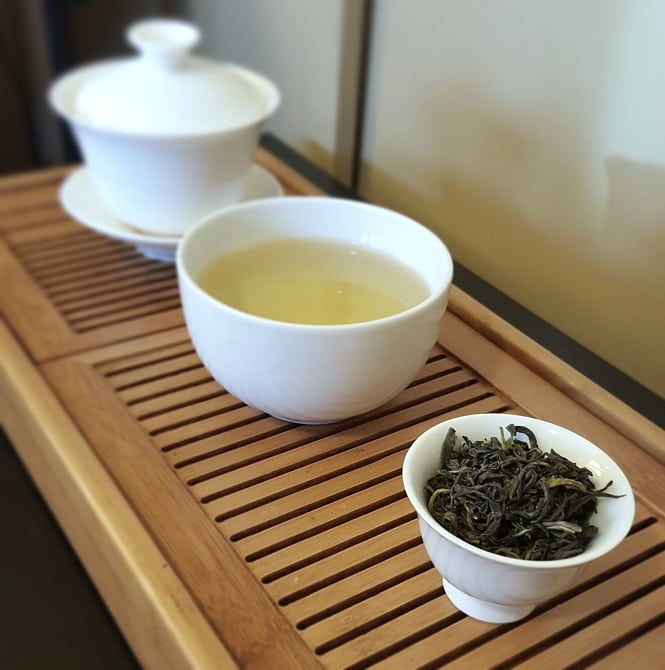 Confession: I totally forgot to set the timer on this one. As I was finishing the final sips of the Bai Mu Dan, I realized the Mao Feng was still brewing/percolating in its gaiwan. I panicked at first, but then shrugged. If it was like a true Mao Feng, it could take it.
And take it, it did!
The liquor brewed up a nice, even, medium yellow-green; almost as if to say, "Over-brew? What over-brew?" The steam wafted vanilla and . . . leaf, as if somehow conveying both Spring and Autumn—skipping that pesky Summer, entirely. The flavor was nowhere near vegetative or overly grassy, just smooth and creamy, like a tapioca pudding-lathered celery stick. My favorite of the flight thus far.
But now, on to the black tea!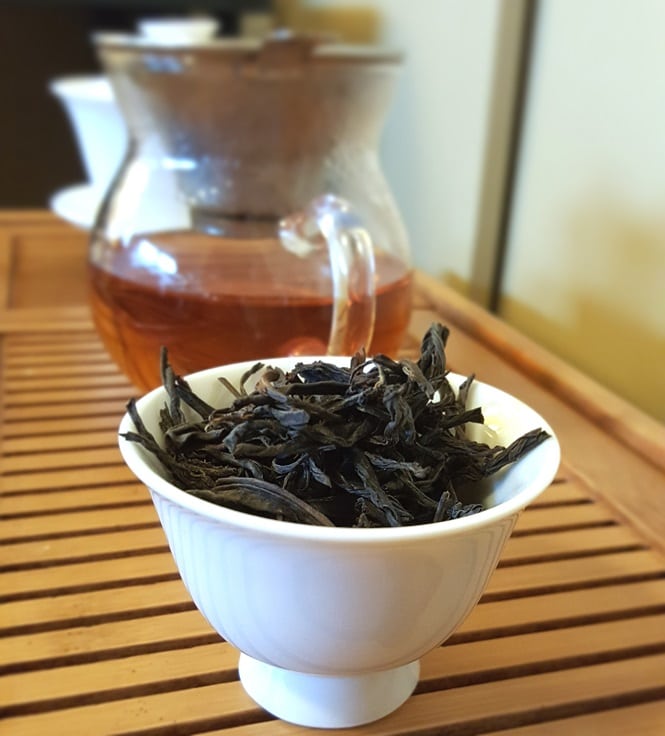 This brewed up pretty soft for a black tea. The copper colored liquor appeared softer than most, but fairly typical of Nilgiri black teas in general. However, it didn't embody the typical roughly floral profile of the average Nilgiri. Malt took point in the taste, more in line with an Assam than its regional palate profile. The top note gave off hints of caramel molasses before trailing off into fragrant wood notes. No astringency or bitterness remained in the aftertaste.
The two teas that proved they were ready for prime time were the green and black. The Coonoor black tea tasted exactly like a well-made assamica should, whereas the Mao Feng was . . . perfection. Sheer flawlessness as a green tea—Chinese or otherwise. The white teas were a different story . . .
Both the whites were good, but they lacked something. I couldn't quite put my finger on what. After finishing the flight, I felt they deserved another, fairer shake at a lighter temperature. I brought water to roughly 80°C, measured out roughly a heaping teaspoon again, and steeped both for about three minutes.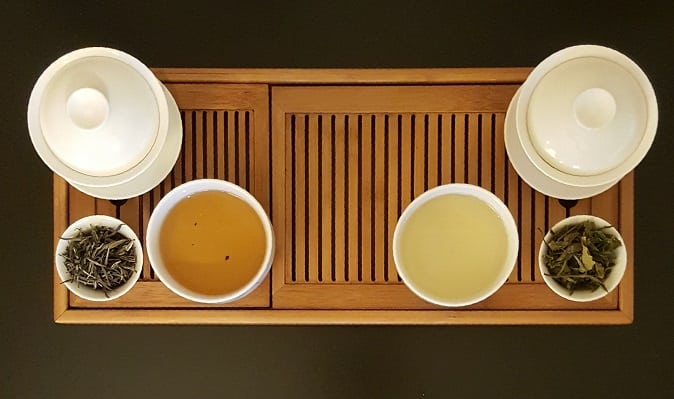 Even then, the notes for both were still the same. The Yin Zhen was dark and boisterous; the Bai Mu Dan was pine-y and sharp. Good but not quite as near perfection as the other two Tea Studio teas.
But then I combined the two—half needles/half young leaf.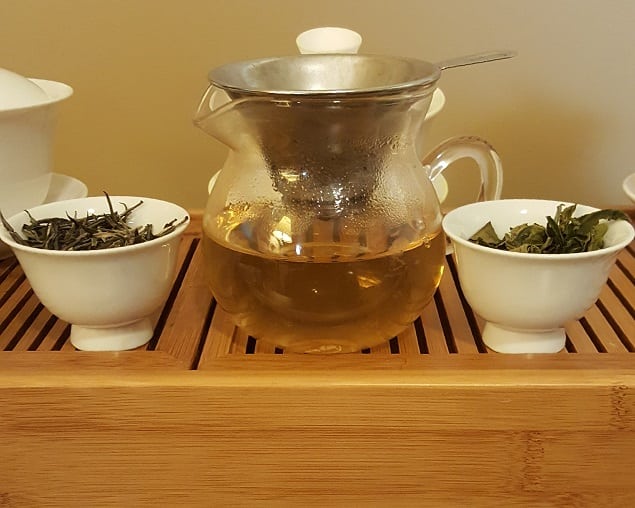 And . . .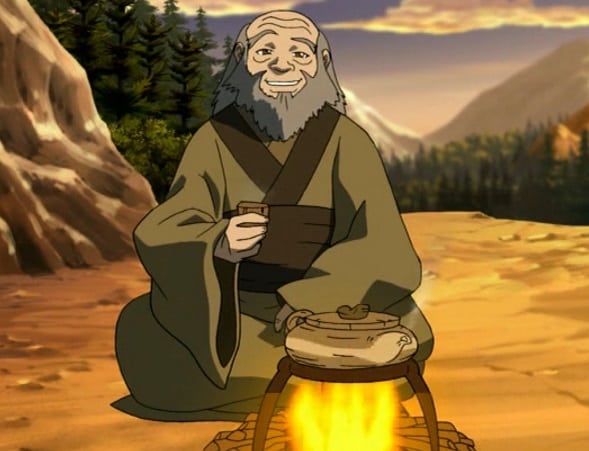 My eyes turned in on themselves. I'm not sure what happened or what it meant. These two fairly good teas, when combined, turned up a perfect white tea. Did this mean that the Bai Mu Dan needed to be more bud-heavy when sorted? Or did the needles harvested for the Yin Zhen need to come from later seasonal buds? I dunno . . . can it be both? Point being, the potential was there.
As far as prototype factory batches go, I was duly impressed. The green tea, by far, being the biggest surprise and standout star of the bunch. I haven't had very many Indian green teas I've liked, save for a few Darjeelings, but that Mao Feng was a revelation.
Less importantly, this experience left me with a lofty life goal. To have a tea blogging loft that looks like a modern tea factory smack-dab in the middle of a tea field. A manchild can dream.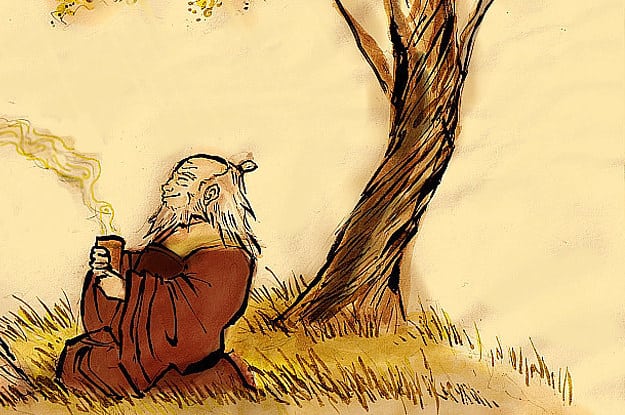 To buy the Nilgiri Yin Zhen, go HERE.
To buy the Nilgiri Bai Mu Dan, go HERE.
To buy the Nilgiri Mao feng, go HERE.
To buy the Nilgiri Coonoor 01, go HERE.
For more information on Tea Studio, go HERE.