Booze Tea for Boob Teapots – The Tea-Totaler Trilogy, Part 2
Around the year, 490 BCE, in the ancient Chinese kingdom of Yue, there was once a beautiful woman who was offered as tribute to an invading king. The woman was so marveled for her beauty, it was said that fish would forget how to swim if she passed by a pond. Her name was Xi Shi, and she was considered one of the "Four Beauties" of ancient China.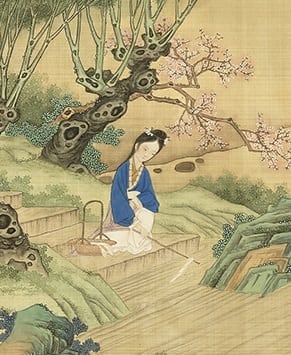 Poems and stories have been written about her. Some industrious individual even sought to make pottery inspired by her very physical form. Well . . . part of her form, anyway. Okay, the perv settled on designing a teapot around her boob. The areola, to be precise.
The Xi Shi design is a classic one utilized for yixing clay teapots, and I learned of this on my last visit to J-TEA International. Owner Josh Chamberlain, while I was interviewing him for an article, showed me his collection of yixing teapots for sale. He regaled me with the ancient tale. Somehow, he knew I'd appreciate it.
And appreciated it, I really did. Not just for pervy reasons. I wanted that damn pot. Several months later, I got that damn pot, and one other.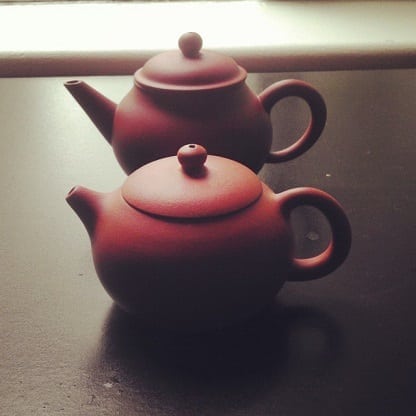 I was already expecting the Xi Shi pot, but I had no idea what the second one was. What did this have to do with anything? Why was it there? Josh couldn't remember, either, but he assured me that it was also a boob pot of some sort. I checked the name of the product on his site: Red Yi Xing Melon Pot.
Ha! Melons . . . I chuckled inwardly. Yep, definitely another boob pot.
He also included another tea from his barrel-aged line to play around with – a loose cooked pu-erh that was aged in a rum barrel for about a month. It wasn't available for purchase, yet, but he wanted to get my input on it. I had already set my sights on using one of the boob pots for another of his barrel-aged teas – Drunken Dragon – a three-month, bourbon barrel-aged oolong. This way, I could now play with two teas with both pots.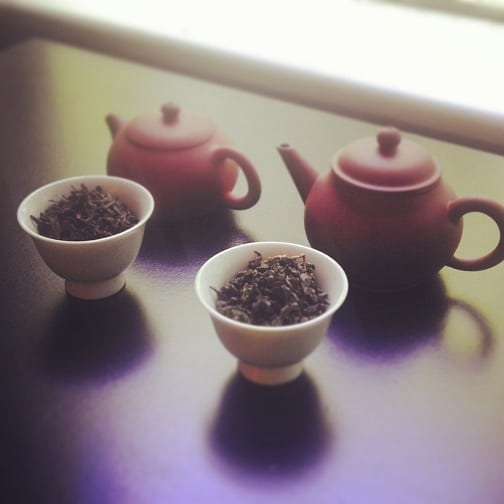 The Drunken Dragon looked and smelled a lot like its predecessor – Bourbon Oolong. The charcoal-roasted, ball-fisted leaves ranged from dark green to beige-brown. What was different about this batch – in comparison to prior ones – was the smell. There was a deeper, liquor-like smell; likely from the added two months to the barrel aging. That and there was an almost chocolaty sensation on the back whiff. Very titillating.
The Rum Pu-Erh couldn't have been more different from its bourbon barrel-aged brethren. Sure, the notes of earth, dust and malt were present. It was the same five-year-aged cooked stuff from the Bourbon Barrel Pu-Erh. However, the use of a rum barrel sweetened it quite a bit. It didn't quite smell like straight rum, but the one-month scenting process gave it an odd cotton candy-ish aromatic vibe. Well . . . cotton candy dipped in liquor, anyway.
J-TEA had no specific recommendations for which type of tea belonged with which pot. There was a passing mention that the "Melon" pot was best for greener oolongs, but that was it. I used that as my barometer, and decided to brew a teaspoon of Rum Pu-Erh in the Xi Shi pot. The Melon pot was broken in with a teaspoon of Drunken Dragon. For both teas, I settled on a gongfu brewing approach – for ease more than anything.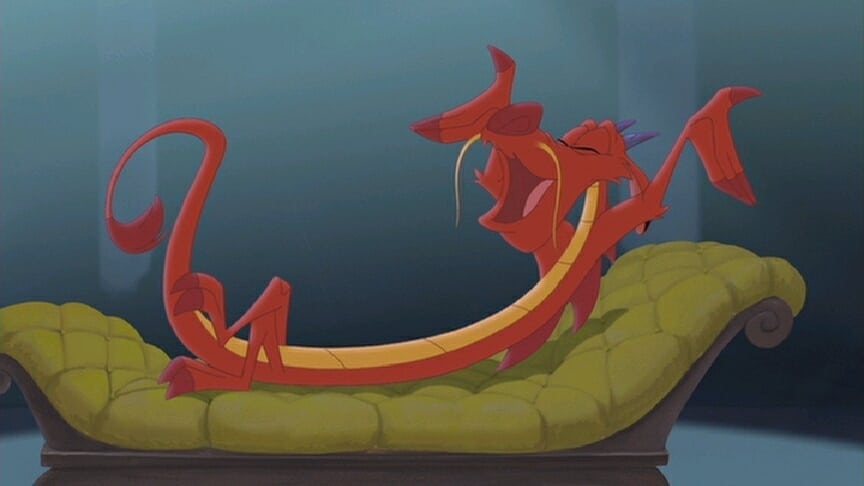 Small confession: I had no idea how to use these yixing pots. I should've consulted more knowledgeable tea friends in their uses, but – in my zeal – I forgot to. I was already halfway through brewing when I remembered this little oversight. Someone even informed me that I had to "season" the pots before use. I had no idea what that meant, and it sounded like "work". I wasn't in the mood to work. Day off and all.
It, also, didn't occur to me that a clay pot would be piping hot when hot water was added. Nor did I remember how to hold it properly. I did remember a tea vendor holding just the handle, and placed a finger on the lid for support. When I did this the Xi Shi – and attempted to pour – nothing came out. I was, apparently, blocking the little nipple hole at the top. Once I removed my finger from it, liquid poured freely . . . everywhere.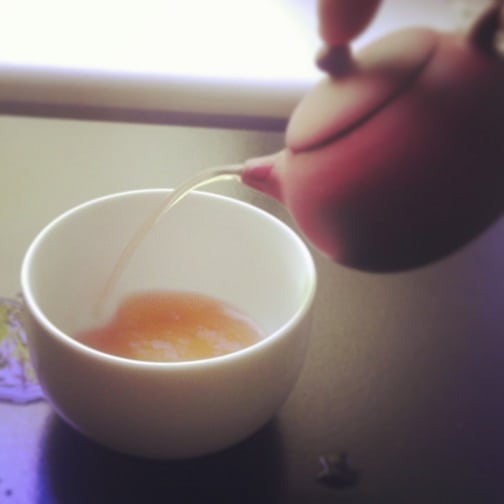 Eventually, I (sorta) got the hang of it.
The Rum Pu-Erh brewed beautifully dark, and the aroma was both earthy and sweet. All three infusions I test drove with the pot turned up exactly what I hoped for. Earth, sweetness, and a touch of gasoline on the aftertaste resulted. The second infusion was the deepest, whereas the third was more nuanced.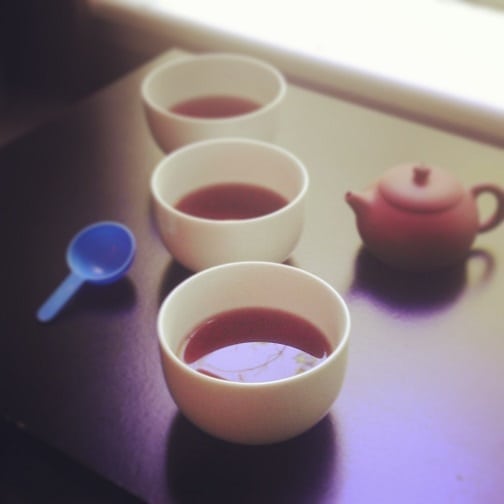 The Melon pot was a different story . . .
Pouring that thing was like trying to use a urinal while drunk. No matter how well I aimed the damn spigot, I made a mess. On the second infusion, I tried to pour a bit more gingerly – same problem. By the third infusion, I figured out that – unlike the Xi Shi pot – I was required to plug the nipple hole with my finger. That concentrated the pour, making the aim of the tea stream flow true. (And, yes, I made it through that entire paragraph without chuckling.)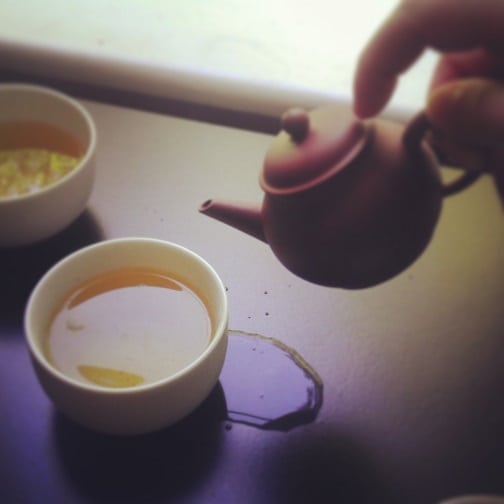 The three infusions of Drunken Dragon all brewed amber with an aroma of butter and oak. It was a much stronger yield of liquor notes this time around, compared to its predecessor. Just as I thought it would be. Bourbon showed up right in the top note, once the roasty introduction gave it some wiggle room. That, then, trailed off into the taster note territory usually reserved for desserts. Or boobs. Or both.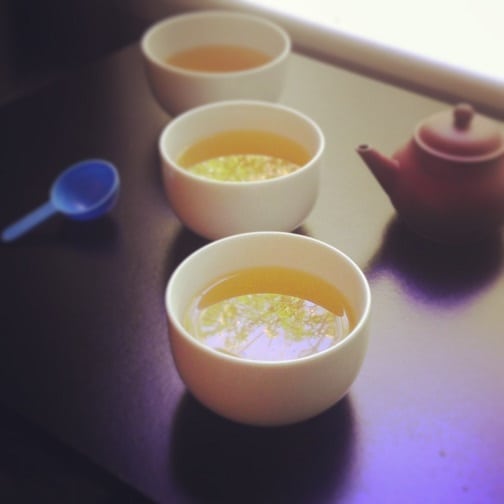 I can't say I left this experience a more enlightened tea gentleman than I was before. Like with actual breasts, I had no clue what I was doing. But I'll be damned if those barrel-aged teas didn't give me the necessary liquid courage to give it the ol' college try. Like actual women, one had to treat these teapots with delicacy . . .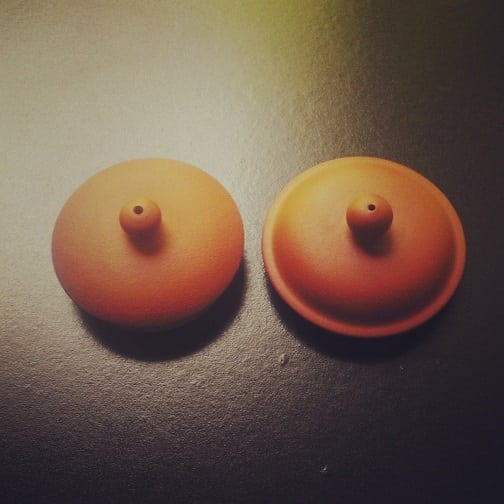 And caution.