Last weekend, I drank an oolong that was—quite possibly—a hundred years old.
Between 1916 and 1925, a Japanese producer commissioned a Taiwanese grower/processor to create an oolong for export . . . to Germany. Whatever amount they didn't sell was kept in storage in Japan for several decades, and then later transported back to Taiwan. And there, it rested for another several decades.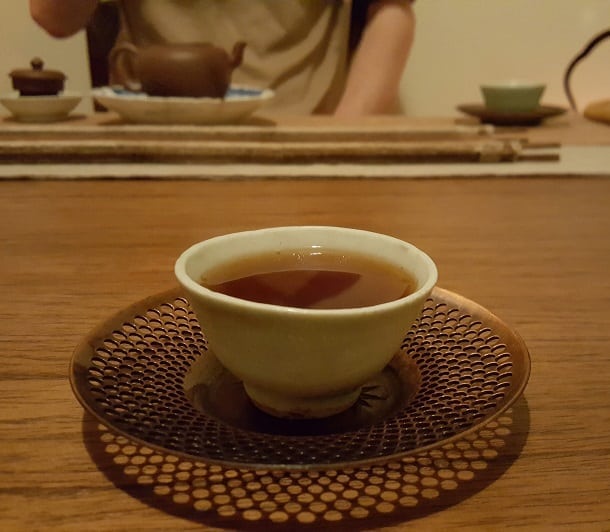 Knowledge of its existence passed a few ears, and then—through purchases—it probably passed a few hands. Eventually, it fell into the hands of Nicky "Steady Hand Tea" Evers, who—in turn—invited a few fellow tea drinkers over. I was one of them.
Sure, I could provide taster notes on it. I could wax poetic about how well it was stored in the intervening decades, regale you with its nuanced plumminess. All that crap. But I won't. That isn't the point.
I'm more interested in explaining, hopefully briefly, how it made me feel. Right then; right there. A batch of this one, lone tea went through quite a long journey to get to this one tasting. And—in turn—the four of us that sat at Nicky's tasting table also made long journeys to get there. We collectively shared a drink, experienced it for the first (or second) time together, conversed, traded barbs, exchanged words like "synergy" in liberal doses . . . and it all seemed natural.
I've only known Nicky for a couple of months, and I've already developed a bit of professional envy toward the guy. He has a penchant for finding weird teas that rivals even my own.
On our first meeting, he gifted me with two beyond interesting teas. One was a Wuyi oolong that was wet-piled like a shou puerh. The other was a tea bag with a sheng puerh/green oolong blend . . . from the 1960s. I had memorable sessions with both.
And on my second tasting session with the guy, I was once again floored by a unique tea. What is even more aggravating (and I mean that respectfully) is that he always seems so casual about it. Like it's always supposed to be like that. The weird(er) part is, there was a time when I felt that way, too.
The other faces at the tasting session were familiar ones and one new one. Dan Pappas was there. We shared a few unique teas and tea stories before. Nicky's partner Cassie was present as well. New face (to me) Omar Riverstone traveled all the way from Washington to partake. It was all very "I love you, maaaan", but without the hangover the next morning.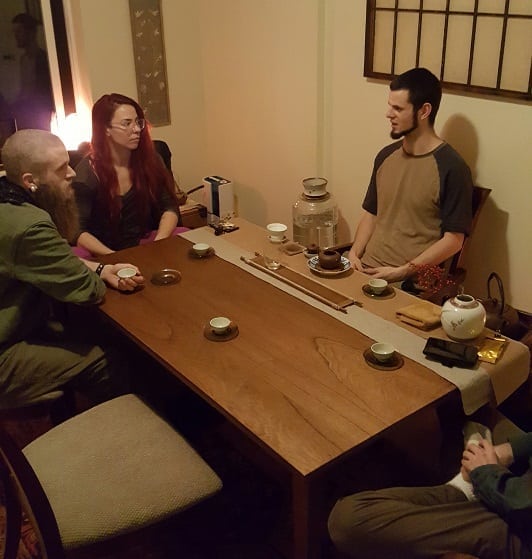 Nicky's tasting room was also a testament to many tea trips he'd made in his mere half-decade as a hardcore tea explorer. Teapots from Taiwan, storing vessels from China, and other various tea tools for which I had no name for. I'd been at this tea journey for a scant bit of time longer, and even I didn't have a tasting room that legit.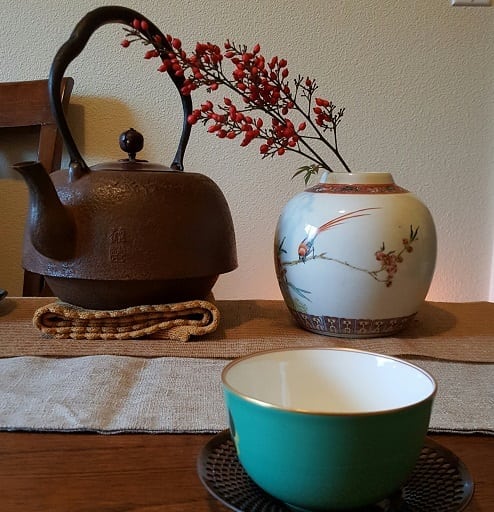 I had a bookshelf, some boxes, a makeshift tasting station, and a wooden "thing" filled with "to-blog-about" samples.
When I told tea stories, they were usually my own. I rarely dealt with the tea journeys of others. I rarely left the house to explore. That's how I felt when I left Nicky's house. Not bad, not depressed, just . . . wistful. Tea drunken whimsy and introspection took hold as I walked to my car.
Duuude, this was awesome, I think I said to myself. You need to tea out more.
Throughout the month of February, I considered "retiring" from tea blogging/writing. I was unsure of why I did it, anymore. What was the point? Try new tea, write about new tea; rinse-repeat. It became a bit of a slog.
And then I had a century-old oolong. With new and old acquaintances. A hundred years? That's "oolong" time—a long journey. And an even better pun. Ten-plus years of self-centered tea blogging? Barely a drop in the cup . . . and not a pun.
I'm not done with the tea world, yet, and it isn't done with me. I just have to look outward more. Other people have stories to tell, too. And, hopefully, more puns to share.