I needed a vacation.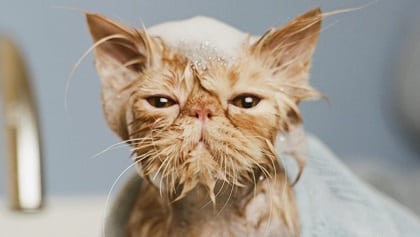 And I needed it as soon as possible.
That was probably why—when I planned it—I decided to leave for Las Vegas four days earlier than I really needed to. The original intent was to go down just for the days of World Tea Expo. Well, I decided to tack on a few additional vacation days to that. And Naomi "Joy's Teaspoon" Rosen was to put me up (and put up with me) for those extra days.
What occurred could best (and simply) be described as "tea-fueled tourism".
Naomi and Rachel "I Heart Teas" fetched me from the airport. As it often is with online tea friends, it didn't feel like a year had passed since the last time we got together. We were continuing conversations we had mere days prior across various social media feeds. I was still a tad "off", though, recovering from health issues . . . and a few misadventures at the airport; angry bathroom custodians, almost missing my gate (even though I was right across from it). Y'know . . . the usual.
I didn't feel like I was actually on vacation until that first cuppa tea (that I didn't own) out of a mug (that wasn't mine) in. In this case, a Haiwaiian-grown oolong out of a kickass elephant mug the next morning.
In a few sips, I was in vacation mode.
Naomi and Rachel took the first part of the day to do their semi-usual "workout" thing. They asked if I wanted to come along. I said, "No." I still had plenty of steeps of that oolong to nurse. And I did so. I even lay in the bed with the mug on my belly and accidentally spilled some on myself. I didn't clean it up; it made my chest feel warm—didn't even bother to change shirts. Vacation mode, remember?
When Naomi and Rachel returned, they had the idea to hit the Strip and do touristy things. Having been to the Las Vegas many times, I was ambivalent but along for the ride. Due to the triple-digit desert temperatures, we pretty much stuck to the Bellagio Conservatory.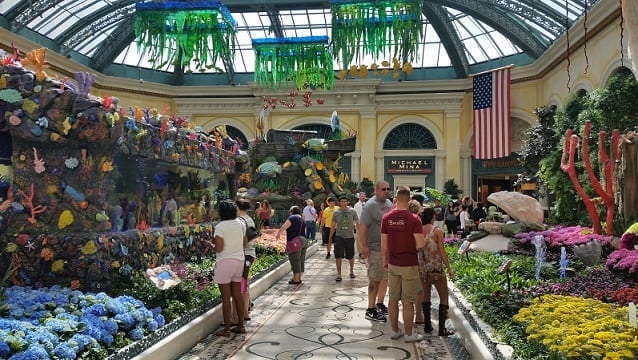 I may have had a good time.
Before heading back to the car, we did a quick stop by the Bellagio Fountains . . . and I did things with my phone's camera that I still don't regret.
I like dancing fountains, okay? So what.
The next day, the only thing on the agenda was a Harry Potter-esque themed coffee shop called "Bad Owl". Great name. I wasn't much of a Harry Potter—or coffee— fan, but I assumed there'd be something to my liking there. Or at the very least, I could be "that guy" and have something custom-made.
On the menu, I noticed they had cortados as an option. I'd seen recipes for matcha cortados on Pinterest and Instagram. So, I went up to the barista and asked if they could prep one for me. Unfortunately, those aforementioned recipes? Yeah . . . couldn't find a damn one. I had to go with what I "thought" the recipe was: culinary grade matcha, cocoa powder and milk. The result was . . . um . . .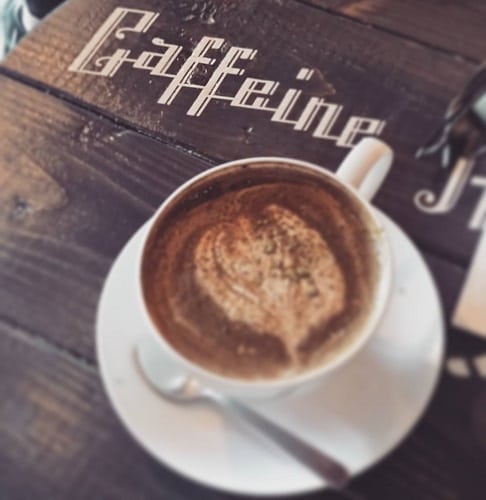 They tried. They really did. Totally not the barista's fault; they were going off of the info I game them.
I dared a sip of the thing.
It was absolutely vile. The taste was like slippery elm root that'd been dipped in dirt. Once again, I reiterate, not the barista's fault. They actually warned me that chocolate syrup was what they used for a normal espresso-based cortado, and I didn't listen. To end my miserable decision, I pounded the thing. And for my dumbassery, I was rewarded with a stomach ache that lasted the rest of the day.
I recovered enough later that night, and Naomi, Rachel and I partook of an experiment we wanted to try. Rachel and I had discussed taking Naomi's Lemon Zest blend and making lattes of it as a nightcap, while we were there. The herbal blend already had a wonderfully creamy taste. To this day, it remained my all-time favorite tisane fusion, which further kept my tea snobbery well within normal limits.
Rachel did the honors of prepping them.
And they turned out perfect.
While sipping our night away (as we are wont to do), I received a message from my friends Ryan and Melanie Belshee—of Bootleg Botanicals fame.
Ryan asked, "Hey, you wanna see a building implode?"
A long-dormant manly circuit in the dark recesses of my brain responded with, "Why, yes! Yes, I do!"
Apparently, the demolition of the Riviera Casino was scheduled for 2:30AM. Team Bootleg Botanicals picked me up at Chez Rosen, and we made our way to the outskirts of the blast site. Naturally, I videoed the whole thing.
It. Was. Awesome!
The morning after, I was dead to the world. Naomi and Rachel said they were going to force me awake for a trip to Donut Bar LV. Luckily, they reconsidered that plan and let me sleep in. Rachel greeted me, as I lumbered out of the bedroom, with a matcha-glazed doughnut. I thought it fitting to have it with a side of cold-brewed Mizuba matcha.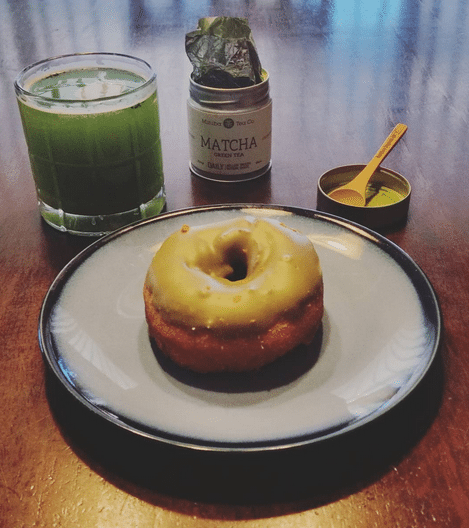 There might be something to this whole "tea-'n-food pairing" thing.
Later after noon, I called for my first Uber pick-up ever to take me to the hotel I reserved. On my way there, I got a call from Austin "Seven Cups" Hodge. I told him I wasn't at the hotel, yet. He told me he'd fetch me in an hour or so.
For what?
Well . . . that's another story.