What makes a tea a "Moonlight" tea?
It's a question I've asked myself several times over the last six years, and the one answer I've always returned to is, "I don't care as long as it tastes good. " But perhaps that was foolhardy. I originally assumed that when the name "Moonlight" was applied to a tea – particularly those from China – it was just for the namesake. Yunnan province's Moonlight is called so because . . . well . . . that is the name. "Yue Guang Bai" translates to "Moonlight White". Sure, it was also considered a style of white tea, but one that was only regionally specific. Because of this, I also thought that the same was true for Darjeeling.
I can name at least seven Darjeeling teas that have "moon" in their names. Glenburn Moonshine, Arya Moonbeam, Thurbo Moonlight, and – my favorite – Castleton Moonlight, to name just a few. Then a tea luminary I admired, Rajiv Lochan, blew my mind when he gave me this little tidbit of information. Moonlight wasn't just a name for these Darjeeling teas; it was also a technique!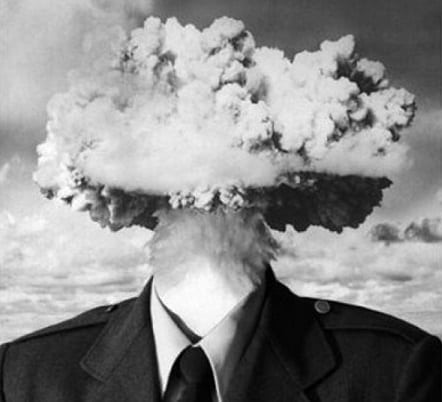 Plus, there were several tea estates that played with this particular technique. Thurbo's Moonlight possessed similar characteristics to Castleton's. Floral/herbaceous profiles with a sweet top note thing going on. The main difference was their overall terroir and the type of leaf used. So, then, the question became, what were the characteristics of the style?
I was given the opportunity to delve deeper into this little mystery when I received two teas from Thunderbolt Tea. They were the first Darjeeling-based outfit that introduced me to quality, single origin to Darjeelings, and they were headed by one of the nicest guys I ever e-met – Benoy Thapa.
The first Castleton Moonlight I ever tried was thanks to him – back in 2011 – and this time, he one-upped himself. Color me an idiot for a moment, but I didn't realize that Castleton produced multiple versions of their Moonlight tea. I knew of the first flush, and I adored the second flush. The first seasonal pick tasted like a typical Darjeeling OP; the second flush was an oolong . . . and tasted like distilled MAGIC!
However, what I tried was only the tip of the iceberg. Like wineries, breweries, or – hell – anybody . . . there were multiple invoices of the same product. Meaning: Many different takes on the same formula based upon leaf grade, bud amount, picking time and farm plot.
This time around, thanks to Thunderbolt, I had two different invoices of Castleton's 2015 harvest to play with. One from their first flush batch – EX-3 – and the crème de la crème . . . Castleton Moonlight Imperial, DJ – 122; a second flush invoice produced in very small quantities. For obvious reasons, which I will get to in a moment.
Castleton Moonlight, First Flush 2015, EX-3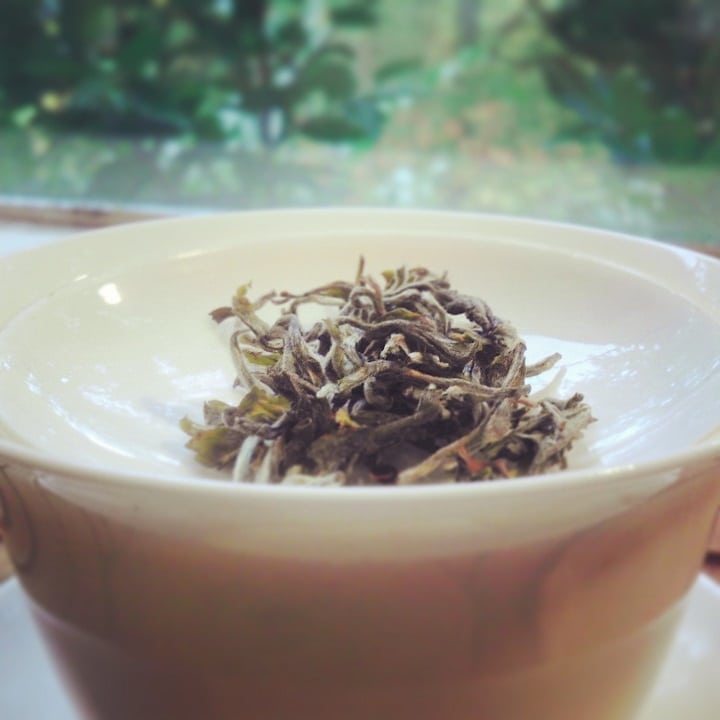 The first flush Moonlight looked like other ones I've sampled. The leaves ranged from yellow to brown, and the presence of buds was there. In fact, I'd say about 30% of the batch was pure unopened buds amidst the rolled leaves, which I found fascinating. I never paid that close a mind to it before. The aroma they gave off was considerably bolder than most Darjeeling first flushes – abandoning the fresh spices, going straight for the grapes and herbs. Some might view this as sacrilege, but I thought it resembled a more Nepalese orange pekoe profile than a Darjeeling one.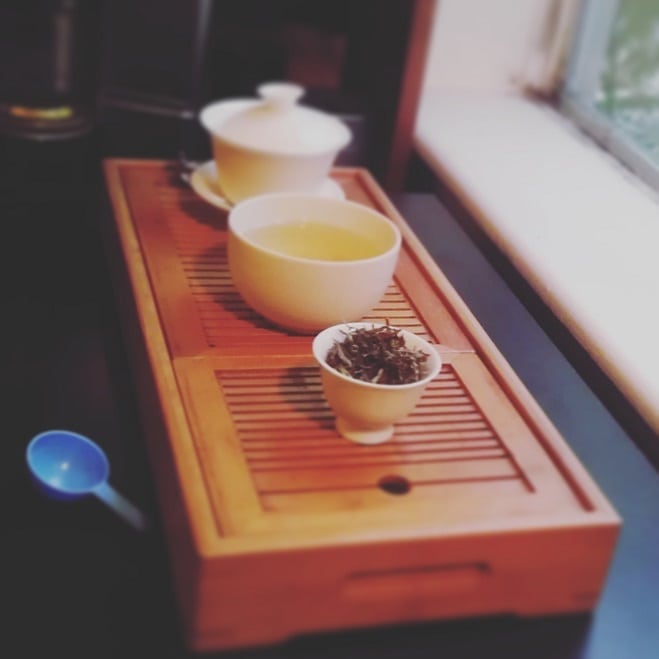 The liquor brewed to a dazzling – if unexpected – yellow, more in line with a green tea than a straight-up orange pekoe black tea. The aroma was sweet, lightly spicy, and vaguely citrusy in a lime sorta way. As for taste? Quite unusual. The introduction was like many first flushes of past sipping sessions, but the profile changed in mid-sip to something creamy and floral. Much like Taiwanese oolong, but with a distinctly Himalayan flare; and again, I was reminded of a Nepalese tea. (I'm going to get flogged for saying that, I know it.) Unlike past Moonlight first flushes, this was quite distinct and memorable.
Castleton Moonlight, Second Flush 2015, DJ-122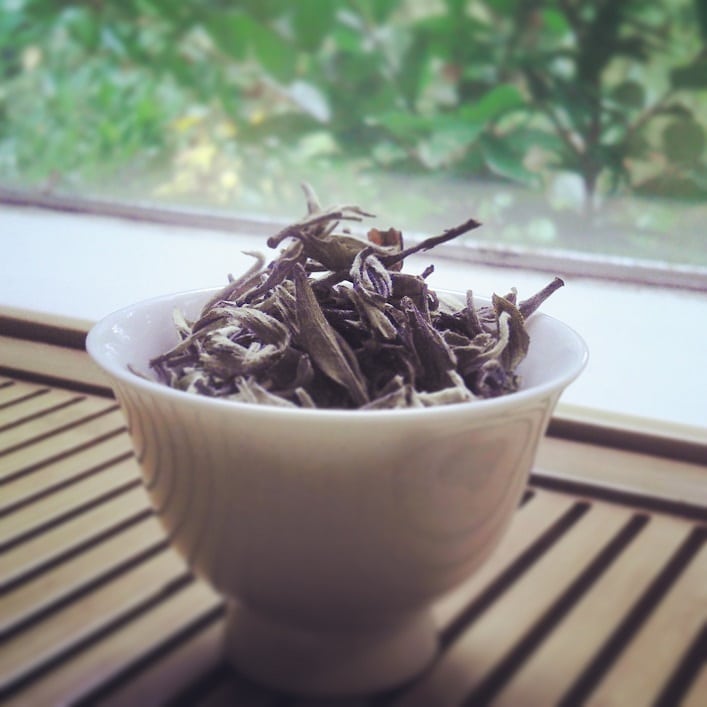 Unlike the other Darjeeling invoices, this differed in one key way – the presence of so many buds! Okay, I'm getting excited, but seriously. This batch was . . . budful. Past offerings of Moonlight had buds strewn about the leafy fray, but they made up a small percentage of the overall pick. This stuff? It was almost 70% buds, and I'm not talking about gold-tipped leaf buds, either. These were full-on downy-furred, white looking buds. And they were everywhere.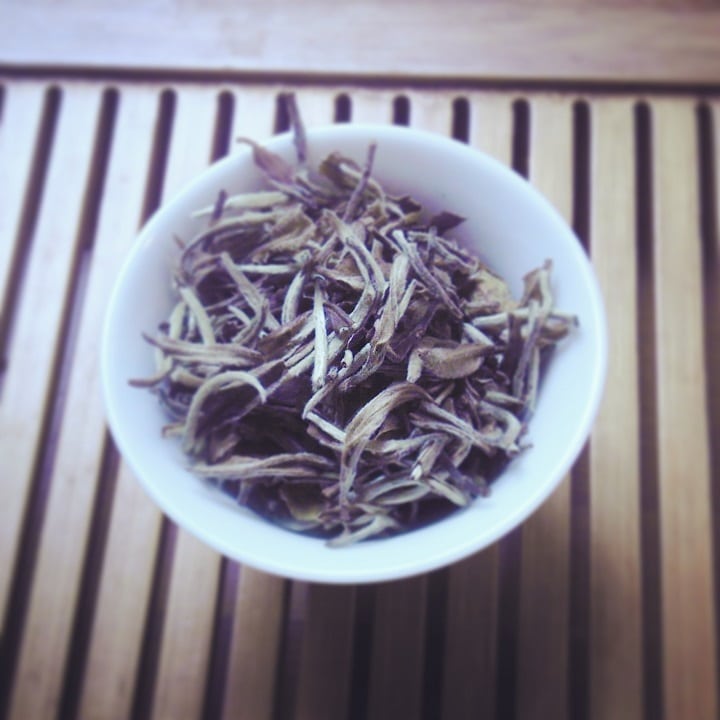 The batch even smelled like a Darjeeling white tea – slightly spicy with a melon-ish lean, held together by a requisite sweetness on the back whiff. I think I sniffed the bag about twenty times before dipping into it for – y'know – actual brewing. Not like that's a surprise, though.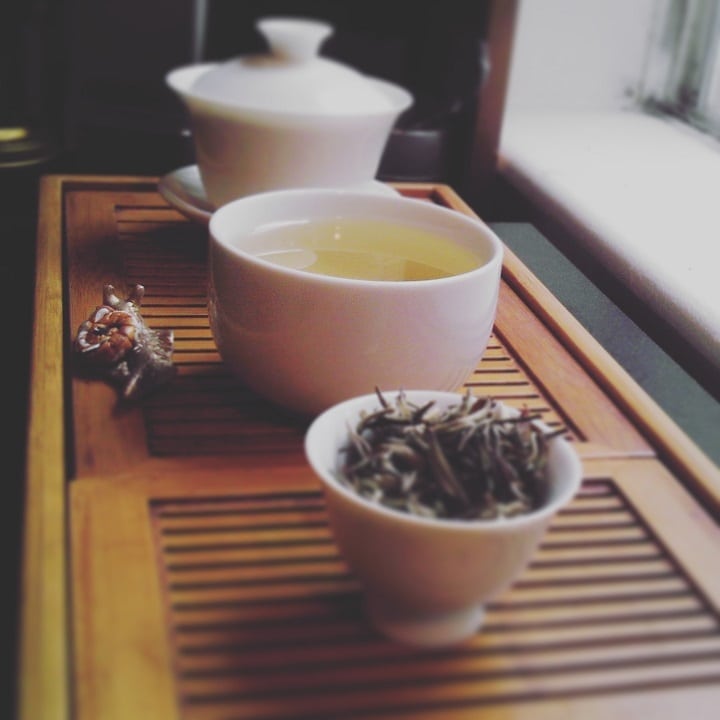 The liquor brewed extremely light for either an oolong or an OP black tea – a spry sorta delicate yellow. The cup aroma was all spice and sweetness, very trademark for a Darjeeling worth its heft. What was very strange was how that all changed with the flavor. Yes, I've run into that oft-touted "muscatel note" found in second flush Darjeelings, but it's a rare case indeed when you taste actual grapes. That wasn't the prominent note here, but there was a sensation of crushed grapes. All sweetness and juice pummeled from under foot. Very sweet for a Darjeeling, and in a "white tea" sort of way.
Okay, Castleton, I'm officially confused.
After that, I'm left with only this conjecture as to what the Darjeeling Moonlight style is. I even voiced as much when talking with fellow tea nerd, Chris "Tea-Guy" Giddings. The buds are first produced like a white tea, but then left to oxidize a far cry longer. Like a certain Indonesian Grey Dragon tea I coveted to my man-bosom. Then said buds are blended with young, mid-oxidized leaves. The more buds present; the higher the quality. That's the reason (I surmised) Castleton's take was given an "oolong" moniker. A fair amount of my conclusions on the process, though, are still in the "seat-of-my-pants-best-guess-bullshit" category. I would never know for certain unless I . . . well . . . traveled to Darjeeling and found out for myself.
Who wants to fund me for that trip? Anyone? For science? No?
Okay, I guess I'll stick to sipping, then. For now.