Begin Doke Diary transmission.
I've already written about the Doke tea estate in Bihar, India on several occasions. Everyone who reads this blog already knows my leanings toward it. That being, it's my absolute favorite Indian tea garden. Yes, in all of India.
But out of the countless tea profiles, taster notes, and lapses in narrative judgment, there is one thing I haven't done. I haven't had the opportunity to try all four of Doke's teas from one season, in one year, in one day. That is, until Lochan Tea supplied me with such an opportunity.
On Thursday, April 14th, 2016, I undertook that challenge. To try every tea in the Doke line-up, all from the same month of plucking.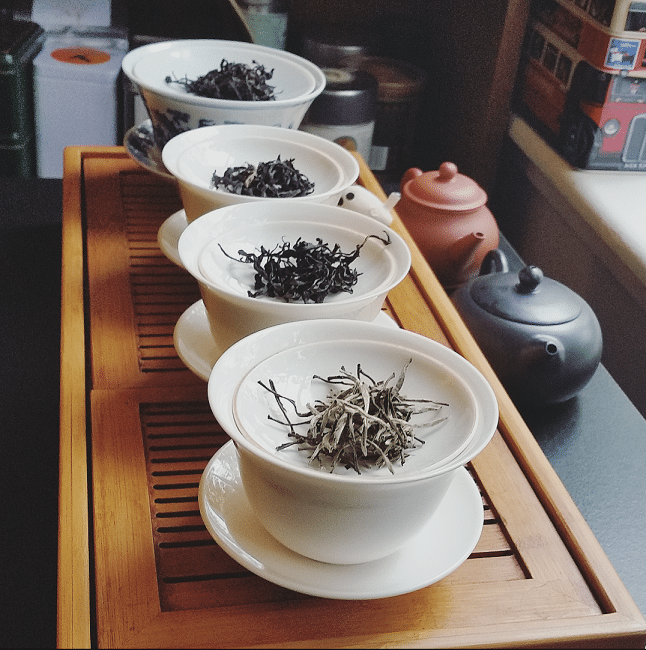 The results were . . . surprising.
I have a particular bias I should warn you all about. This black tea is my absolute favorite Indian black tea of all time. Anything I say from here on out will be affected by that bias. For the best, I assure you.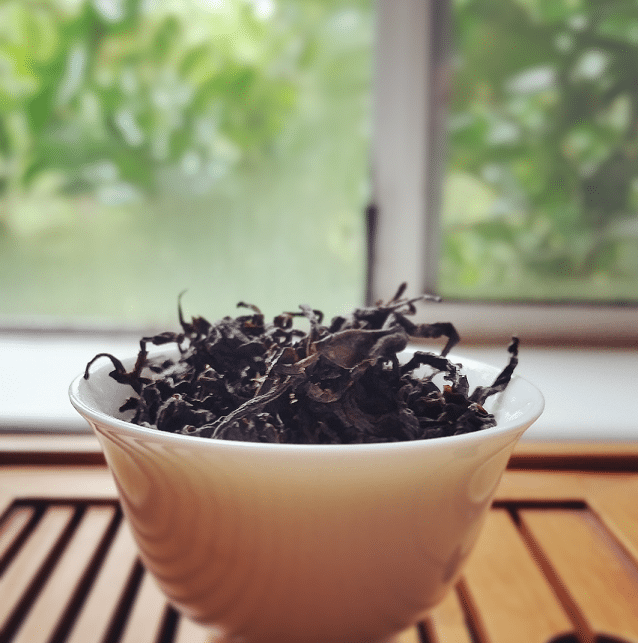 The moment I cut into the bag, the familiar smell came to my nostrils – honey, nut and spice. Only this time, it was fresh, vibrant and young in its raw delivery. While my favorite rendition of all past season flushes was the July/August batch, I still had an appreciation for the spring for getting me prepared for what was to come. The leaves were the usual wild and curly appearance, and smaller cut than the later seasons. But that could've always been due to their youthfulness as well.
The liquor brewed a robust – yet somehow soft – crimson, ringed on the edges by amber. The aroma was everything you'd expect from the Doke terroir – the aforementioned honey, nut and spice trio. What was noticeably different this year was how much sweeter the combination smelled. Whatever malt notes usually showed up in the brew had tip-toed into chocolate territory.
Weirder still, I noticed the same thing on taste. All the usual palatial suspects were there – honey up front, nutty middle, spice and a tannic tickle on the back – but throughout there was a chocolate malted mouthfeel. Like someone snuck some jaggery into my brew. (That's an Indian molasses, for those that are not "in the know".) Either they got a lot of rainfall this year, or their processing changed a bit (likely), but this was a very different beast from last year.
A wonderful, majestic beast.
Doke Diary, Thursday, April 14th, 2016, 2PM-ish: After that unexpectedly-more-pleasant-than-usual introduction, I felt a sudden urge to get out of my pajamas, get showered, and do that dreaded thing I always . . . er . . dread. "Start the day". This sudden urge to be productive was somewhat vexing, and perplexing, but I got over it once I realized I had the aftertaste of honey and chocolate still on the tongue.
Doke Diary, Thursday, April 14th, 2:58PM: In the process of getting clean, I realized something. I hadn't eaten during the whole whoppin' two hours I'd been awake. I groaned a bit. Why can't tea have ALL the vital nutrients I need, so I can skip the impending foraging.
Tummy growling, I decided to forego a meal to dip into the oolong. This decision might be hasty . . . but necessary. For science.
A couple of years have passed since I last tried Rolling Thunder. For a spell there – as they were rolling out the Black Fusion – I thought they were discontinuing Rolling Thunder. I guess I was wrong. It was here, alright.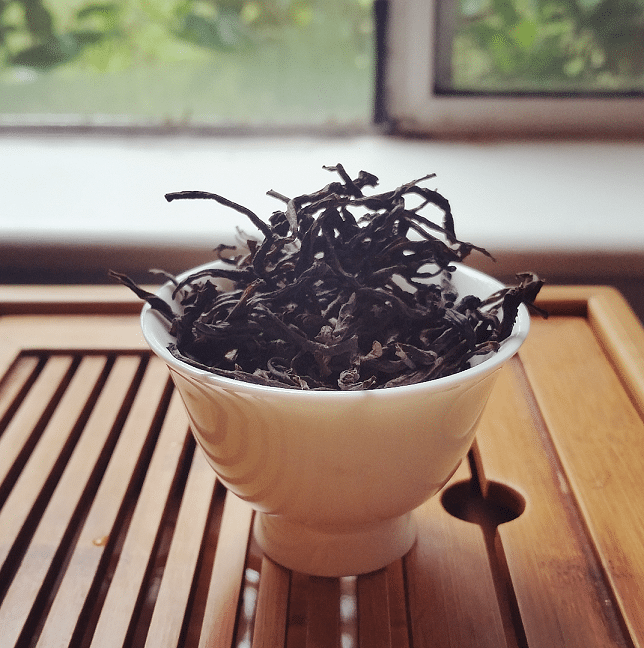 The appearance was a lot like the Black Fusion, save for some key differences. For one, the leaves weren't quite as rolled. And in appearance, they were also lighter in color. Some were just full-on gold tips. The aroma was also notably nuttier, like unfettered almonds that had yet to be fully dipped in honey.
The liquor brewed similar to the Black Fusion, only more of a soft russet color or a dark amber, rather than full crimson. The aroma was . . . I'll be damned . . . exactly like any ol' oolong. Most Indian oolongs are just semi-oxidized versions of their orange pekoe black tea counterparts. Both in processing and in character. This was grapy on the nose, but not "muscatel Darjeeling" grapy; more like "Thai oolong" grapy.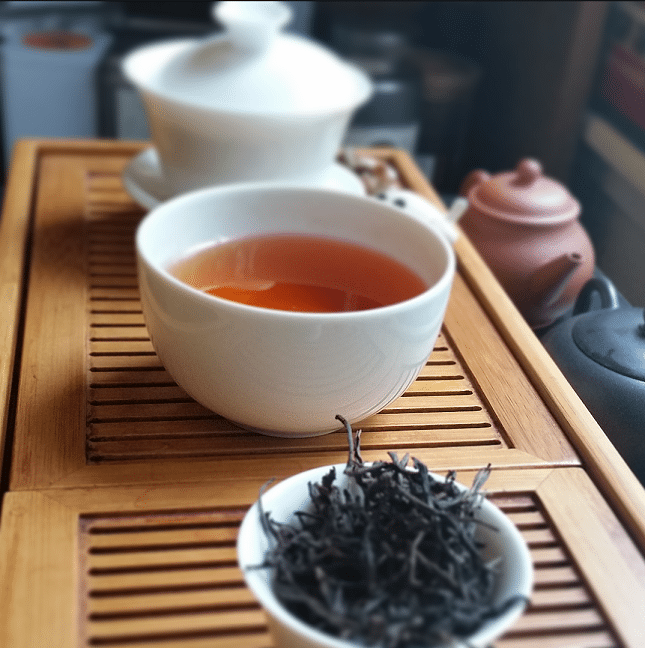 The taste straight-up floored me. I've had several years of different incarnations of this tea. The one year I missed was 2015. Not sure what's changed since then and now, but instead of coming across as a semi-oxidized Indian whatever, it had notes that were more on par with most other oolongs. The flavor was all raisins; honey-dipped raisins sprinkled in masala. And, of course, like the Black Fusion, it was super-sweet!
Doke Diary, Thursday, April 14th, 2016, 3:25PM: The "sweetness" bend in these teas is perplexing me further. Phil "World Tea House" Holmans suggested that the difference in character may have been due to an unusual cold snap that hit Bihar prior to the first flush. I responded that it was as likely as any.
I sent a message off to Rajiv Lochan, wondering if the Doke Rolling Thunder underwent a "kill-green" process like Chinese or Taiwanese oolongs. I'll report back as soon as I find out more. UPDATE: Mr. Lochan confirmed that it is just straight-up oxidized; no kill-green.
My mother's Internet is down, so she's using mine. I offered her a second steep of Black Fusion as she netsurfs. She approves.
I still don't feel hungry enough to leave the house to get food.
Back to work with me.
I have a confession to make. I've never really been a fan of the Green Diamond. In fact, that's partly why I've never really written about it. Every time I brew it, it turned out rather grassy, which was a trait I ran into a lot in Indian green teas from assamica cultivars. But a funny thing happened at the beginning of this year.
For a month or so there, I thought I was coming down with yet another cold. So, I upped my green tea quota. Every afternoon – while on a work shift – I brewed (and sometimes over-brewed) some Doke Diamond Green from prior years. Like a bad case of Stockholm syndrome, I grew to like (and even love) its rough-hewn character.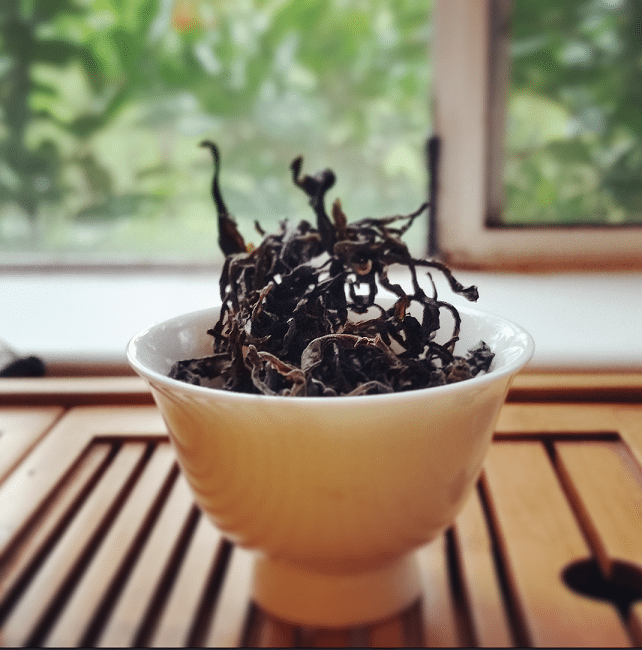 Like years prior, the leaves were expertly rolled and deceptively dark in appearance. On first impression, one would think they were looking at a black tea. On closer inspection, they'd find the leaves did have a greenish tint to them. That and the grass and salt smell were a dead giveaway. The aroma for this year's batch was roughly the same, but with a smoother bend more in line with a Chinese Mao Feng.
When brewed, the liquor colored to a nice and even yellow-green, tickling on amber territory.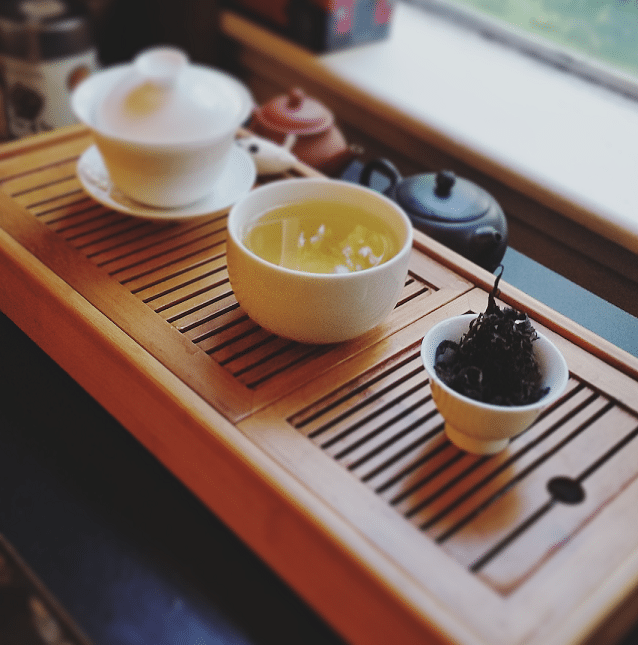 The aroma it gave off was . . . straight grapes. This was a complete one-eighty from the Green Diamonds I'd tried of yesteryears. On taste, the same grapy bend held true, but this time with a bit more of a stonefruity lean – somewhere in the "plum" neighborhood. It could be I found the sweet spot in brewing (finally!), or this year's was just truly exceptional.
Doke Diary, Thursday, April 14th, 2016, 7:09PM: I brewed this up after both finishing a blog and grabbing dinner (i.e. my one meal of the day). At the time of this sipping, I'm currently halfway through an episode of Marvel's Agents of S.H.I.E.L.D.
I had to pause the video to savor this.
I'm not the only one to say this, but this is easily one of the best white teas in the world right now. That's not just my bias. Ask any other tea blogger out there who's tried it, they'd agree. Testimonial evidence only, yes, but it still applies.
I've personally seen this white tea evolve from standard stray buds to the uniform, exquisitely rolled tea it is today. If I had only one complaint (and it's a small one), it's that I wish it had more melon notes like other Silver Needle white teas. Then along came this year . . .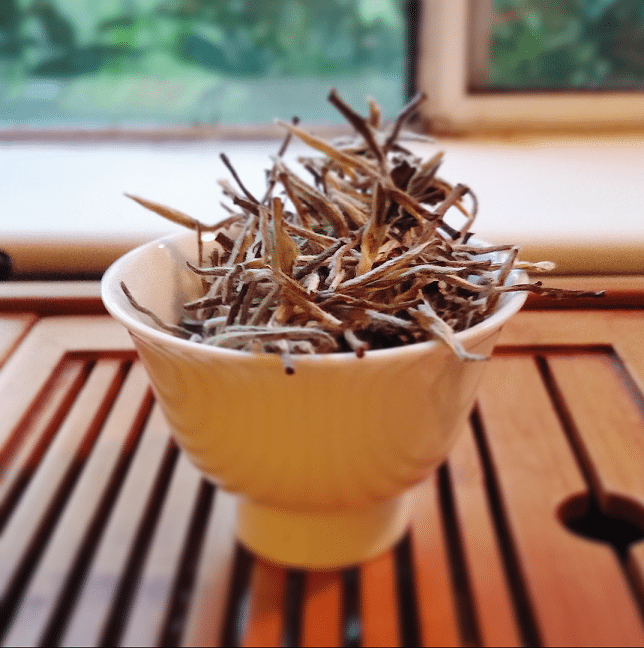 When the bag was opened, the smell of stone fruit and spice 'sploded. Melon notes were there, among the other, usual Doke terroir bits of terrific-ness. The leaves themselves were not as plump as ones I'd seen in the past. However, I had to keep in mind, that this was a first flush Doke Silver Needle. For the last three years, the only season I dipped into was the early summer.
The 2016 version brewed like any other white tea, extremely pale yellow.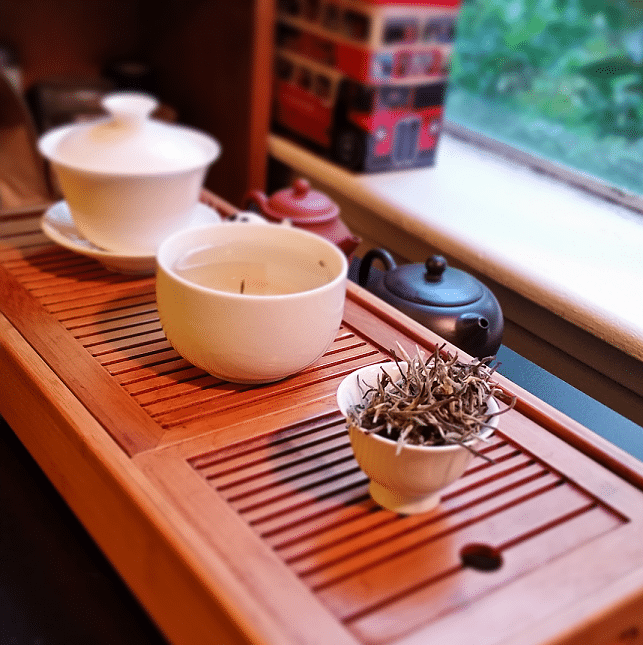 Where years prior had a hay-like aroma to go with a strong melon character, this . . . had all of that and more. Again, sweetness prevailed in the undercurrent of the long sips I took. If I had any comparisons, whatsoever, it would be to Sri Lankan grown "Silver Tip" white teas.
In other words, this is my favorite seasonal iteration thus far.
Doke Diary, Thursday, April 14th, 2016, 7:38PM: I've officially concluded this Doke tea all-day challenge. Although, I wouldn't exactly call it a "challenge". It was more of an endurance test in deliciousness.
In summary, this garden continues to evolve and surprise me.
To buy Doke Black Fusion, go HERE.
Doke Rolling Thunder Oolong, HERE.
Doke Green Diamond, HERE.
Doke Silver Needle, HERE.
Doke Diary, Tuesday, April 19th, 2016, 3:33PM: I'm suddenly reminded – as I put the finishing touches on this blog – I've been putting off a very important project. One involving Black Fusion . . . and  . . .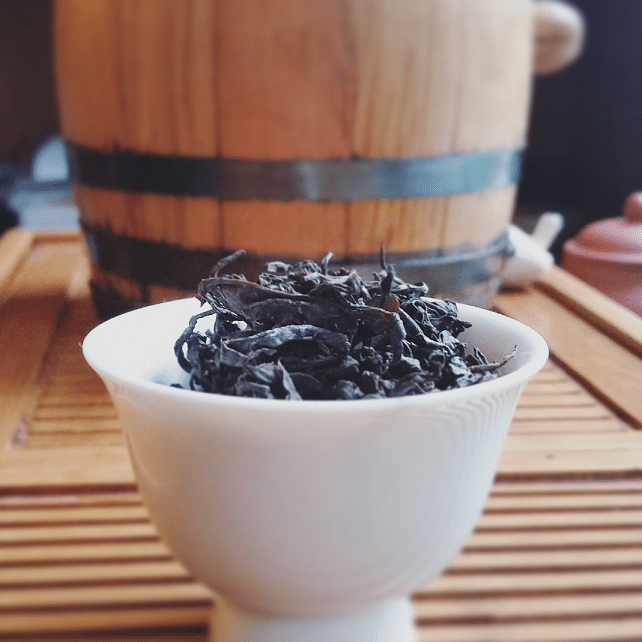 Kinda like a Marvel movie post-credit's sequence, ain't it?
End of Doke Diary transmission.